Baklava Cinnamon Rolls
*This post may contain affiliate links, please see our privacy policy for details.*
If you love baklava and/or cinnamon rolls, you have to try this recipe! Oh my goodness is it yummy. This incredible brunch recipe is a mashup of two of our favorite things!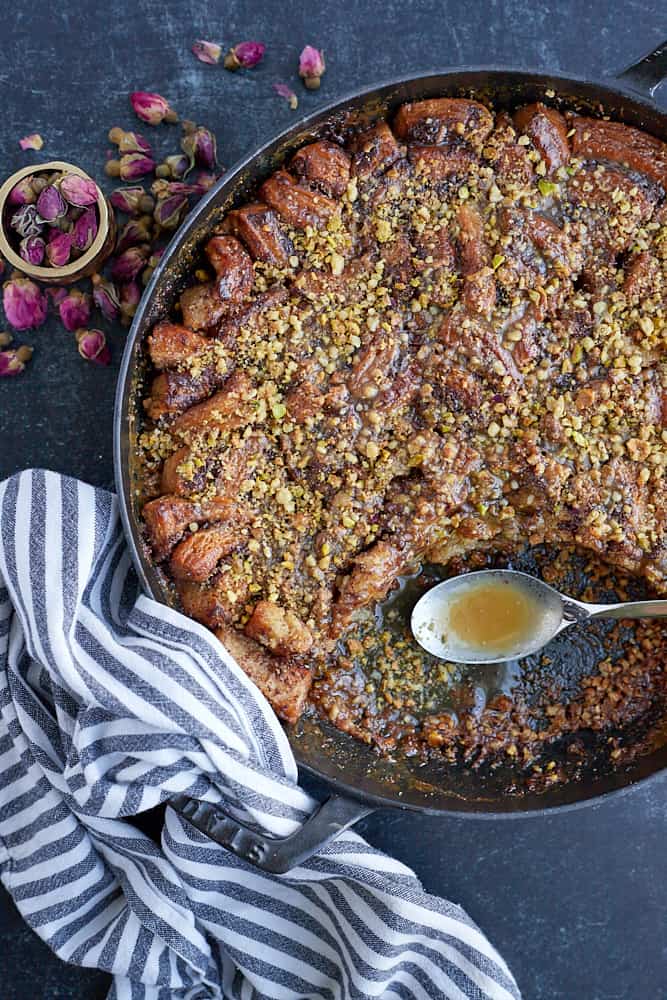 What is baklava?
If you have never had baklava before, get ready for a delicious treat! Baklava is an absolutely scrumptious dessert popular in Mediterranean and Middle Eastern cuisines. It consists of alternating layers of phyllo pastry dough and chopped nuts with a brush of honey between each layer.
Despite being a modern day Greek dessert, this delectable, flaky pastry may have Turkish roots. Many food historians believe that the Ottoman Empire first introduced this dessert on their pastry menu. As the Empire expanded its territory, the dessert came along with it!
Others believe that the roots of this recipe date even further back in time. There was a 13th-century Persian cookbook that referenced the creation of baklava 400 years prior. Regardless of who first created it and when, we are grateful!
This is not your average cinnamon roll
Cinnamon rolls have always been a favorite of ours! From when we were children, to now feeding our own kiddos, cinnamon rolls are frequently a part of our weekend breakfast menu. There is something so yummy about the melty cinnamon in between layers of fluffy dough – we cannot get enough.
Spoiler alert: we do not make our cinnamon rolls from scratch for this recipe. Not only does using cinnamon rolls from a can help save time during prep, but it also ensures that it's going to cook the same every time! Talk about a reliable brunch.
Honestly, we think canned cinnamon rolls are pretty fantastic on their own. But all of the extra toppings and fresh made syrup make this grocery store staple even better. We know that's hard to believe, so you will just have to trust us and find out!
How to make baklava cinnamon rolls
Preheat your oven to 350 degrees. Grease a 10-inch round baking pan.
In a small bowl, mix the chopped walnuts, chopped pistachios, granulated sugar and ground cinnamon.
Next, make the syrup in a medium sauce pan on the stovetop. Add brown sugar, honey, cream and butter to the pot. Give it a stir and bring it all up to a boil. When the mixture starts to boil, reduce the heat and simmer for 5 minutes, without a cover.
Set it aside too cool slightly.
Pour half of the syrup into the baking pan, along with half of the walnut and pistachio mixture.
Arrange the cinnamon rolls on top.
Pour the rest of the syrup over the top of the cinnamon rolls. Sprinkle the remaining crushed walnuts and pistachios on top as well!
Bake for 40 minutes, or until golden brown on top.
Let the cinnamon rolls cool for at least 5 minutes after they come out of the oven.
Serve warm!
How to make baklava cinnamon rolls in advance
The beauty of this recipe is that it can easily be prepped in advance. We love to create brunch recipes that are simple enough to make the night before or the morning of. It means we can spend more time with our family or brunch guests and less time in the kitchen!
All you have to do is make the pistachio walnut crumble and the syrup in advance. You can set that aside in the fridge and assemble before baking. Alternatively you can fully assemble the cinnamon rolls in a baking pan with the crumble and syrup.
If you plan to make this in advance, we recommend making it no more than 24 hours before you're going to bake it. We also recommend letting the assembled cinnamon rolls sit outside of the fridge for 30 minutes before going into the oven. Because of the cold temperature of the fridge, the cinnamon rolls can stay firm and dense if you put them straight in a preheated oven. When you introduce them to slightly a warmer environment they loosen up and get fluffy!
Other crossover dessert recipes you are going to love!
We are big on indulgence here at food dolls, and dessert is our favorite meal of the day. As a result, we are obsessed with mashing our favorite desserts into our breakfasts. If you loved this crossover recipe of cinnamon rolls and baklava, then you'll love these:
Baklava Cinnamon Rolls
Baklava meet cinnamon rolls in this easy recipe! Loaded with walnuts, pistachios and a honey caramel sauce!
Ingredients
3/4

cup

brown sugar

(packed)

1/2

cup

honey

3/4

cup

heavy cream

5

tbsp

unsalted butter

3/4

cup

walnuts

(chopped)

1/2

cup

pistachios

(chopped)

2

tbsp

granulated sugar

1/2

tsp

ground cinnamon

2

cans canned cinnamon rolls

(cut into quarters)
Instructions
Preheat oven to 350°F. For syrup, in a medium saucepan combine brown sugar, honey, cream, and butter. Bring to a boil; reduce heat. Simmer, uncovered, 5 minutes. Cool slightly.

Meanwhile, in a small bowl combine walnuts, pistachios, granulated sugar, and cinnamon.

Grease a 10-inch round baking pan. Spoon half of the sauce, walnut mixture into the baking pan. Arrange cinnamon rolls on top. Add remaining sauce and walnut mixture.

Bake 40 minutes or until golden. Let stand 5 minutes. Serve warm!
Notes
*Feel free to use any nut combination you like. We loved it as is but if you prefer only walnuts you can omit pistachios or vice versa.
Nutrition
Serving:
8
g
|
Calories:
409
kcal
|
Carbohydrates:
45
g
|
Protein:
4
g
|
Fat:
26
g
|
Saturated Fat:
11
g
|
Polyunsaturated Fat:
7
g
|
Monounsaturated Fat:
7
g
|
Trans Fat:
0.3
g
|
Cholesterol:
44
mg
|
Sodium:
16
mg
|
Potassium:
190
mg
|
Fiber:
2
g
|
Sugar:
42
g
|
Vitamin A:
581
IU
|
Vitamin C:
1
mg
|
Calcium:
55
mg
|
Iron:
1
mg