5 of Our Favorite One Pot Pasta Recipes
Here at Food Dolls, we love our one pot pasta recipes!
One pot pasta tastes delicious and is incredibly simple to make. The best part of this single dish meal is how quickly it comes together. It is hands off, meaning less time working in the kitchen and more time for what you love – enjoying a delicious meal!
What is one pot pasta?
As the name suggests, one pot pasta is a recipe where the pasta, sauce, and additional ingredients all cook in a single large pot.
This means no extra time is needed to make the sauce, boil the pasta to perfection, and then cook it all together in different steps. One pot pasta is the greatest weeknight dinner, and it makes for yummy leftovers that will keep you satisfied all week!
Why we love one pot pasta
While we love that these recipes will save you time, we haven't even gotten to our very favorite part. The major benefit of cooking all the ingredients together is that the pasta noodles themselves become more flavorful.
Typically, you boil noodles in heavily salted water. The reason you salt the water is so that when the noodles are rehydrating, they absorb that seasoning. Without the salt, the pasta would become bland.
Since we are cooking pasta in broth, with all of the ingredients in these five amazing recipes, the noodles are absorbing the flavor of the sauce as they cook. This is a huge bonus from a flavor perspective, and is going to be a game changer for you!
In case you didn't know, a caprese salad is the delightful combination of fresh mozzarella, tomatoes, lots of basil drizzled with balsamic vinegar. This 15 minute recipe transforms this Italian favorite into an easy to make pasta dish the whole family will love.
While we love this pasta served hot, you can easily chill it before adding the fresh basil and mozzarella to make a hearty pasta salad!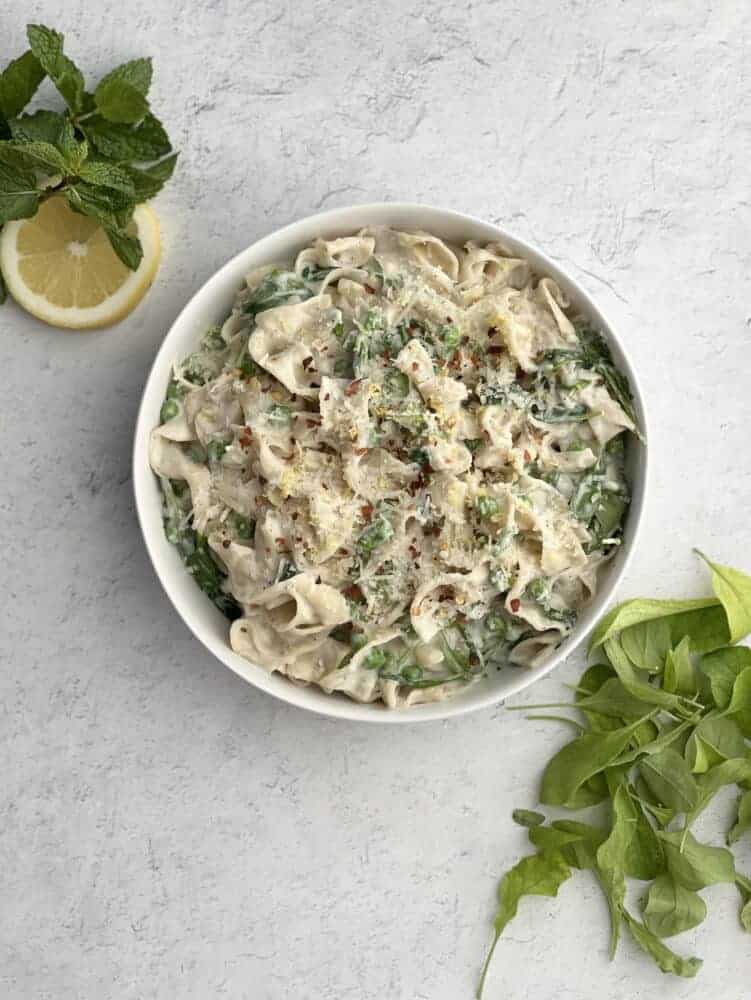 This meatless pasta dish is packed with zesty summertime flavors but still has the most comforting sauce. The lemon zest, mint, and arugula perfectly balance the creamy ricotta and heavy cream sauce. You can use any kind of pasta for this recipe, but pappardelle noodles are our favorite.
If you're a fan of Panera Bread Broccoli Cheddar Soup then you are going to absolutely love this 20 minute pasta recipe. Our Broccoli Mac and Cheese will have your family and friends begging for more. It is packed with nutrients thanks to the powerhouse veggie, broccoli, making this sneakily healthy recipe a perfect addition to your meal planning during cold and flu season! But it is also packed with flavor and is the best comfort dish.
This dish, that literally translates to springtime pasta, is a recipe you are going to enjoy all year round. It is cheesy, scrumptious and has tons of fresh veggies. The recipe includes broccoli, mushrooms, onions, and loads of herbs. But one of the greatest parts of this recipe is that it is super versatile so you can follow the recipe exactly as is, or swap in your own favorite veggies to it!
Last, but certainly not least, is our one pot parmesan pasta. This creamy spaghetti pasta dish is going to become a new household favorite among your family. In just 15 minutes, you will feel like you are on your way to Italy. The combination of the tomatoes, basil, garlic, olive oil and lemon zest is just *chefs kiss*! You cannot go wrong with this incredible recipe.
Notes on storing and reheating
All of these recipes are super easy to store and reheat. We recommend storing it in the fridge for 3-5 days after cooking or in the freezer for up to 3 months.
Regardless of whether you store it in the fridge or freezer, we suggest you add a little bit of water when heating it back up. As the pasta cools, the sauce thickens and when you heat it up, the sauce will continue to thicken. Adding in a bit of water (or chicken broth) will make sure your pasta doesn't stick together or have a gummy texture.
If you are storing your leftovers in the fridge, you can easily reheat your pasta dish in the microwave. You can also scoop your leftover pasta into a small pot to reheat it on the stove. Be sure to add water if you are heating it on the stove!
If you are storing pasta in the freezer, you can put it straight into the microwave. Make sure to pause and stir every minute or minute and a half so that it reheats evenly. You can also defrost your pasta leftovers by moving it from the freezer to your refrigerator a day in advance. That will cut back on your reheating time!