Pecan Pie Croissant Bread Pudding is the best comforting breakfast food that can double as dessert! Inspired by warm holiday pie, it's sweet, flavorful, fluffy, and perfect for feeding a crowd. Serve it warm for a sweet breakfast the whole table will adore!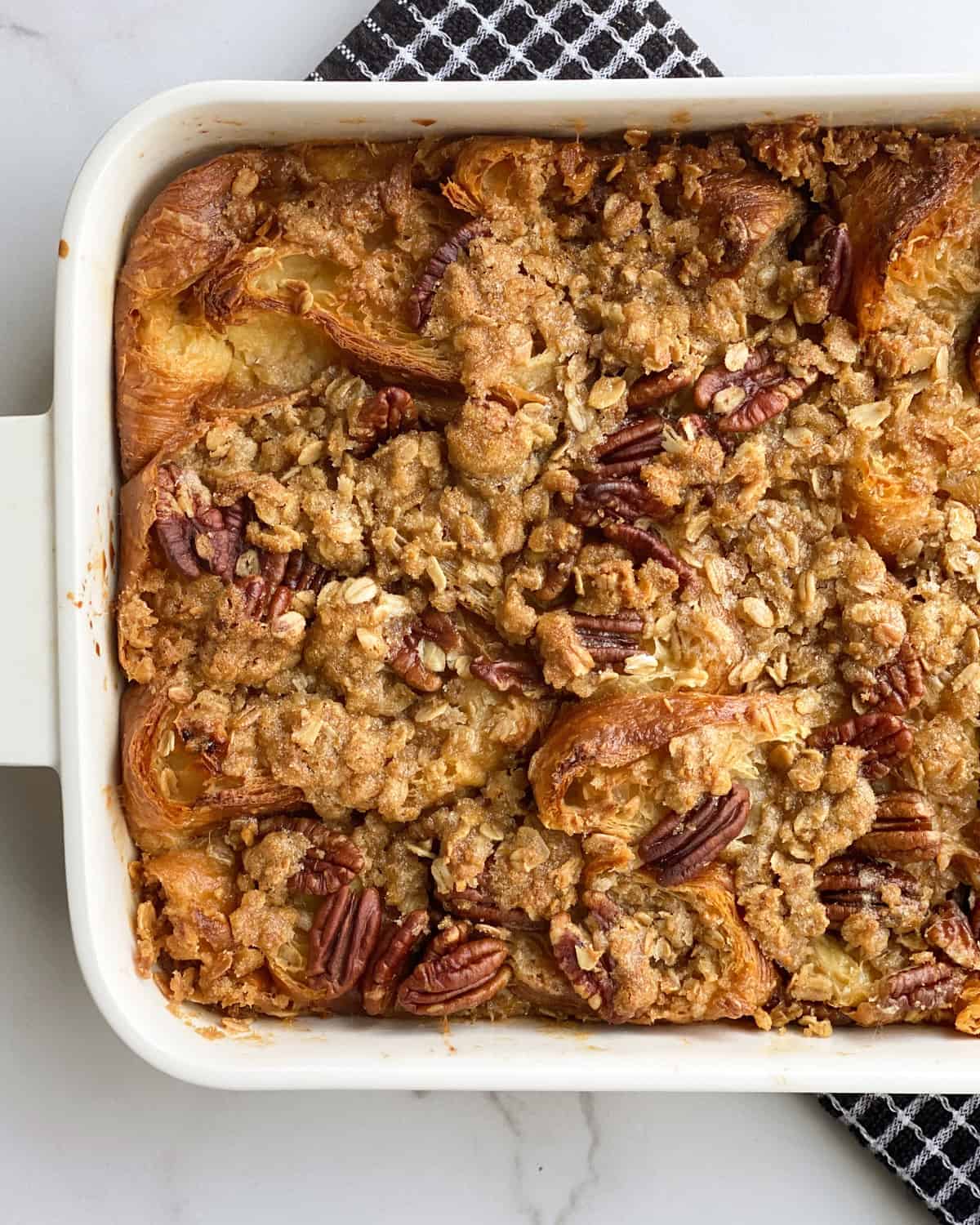 What Is Pecan Pie Croissant Bread Pudding?
Similar to baked French toast, traditional bread pudding recipes are made with staple bread pieces that are combined with a mixture of milk, sugar, and eggs. Then, it is baked in the oven until it is soft and fluffy.
However, unlike other recipes, bread pudding is coated in a caramel, vanilla, or alcohol-based sauce. As a result, it's tender, gooey, sweet, sticky, and completely irresistible.
As if that wasn't tantalizing enough, this pecan pie croissant bread pudding takes the traditional version to a whole new level with the use of flakey, buttery croissants, crunchy pecans, and a rich, crumble topping! The result is a truly decadent recipe that will have your guests licking their fingers and begging for more!
Ingredients You'll Need
The ingredients needed for this recipe are simple and few but create the most indulgent flavor! Here's what you'll need:
Croissants – The bigger the better! Just make sure they are at least a day old so that they soak up the liquid.
Eggs – These help form a crisp crust, locking in moisture while also providing healthy fats for a rich taste.
Half and Half – Used in place of milk, half and half creates the creamiest, fluffiest bread pudding you'll ever taste.
Vanilla Extract – To enhance the flavor of the rest of the ingredients.
Maple Syrup – This helps provide a rich sweetness similar to pecan pie.
Pecans – Chopped up and added on top, these provide a good dose of healthy fats and extra crunch you'll love.
Butter – Everything tastes better with butter! Just make sure it's cold. We recommend using unsalted butter, but salted butter can be used. Just adjust the additional salt added as needed.
Sugar – Light or dark brown sugar will work to create a caramelized flavor for a syrup coating that replicates the filling of pecan pie.
Rolled Oats – Used to create the crumble topping. We do not recommend using steel cut or quick oats as they won't yield the same crisp texture.
Salt – Takes any baked item from good to great.
How to Make Croissant Bread Pudding in Three Simple Steps
This recipe is a mashup of French toast and a fruit crisp with added caramel sauce! As a result, it's ultra flavorful and super easy to make.
Prepare the Bread Pudding. Whisk the wet ingredients in a large bowl until smooth. Arrange the croissants in a single layer in the bottom of a baking dish, and pour the egg mixture on top followed by the chopped pecans.
Make the Crumble. Add the topping ingredients to a separate bowl, and use your fingers or a pastry cutter to combine the mixture until coarse crumbles form. Sprinkle the mixture over the croissants.
Bake. Cover the croissant bread pudding with tin foil, and bake for 20 minutes. Then, remove the foil, and continue to bake until the croissants are golden, crisp, and fragrant.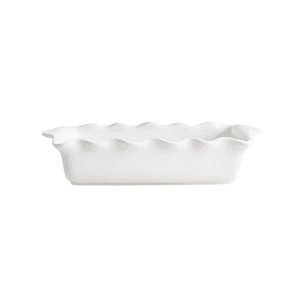 We earn a commission if you make a purchase, at no additional cost to you.
Baking Tips
This bread pudding is virtually failproof, but we have a few extra tips and tricks to make it even better.
Swap Out the Bread. If you prefer, swap out the croissants for thick bread like Challah or Brioche.
Use a Thermometer. The easiest way to tell when your bread pudding is done is to use a digital thermometer to ensure that the internal temperature has reached 160 degrees Fahrenheit.
Soak Overnight. We highly recommend making this recipe in advance and allowing the bread to soak overnight and absorb the liquid. As a result, your bread pudding will be extra fluffy and thick.
Make Ahead Options
This recipe is best when made in advance! To do so, assemble the dish as listed in the recipe card below.
Then, instead of baking, cover the bread pudding with foil, and keep it stored in the fridge for up to 24 hours. To enjoy, place it in the oven, and adjust the baking time as needed until the liquid is fully set and the croissants are light golden brown.
How to Store and Freeze
This croissant bread pudding recipe tends to disappear almost immediately. So, go ahead and make a big batch!
Any leftovers can be stored in the fridge or freezer to enjoy at a later date.
To Store: Allow the dish to cool completely. Then, cover it with aluminum foil, or transfer it to an airtight container. It will stay fresh in the fridge for up to three days.
To Freeze: Transfer leftovers to a freezer-safe container, and store them in the freezer for up to three months.
To Reheat: Allow your bread pudding to thaw in the fridge overnight. Then, warm individual portions in the microwave. Or, loosely cover the entire baking dish with foil, and warm it in the oven at 350 degrees until it is heated through.
Serving Suggestions
This croissant bread pudding is extremely rich on its own. However, if you want to really go all out, try serving it with toppings like:
Caramel Sauce
Whipped Cream
Maple Syrup
Vanilla Ice Cream
Common Questions About This Pecan Pie Croissant Bread Pudding Recipe
How do you keep homemade croissant bread pudding moist?
To prevent your croissant bread pudding from drying out, be sure to follow the baking instructions, keeping it covered for the first 30 minutes.

Then, to be extra careful, we recommend letting the dish rest for 30 minutes after baking. This allows the bread to really soak up any excess moisture.
How do you dry out croissants?
If you don't have stale croissants on hand, don't worry! You can stale them yourself by placing them in the oven at 200 degrees Fahrenheit for about six to seven minutes just until they're dry.
Why is my bread pudding soggy in the middle?
If too much moisture is locked into the dish as it bakes, it will turn out soggy. This is why it's crucial to remove the foil after 30 minutes of baking!

Also, using stale croissants is important to help soak up the liquid. You want the croissants to be wet but not completely swimming in liquid.

More Bread Pudding Recipes
If you enjoy this pecan pie bread pudding recipe, you won't want to miss out on more of our bread pudding variations below!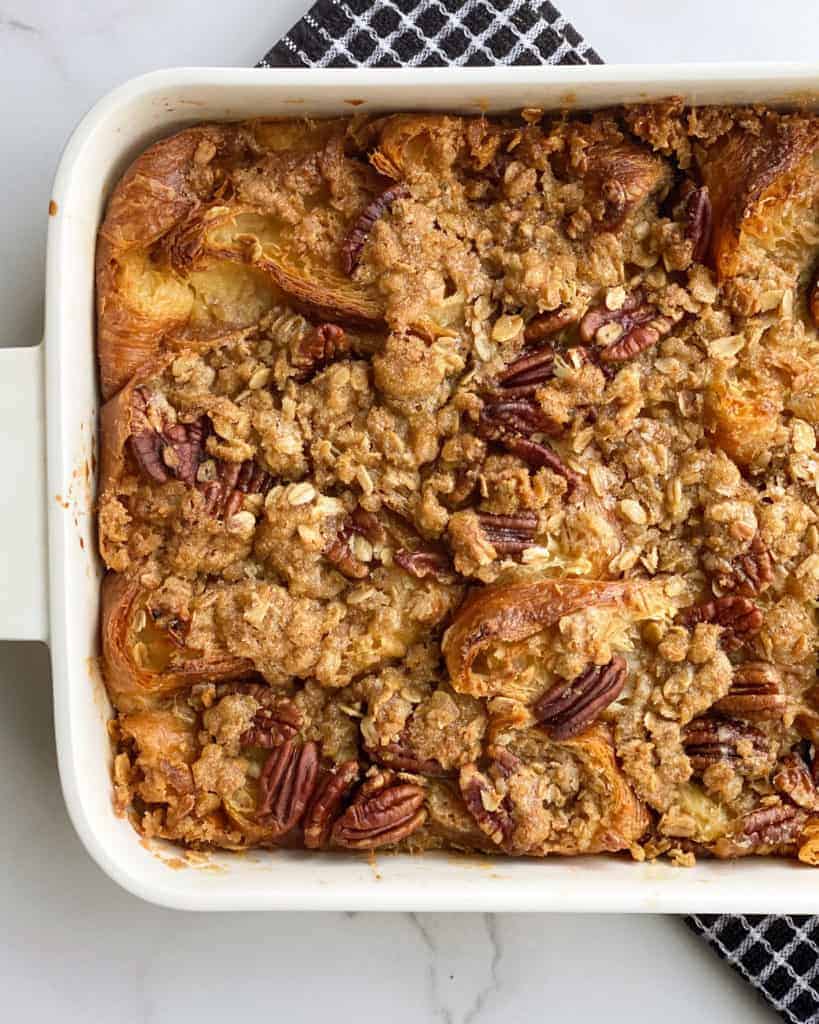 Pecan Pie Croissant Bread Pudding Recipe
Pecan Pie Croissant Bread Pudding is the best comforting breakfast food! Inspired by warm holiday pie, it's sweet, flavorful, fluffy, and perfect for feeding a crowd.
Ingredients
6-8

large day old croissants

4

large eggs

3

cups

half and half

2

teaspoons

vanilla extract

1/2

cup

maple syrup

1

cup

pecan pieces, roughly chopped

1/2

cup

butter

cold and cut in 1 inch pieces

3/4

cup

light or dark brown sugar

1/2

cup

rolled oats

1/2

teaspoon

kosher salt
Instructions
In a large mixing bowl add the half and half, eggs, maple syrup, and vanilla. Chop the croissants, and arrange them in a 13 x 9 baking dish. Pour the egg mixture over the croissants, and sprinkle pecan pieces on top.

To make the crumble: Add the butter, brown sugar, salt, and oats in a bowl. With fingers or a pastry cutter, rub the mixture together until it resembles a coarse crumble. Sprinkle over the croissants. For the best results, cover and refrigerate overnight in order for the croissants to soak up some of the liquid.

Preheat the oven to 350 degrees F. Bake the croissant bread pudding, covered with tin foil, for 20 minutes. Remove the foil, and continue to bake for an additional 30 minutes or until crisp and fragrant.

Store in the fridge for up to 3 days or in the freezer for up to 3 months.
Equipment
Nutrition
Serving:
1
serving
|
Calories:
573
kcal
|
Carbohydrates:
63
g
|
Protein:
11
g
|
Fat:
31
g
|
Saturated Fat:
13
g
|
Polyunsaturated Fat:
4
g
|
Monounsaturated Fat:
11
g
|
Trans Fat:
0.01
g
|
Cholesterol:
144
mg
|
Sodium:
420
mg
|
Potassium:
364
mg
|
Fiber:
3
g
|
Sugar:
42
g
|
Vitamin A:
790
IU
|
Vitamin C:
1
mg
|
Calcium:
193
mg
|
Iron:
2
mg
Nutrition information is automatically calculated, so should only be used as an approximation.
Like this recipe?
Please leave a comment!