There's nothing quite like bread pudding during the holidays. And this salted caramel bread pudding is the very best. It is indulgent, comforting, and goes great with a big scoop of ice cream.
To make this recipe extra yummy, we use Danish Creamery butter. Inspired by traditional Danish butter, Danish Creamery's recipe hasn't changed since 1895. Just pure sweet cream and sea salt, Danish Creamery butter is richer and creamier than most because it's churned the Danish way. Extra care and time put into making Danish Creamery makes this butter extra delicious.
This post is sponsored by Danish Creamery but all thoughts and opinions are my own.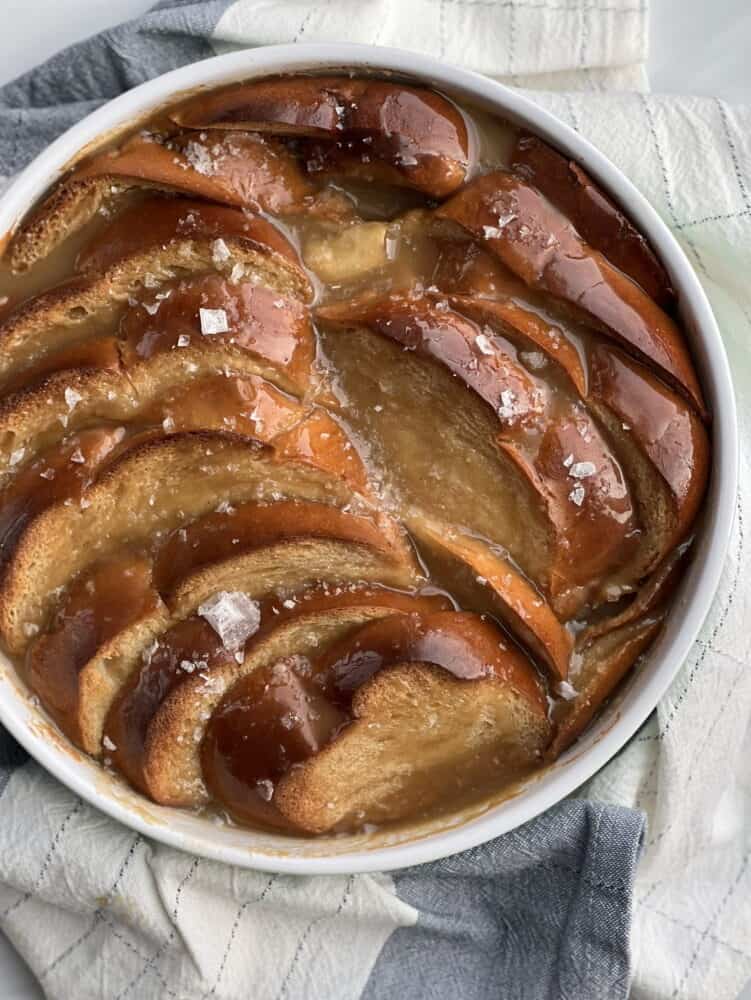 What kind of bread to use for bread pudding
Regardless of the type of bread you use, your bread pudding will taste delicious.
We prefer using a loaf of challah for our salted caramel bread pudding. It is hearty, buttery, and flavorful. It also is dense enough to withstand baking in the liquid so it doesn't fall apart when you are serving it.
Brioche bread is similar to challah in texture and holds up very well with this recipe. It works even better if you've left it out for a day to go the slightest bit stale.
Truly, you can't go wrong with any bread whether it is fresh or slightly stale. If you bread has hardened a bit, whether it is pre-sliced white bread or a whole grain loaf, it will be perfect for this recipe. The beauty of bread pudding is that the sauce works to rehydrate the bread while it is baking.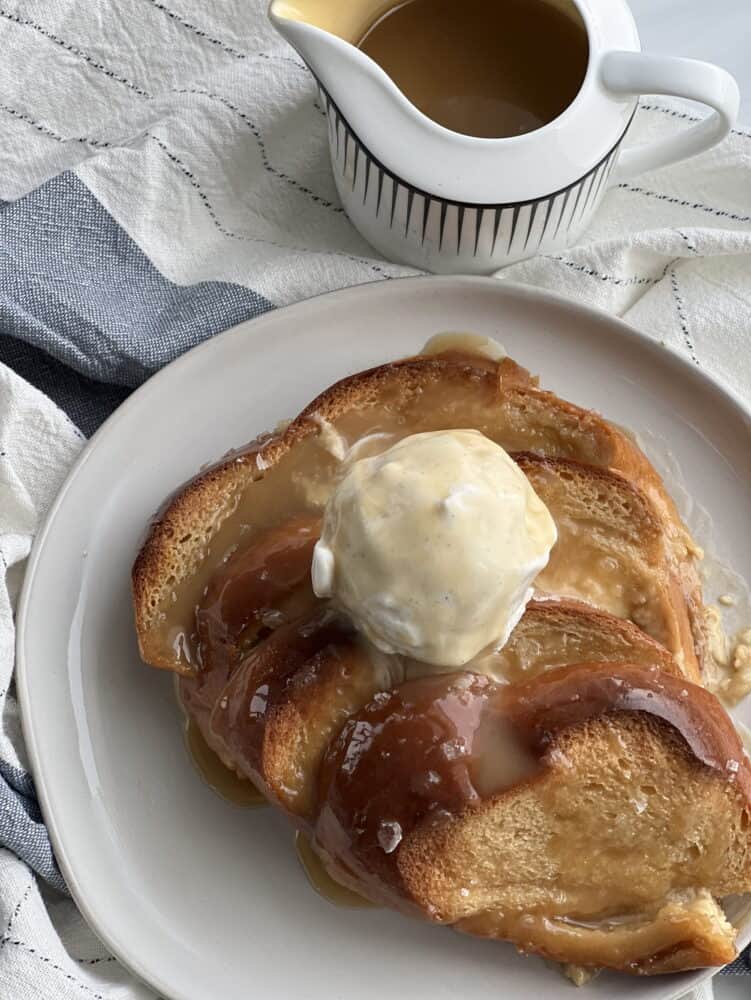 Should I cube or slice my bread for bread pudding?
Traditionally, when you see bread pudding you might notice that it is cut up into cubes. But in our instructional video, you'll see that we cut our bread into slices.
After some taste testing, we can assure you that from a flavor and texture perspective there isn't much difference.
Cubed bread lends itself to a wider variety of bakeware since it can really take on any shape. It also is easier to scoop onto a plate with a spoon.
Sliced bread, we find, tends to look prettier and is equally as easy to serve using tongs! Personally, we love slicing our bread for bread pudding because it creates the perfect bed for a scoop of ice cream when serving.
Long story short, the choice of whether to slice or cube is totally up to you!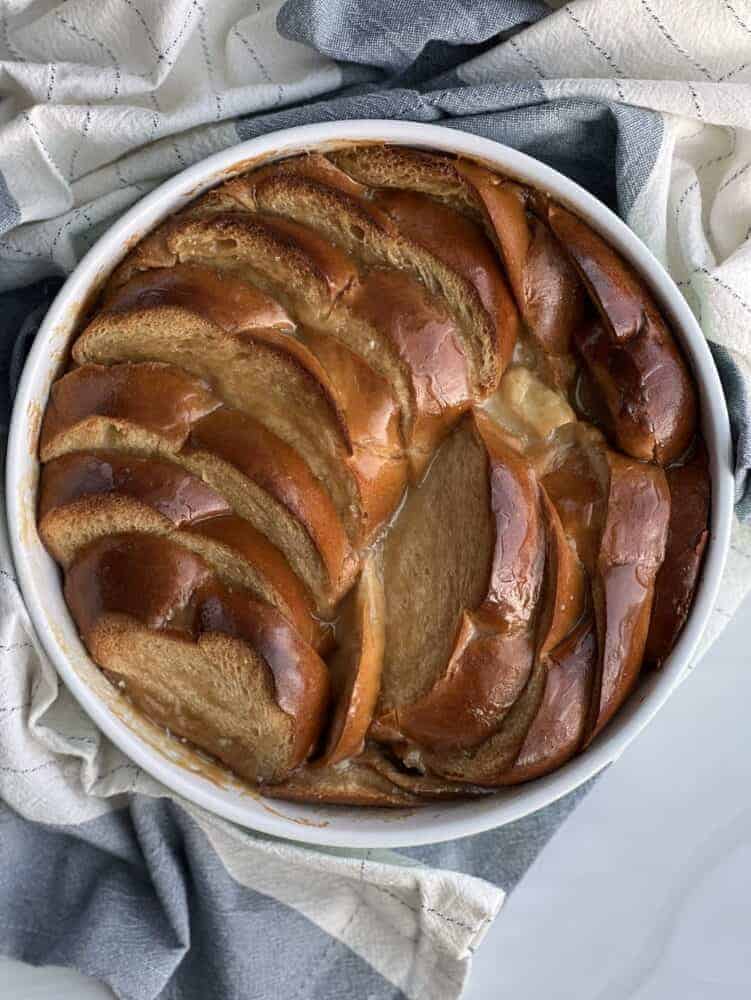 How to make salted caramel bread pudding
First, make the salted caramel sauce:

In a medium sauce pot, melt a stick of butter.
While the butter is melting, add brown sugar, heavy cream and sea salt.
Whisk everything together and allow the sauce to simmer for 2-3 minutes. Set aside to cool
Separately, make your custard to bake your bread pudding in:

In a large mixing bowl, add half and half, eggs, melted butter, vanilla, sugar and brown sugar. Make sure to allow the melted butter to cool down for a couple minutes before incorporating it in to make sure it doesn't cook the eggs. To be extra cautious, you can add the melted butter in last!
Whisk the ingredients together until it is well combined and set aside.

Slice or cube a loaf of bread.
Layer the bread pieces into a buttered baking dish. We personally love to cut full slices of bread and pinwheel the bread in a circular baking dish. It bakes super well like this and looks pretty, too!
Pour the custard sauce over the slices of bread. Try your best to evenly distribute the liquid to make sure that every slice is coated.
Pour half of the salted caramel sauce over the bread pudding, make sure to get all the nooks and crannies!
Cover and refrigerate overnight. We highly recommend this step as it really soaks up all the custard. If you do not have time, try to let it sit for at least 1 hour.
Remove the cover and bake your bread pudding in the oven at 350 degrees F for 35-40 minutes.
Remove the bread pudding from the oven.
Pour the remaining salted caramel sauce over the top of the baked bread pudding. Sprinkle on some extra sea salt to your taste preferences.
Serve as it is or with your favorite ice cream. Whipped cream also works as a topping!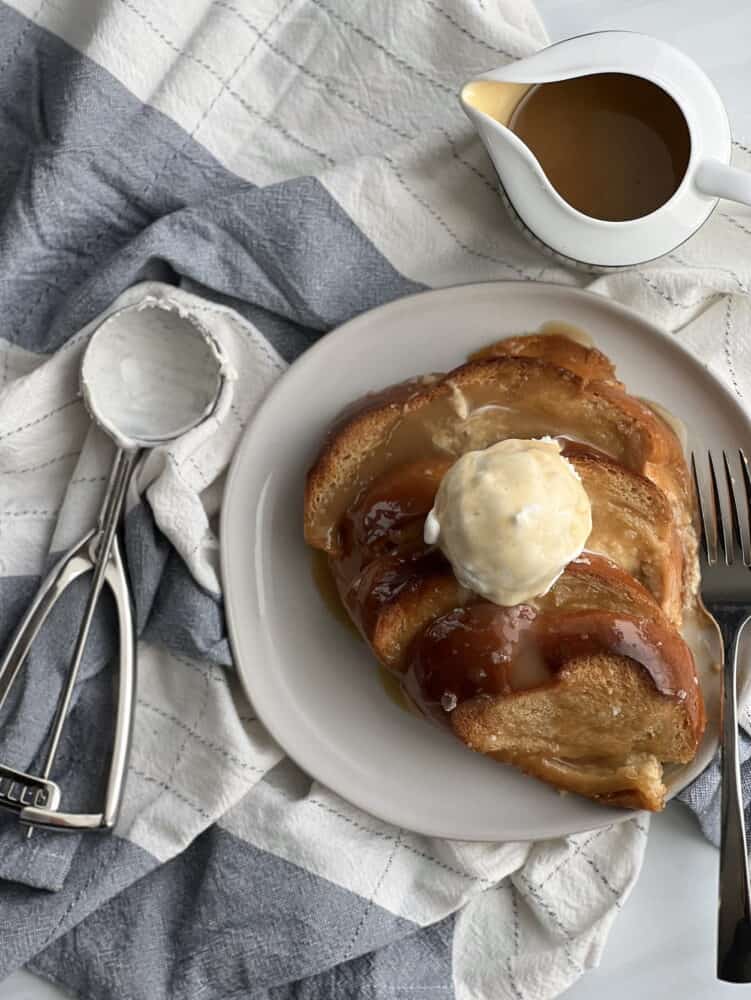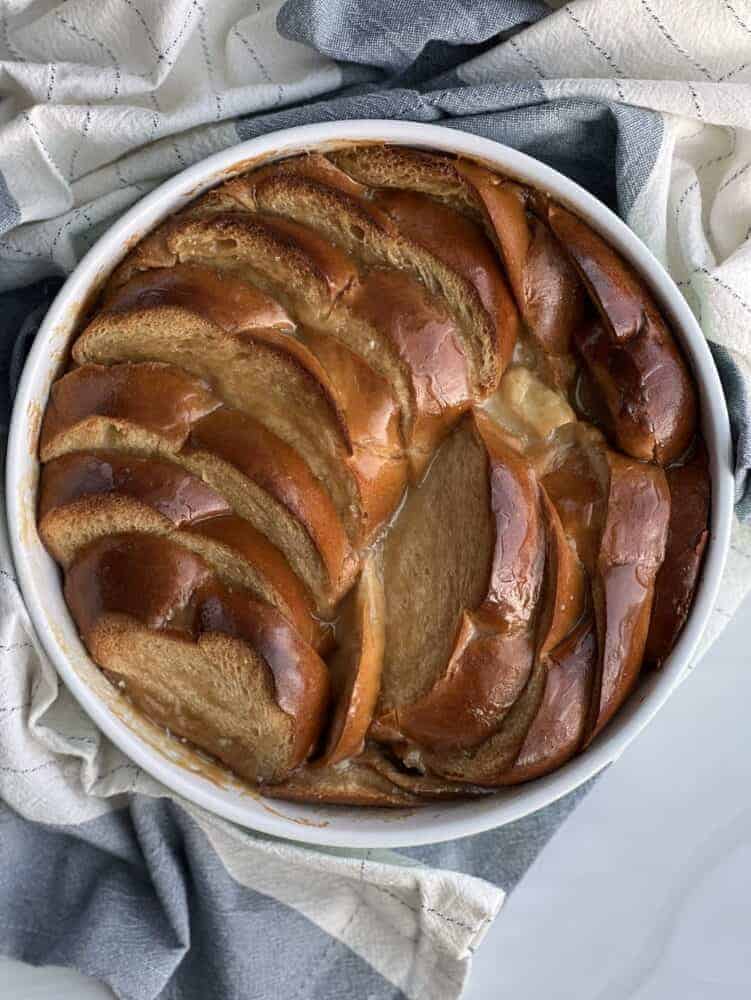 The BEST Salted Caramel Bread Pudding
Challah bread soaked in custard and a homemade caramel sauce. Topped with sea salt flakes for the perfect sweet and salty combination!
Ingredients
1

loaf challah bread

4

cups

half & half

3

whole eggs

2

tsp

vanilla extract

1/4

cup

light brown sugar

1/4

cup

granulated sugar

2

tbsp

Danish Creamery butter

melted (unsalted)
Salted Caramel
8

tbsp

Danish Creamery butter

unsalted

1

cup

heavy cream

1

cup

light brown sugar

2

tsp

sea salt

maldon salt flakes for garnish
Instructions
In a medium saucepan, melt the butter, brown sugar, salt and heavy cream. Bring to a boil, reduce heat to medium and simmer for 2 minute, stirring constantly. Remove from heat and let slightly cool.

In a large mixing bowl combine half and half, eggs, brown sugar, granulated sugar, melted butter and vanilla extract. Whisk until smooth.

Slice the brioche into 1/2 inch pieces. Arrange in a 12-inch round baking dish, making sure they slightly overlap. Pour the custard over. Pour half the caramel sauce and reserve the remaining half for later. Cover and refrigerate overnight.

Preheat oven to 350 degrees F.

Remove the cover and bake for 35-40 minutes or until golden brown. Heat the reserved caramel sauce and pour over the bread pudding. Garnish with sea salt flakes.

Serve as is or with a scoop of ice cream! Whipped cream works too!
Nutrition information is automatically calculated, so should only be used as an approximation.
Like this recipe?
Please leave a comment!