Our Favorite Egyptian Recipes
*This post may contain affiliate links, please see our privacy policy for details.*
One of our favorite parts of running Food Dolls is sharing our culture with you! In case you didn't know, we are proudly Egyptian. Growing up eating our mom's cooking has shaped how we enjoy and prepare food.
We are so excited to share the best recipes we have created that represent our heritage. And we hope that you love sharing this special part of our lives with us as much as we love sharing it with you!
What are some staples of Egyptian cuisine?
While all of these recipes have a unique texture and flavor profile, they are all Egyptian. The most distinct characteristic of Egyptian cooking is the use of spices and seasoning. With Egyptian society originating multiple thousands of years ago, this cuisine was developed long before modern food sourcing and storage were available.
Instead of a reliance on protein as the star of these regional dishes, many famous Egyptian recipes rely on herbs and spices to enhance the flavor of the dish. Legumes and grains are also heavily utilized in Egyptian cuisine. This is because they grow very easily in the conditions of the Nile River Valley, and were easy to dry and store after harvesting.
A lot of Egyptian cuisine is cheap, and the components are easy to find. Again, this is attributed to where it all began. Simple cooking techniques to make delicious, hearty meals that could last without modern storage options.
What does Egyptian cuisine taste like?
You'll notice that every recipe we share below has a different flavor profile, but all are earthy and warm you up from the inside out.
Most of these recipes include either beans, rice, or pasta (or all three). Our Egyptian recipes taste rich and indulgent, but are packed with nutritional value. We love incorporating fresh herbs and vibrant spices to enhance the flavors of these recipes.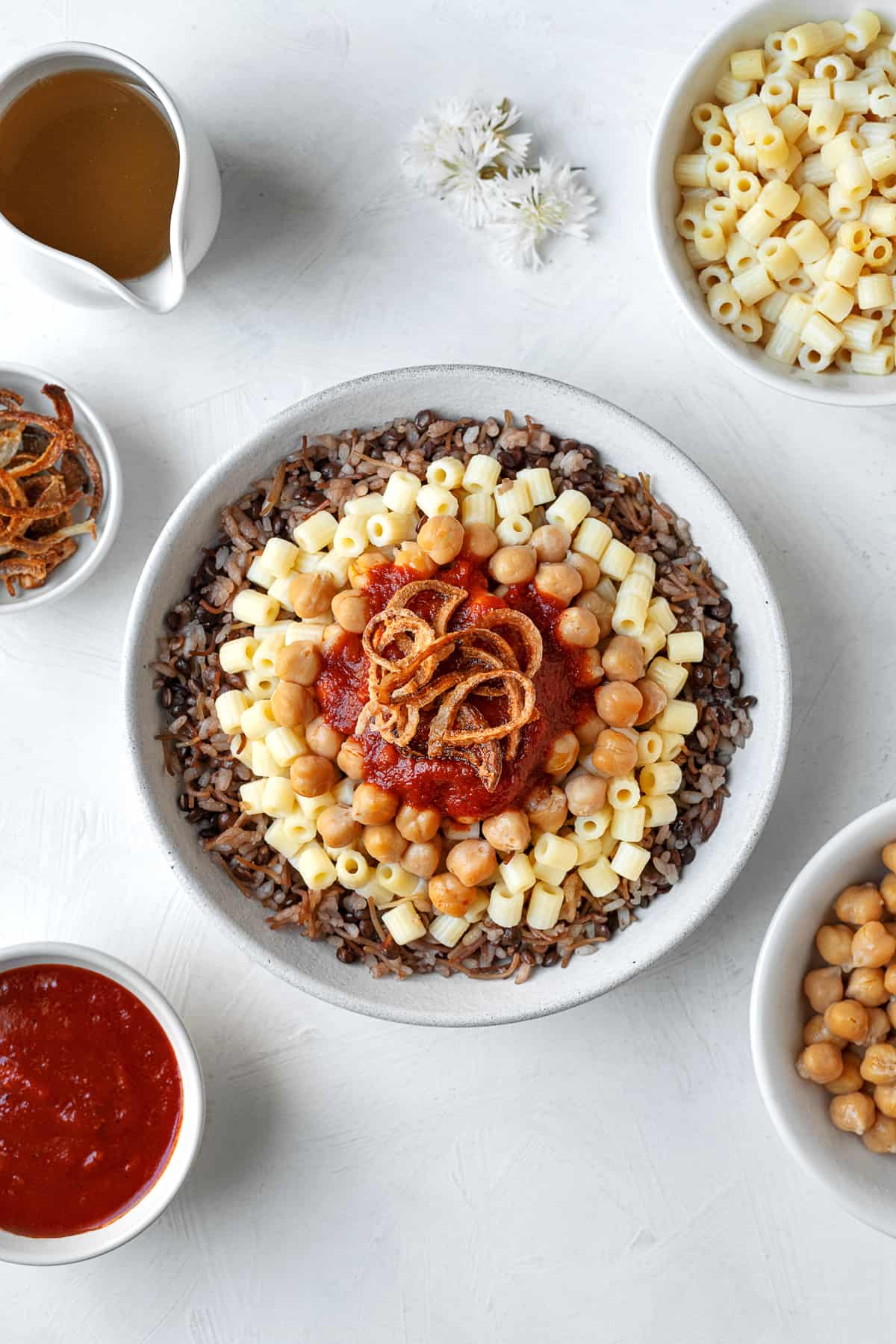 Also sometimes written as Koshary or Kushari, this is Egypts national dish and a famous modern street food. It has been a staple in the country for centuries and is incredibly simple to make. Don't let that fool you, though – it is one of the most flavorful and delicious dishes from our childhood.
The combination of lentils, rice and pasta is heavenly, if we do say so ourselves! And despite how good it tastes, it is also ridiculously healthy. Between the lentils and chickpeas, this recipe is packed with plant based protein. It is naturally low in fat, high in fiber, and will leave you and your family feeling nourished by the end of your meal.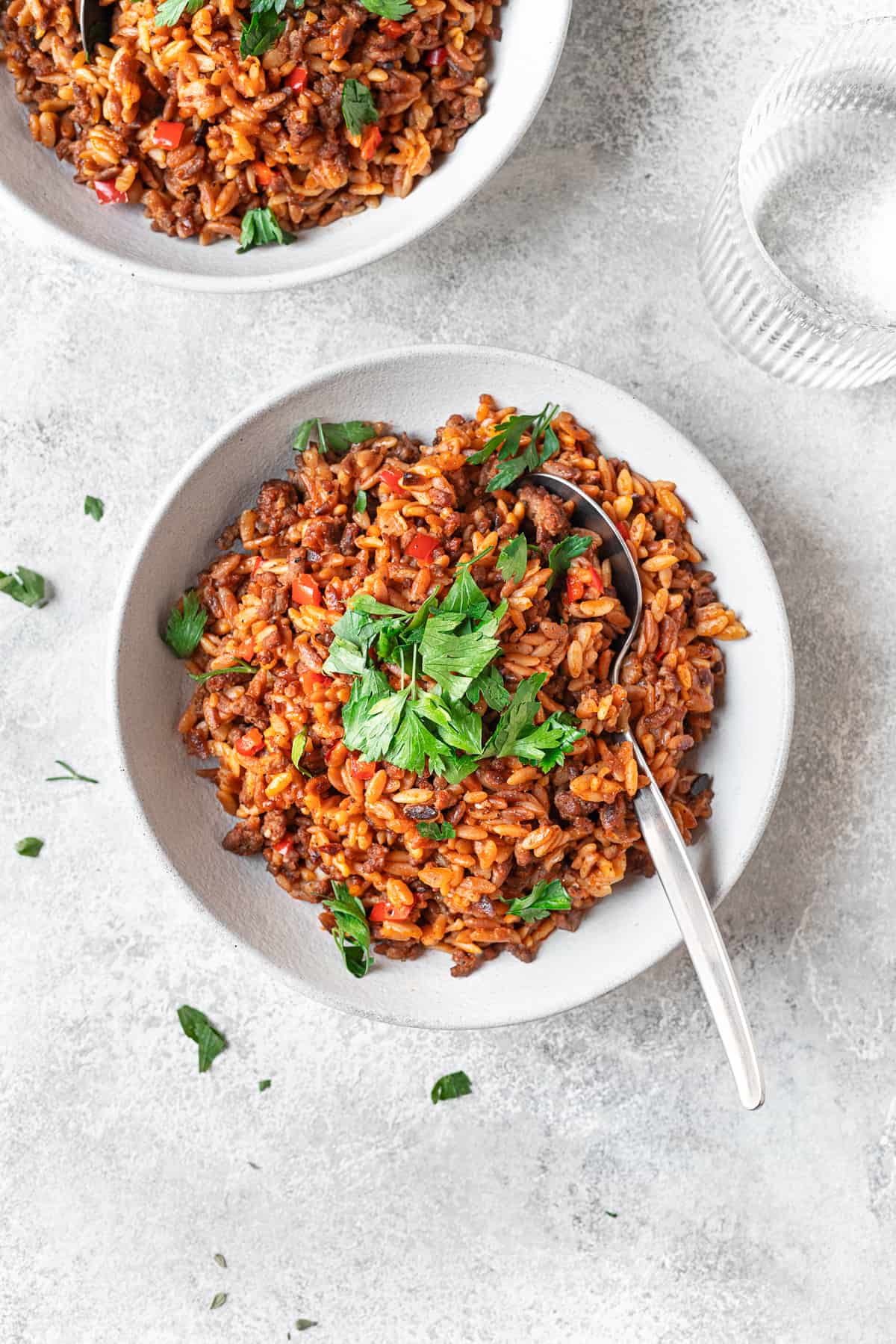 Try out this recipe for our twist on an Egyptian classic we grew up eating! Quite simply, it is an Egyptian Orzo Pasta. The name translates directly to bird's tongue. The jury is out on exactly how this dish got its name, but our dad thinks it is because orzo is shaped like a birds tongue.
The primary ingredient is orzo, which you've likely had before if you love Italian food as much as we do. We add ground beef to round out this dish to make it a main course. But it works very well as a side dish or a component of a family style meal!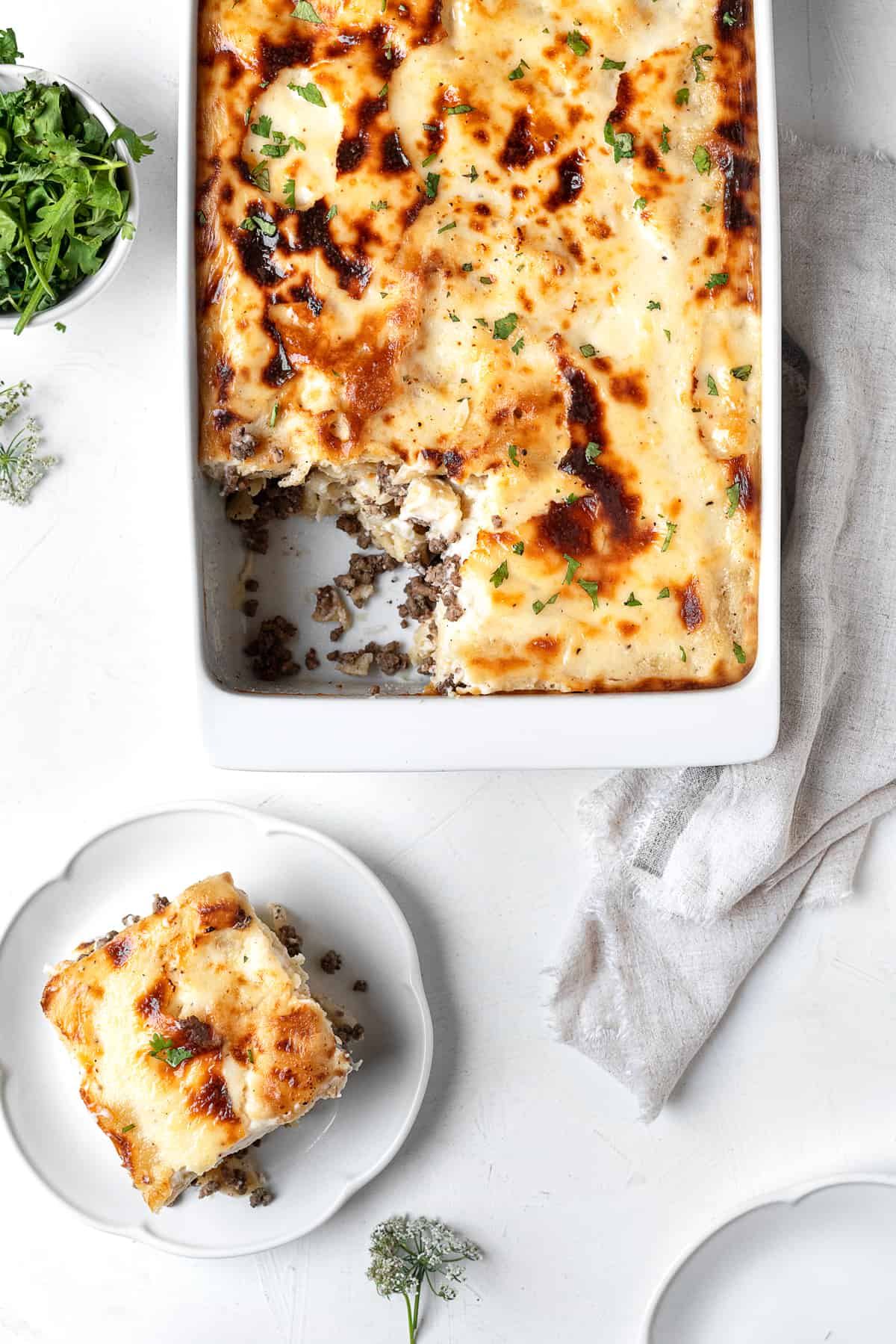 If you're in the mood for comfort food, look no further. We are confident our recipe for Macarona Bechamel is going to land a place in your heart! This egyptian baked pasta is absolutely delicious.
The penne is layered with spiced beef and baked in the creamiest béchamel sauce. This was one of our favorite meals growing up, and now it has become a dish that our whole family looks forward to. With simple ingredients like pasta, spiced beef and a creamy béchamel, you really cannot go wrong with this recipe!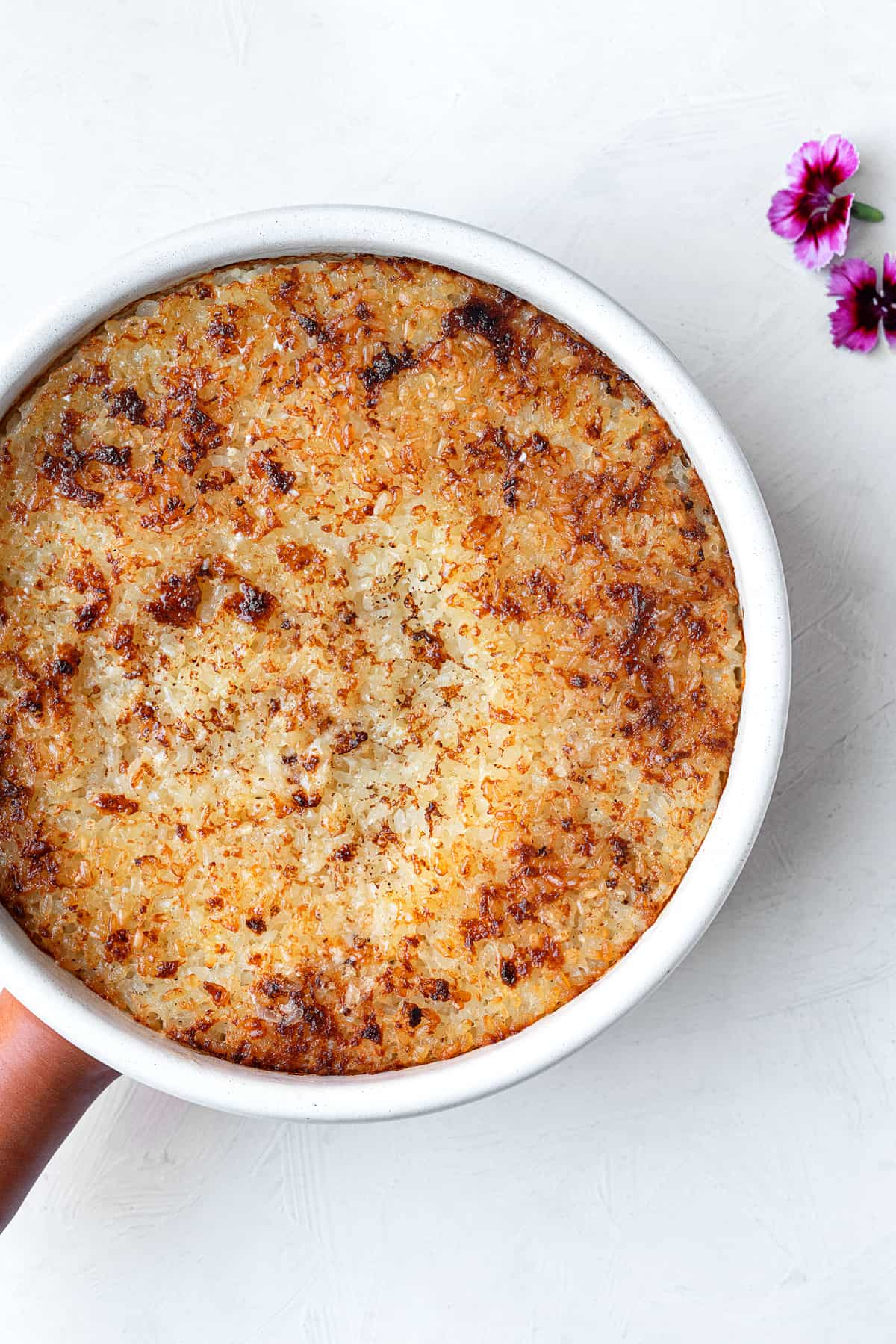 Hold onto your seats because the way you consume and cook rice is about to change forever. This Egyptian baked rice is loaded with butter, heavy cream, beef and clotted cream. Yup! You heard that ingredient list correctly.
Traditionally made in a clay pot, our take on this Southern Egyptian classic is absolutely delicious! It is the perfect side to accompany any main dish and is one of the most indulgent recipes you will find here at Food Dolls.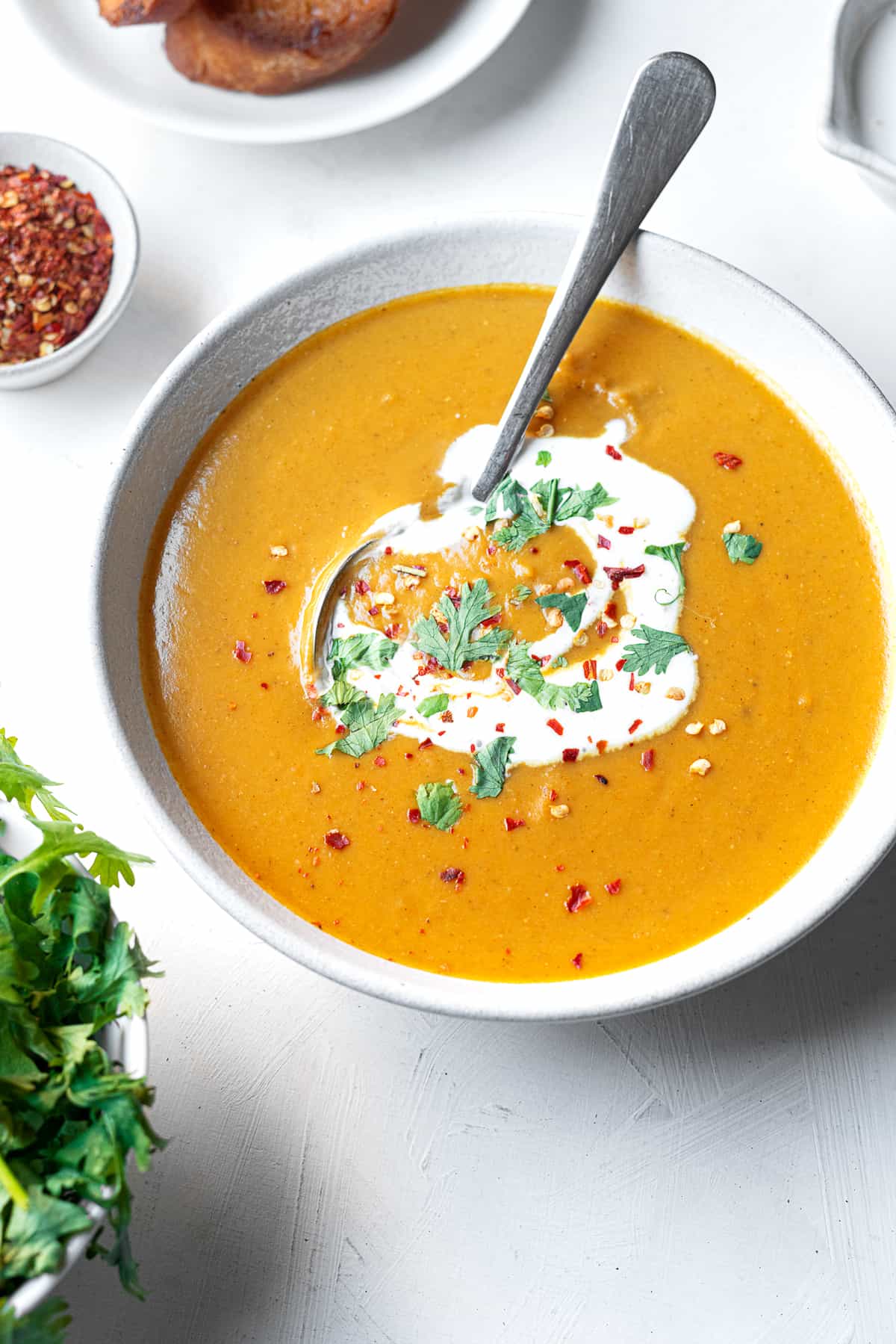 We grew up eating our Mom's Egyptian lentil soup during the cold Minnesota winters, and now we make this dish for our kids too! This creamy soup is has the most comforting texture, and is surprisingly vegan friendly with just one single modification.
Lentils are a staple in Egyptian cuisine, and we use them often in our kitchen. They are great for your health, but also have the most delectable nutty flavor and perfect texture when blended.