Kahk Cookies, also known as Eid Cookies, are a staple treat to mark the end of Ramadan. Rich and buttery, they're similar in taste and texture to Mexican Wedding Cookies or Snowball Cookies and come in a wide variety of flavors to satisfy every sweet tooth. Typically a little tedious to make, our Kahk recipe is a simplified rendition of the classic treat with all the sweet, sugary flavor and half the work!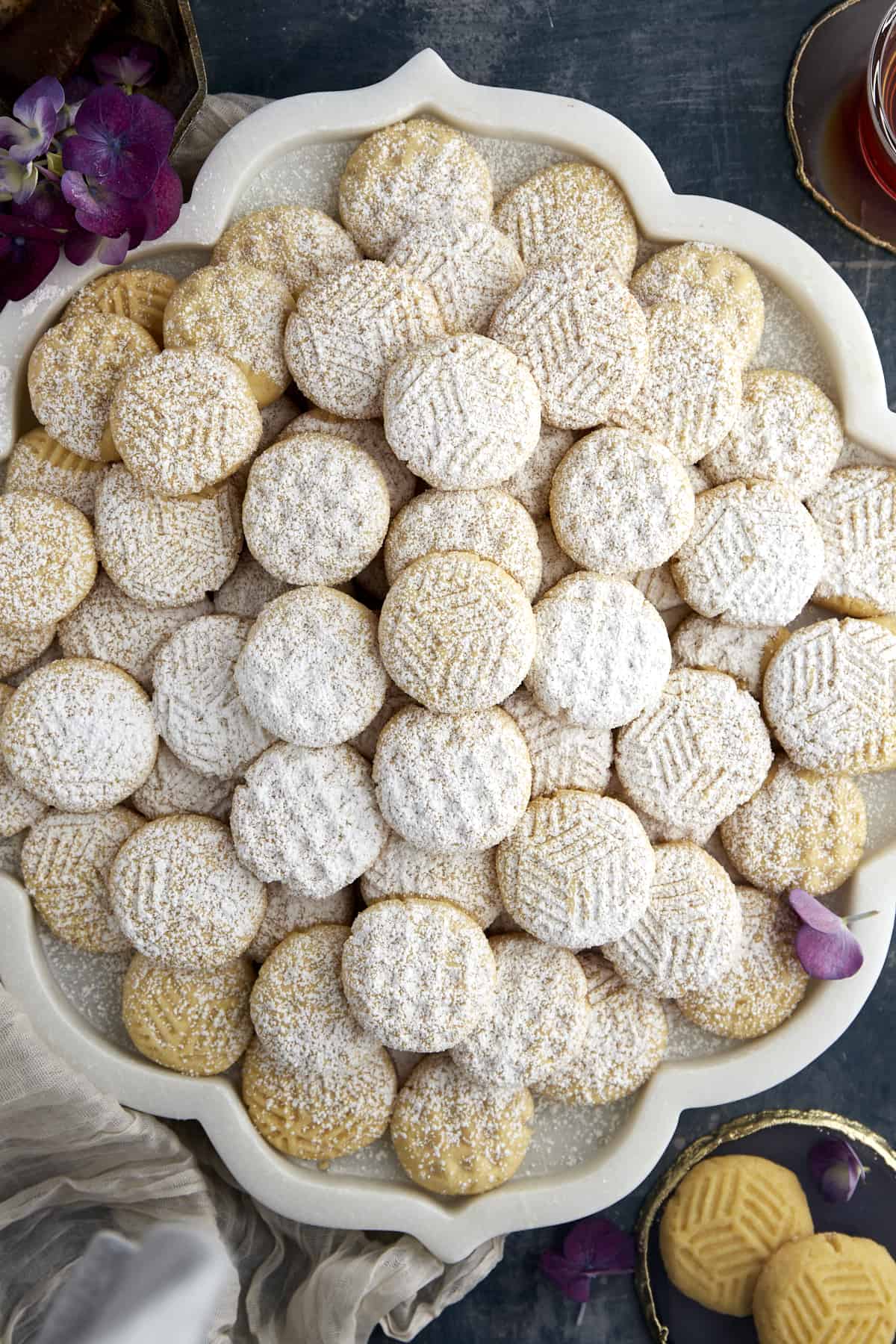 Ramadan is wrapping up, and Eid is starting. While we love all the popular Ramadan recipes, we can't wait to dig into a fresh batch of our favorite treat – Kahk Cookies!
If you're unfamiliar, Eid, Eid al-Fitr, or The Festival of Breaking the Fast, marks the end of Ramadan and is a celebratory time in Muslim culture. The period lasts for 3 days during which time people celebrate by exchanging gifts, buying and wearing new, extravagant clothes, and, of course, indulging in feasts! After all, it's only natural to be super hungry after a full month of fasting!
During this time, many different dishes are made and many, many treats are consumed to make up for the calories we missed out on. The most common of these desserts include Ghraybeh, Petit Four, and our favorite, Kahk!
In fact, you'll be hard-pressed to find an Egyptian family that isn't enjoying Kahk Cookies during this time. Of course, they're delicious, but they're also a great excuse to gather with loved ones for a full-day baking event. This is because the cookies are a little intricate to make, meaning the more chefs in the kitchen, the better. Plus, little ones love the chance to decorate! We make them every year with our own kids!
As a result, the sweet treats are the perfect way to mark the end of the holy month, gathering everyone in one space and providing an activity for lots of laughs and fun. Each family has their own spin on Eid Cookies, and as a result, they're often gifted back and forth. However, no matter how they're made (or how many you've eaten), they're always a treat to look forward to enjoying!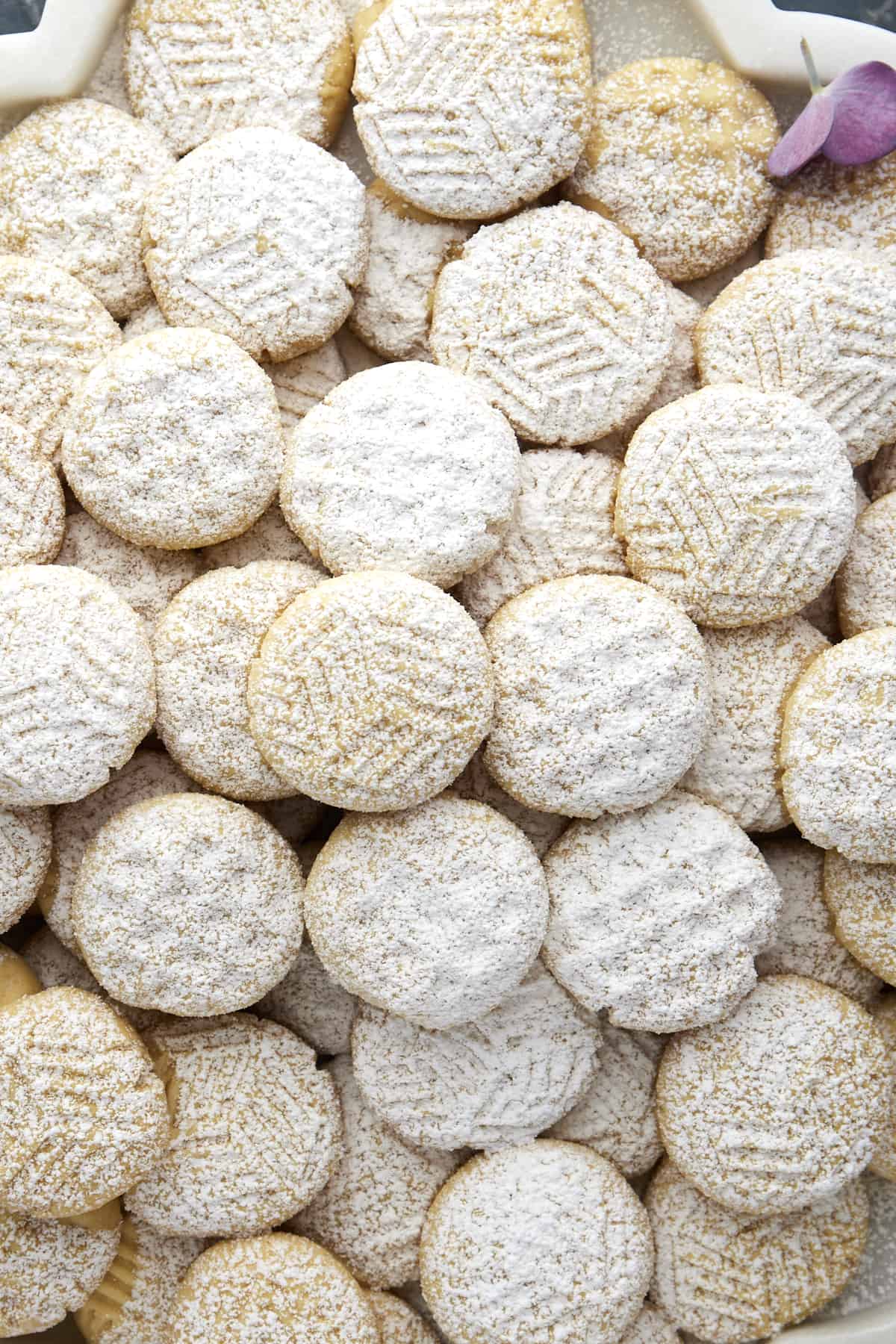 What Are Kahk Cookies?
Kahk Cookies themselves are pretty simple, buttery cookies not unlike shortbread cookies or Pecan Sandies. They have a circular shape and are almost always dusted with powdered sugar. It's really the filling and decoration options that set these cookies apart! You see, they can be found with a whole variety of fillings (which we'll get into later) and are made with intricate designs that add texture and help the powdered sugar cling to the outside. This means, that once they're stuffed and baked, the average dough transforms into a super sweet dessert.
Origins Of Eid Cookies
Kahk Cookies originated in Egypt and are an ancient recipe. Carvings have even been found of people making Kahk in the ruins of ancient temples like Memphis and Thebes! Over the years, the tradition of Eid Cookies continued and changed, making its way into Islamic culture as well.
For instance, during the Toulind dynasty, bakers formed Kahk into packets known as kul wishkur which translates to mean, "eat and say thank you". It wasn't long before the cookies became associated with Eid.
Originally, the cookies were shaped into various geometric forms. Over time, geometric markings, sayings, and signs were also carved on top. It is also believed that the cookies were once prepared by palace kitchens and stuffed with gold coins which were later replaced by their various edible fillings.
No matter the origins of Kahk, they have always been a communal treat, made to bring friends and family together! You can read more about the origins and evolution of the recipe here.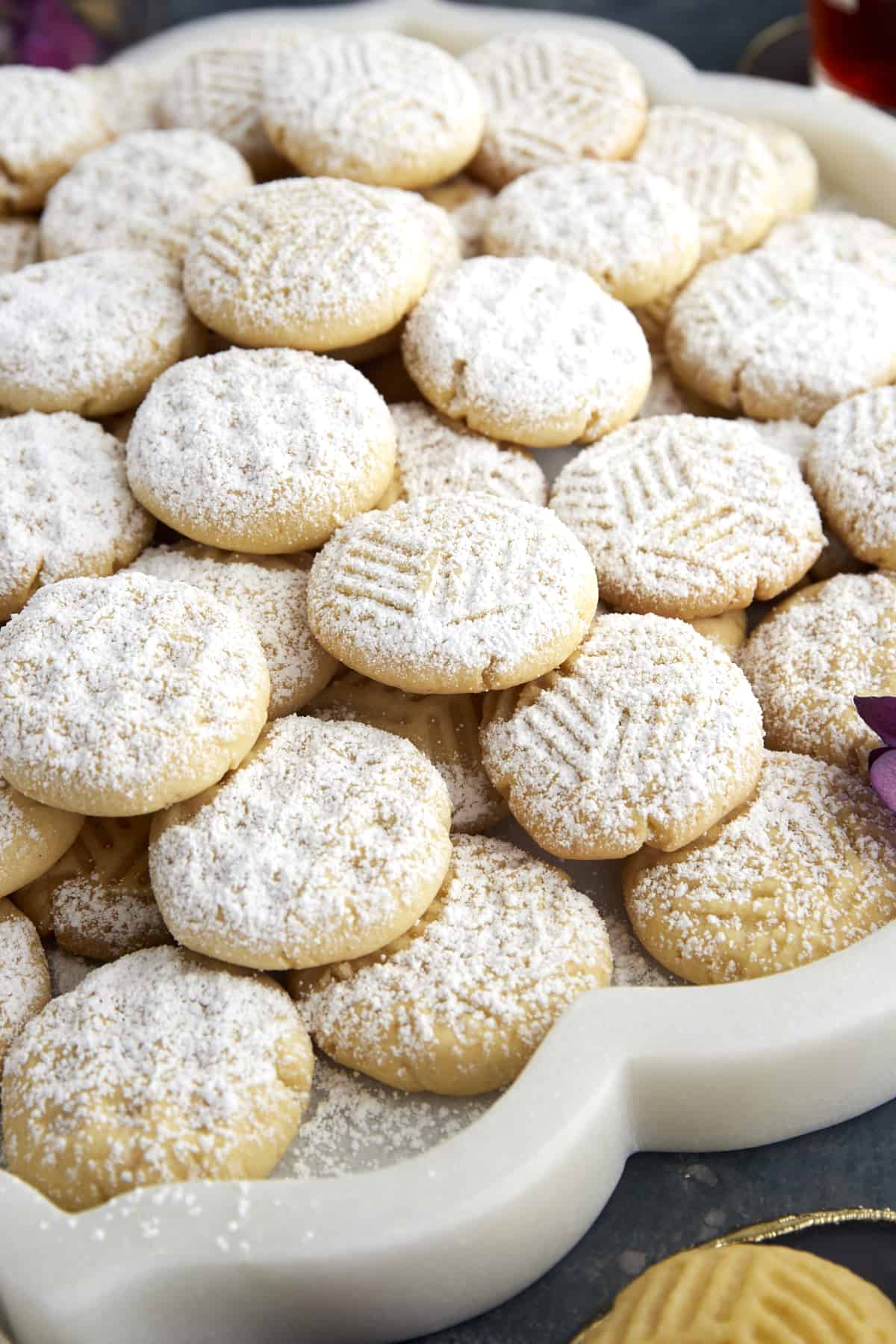 Basic Ingredients
As mentioned, Eid Cookies are pretty simple on their own. As a result, they require just a handful of pantry staples. Here's what you'll need for the dough:
Filling Options
Call us crazy, but we don't fill our Eid Cookies! Many would call it blasphemy, but we love the simple buttery taste and melt-in-your-mouth texture of the plain dough. That said if you want to fill your cookies, by all means, go for it! Some of the most popular options include:
How to Make Easy Kahk Cookies
These treats have a bit of a reputation for being difficult to make. Honestly, that's a bit of an exaggeration, in our opinion. If you can make Graybeh, you can make Eid Cookies. But, don't worry! We simplified the original recipe, making it basically failproof and every bit as tasty.
Prepare. Start by preheating your oven, and lining a large baking sheet with parchment paper.
Whisk the Dry Ingredients. In a large mixing bowl, combine the dry ingredients, and set them aside.
Beat the Wet Ingredients. In the bowl of a stand mixer, beat the wet ingredients together until they're smooth and creamy.
Combine the Wet and Dry Ingredients. With the mixer on low, slowly add the dry ingredients to the bowl of wet ingredients, mixing just until they're combined. Next, increase the speed to high, and add the water. Beat the mixture until it comes together as a dough.
Portion. Use a small cookie scoop or ice cream scoop to portion out 1-inch balls of dough. Roll them between two palms, and place them on the baking sheet.
Stamp. Now is the time to get the kids involved! Use a cookie stamp to press down the dough and create fun patterns on top.
Bake. Place the cookies in the oven just until the bottoms turn a light golden brown kind of like sugar cookies.
Cool and Dust. Let the cookies cool slightly before transferring them to a wire rack to cool completely. Then, dust them with a heavy hand of powdered sugar just before serving!
Tips for Success
How to Store
After a month of fasting, Kahk Cookies disappear almost immediately. However, we love them so much, we make them throughout the year. Especially around the holidays! To keep them fresh, transfer them to an airtight container, and store them at room temperature for up to 1 week or in the fridge for up to 1 month.
Or, keep them in the freezer for up to 6 months! Just thaw them in the fridge and let them come to room temperature when you're ready to eat.
We earn a commission if you make a purchase, at no additional cost to you.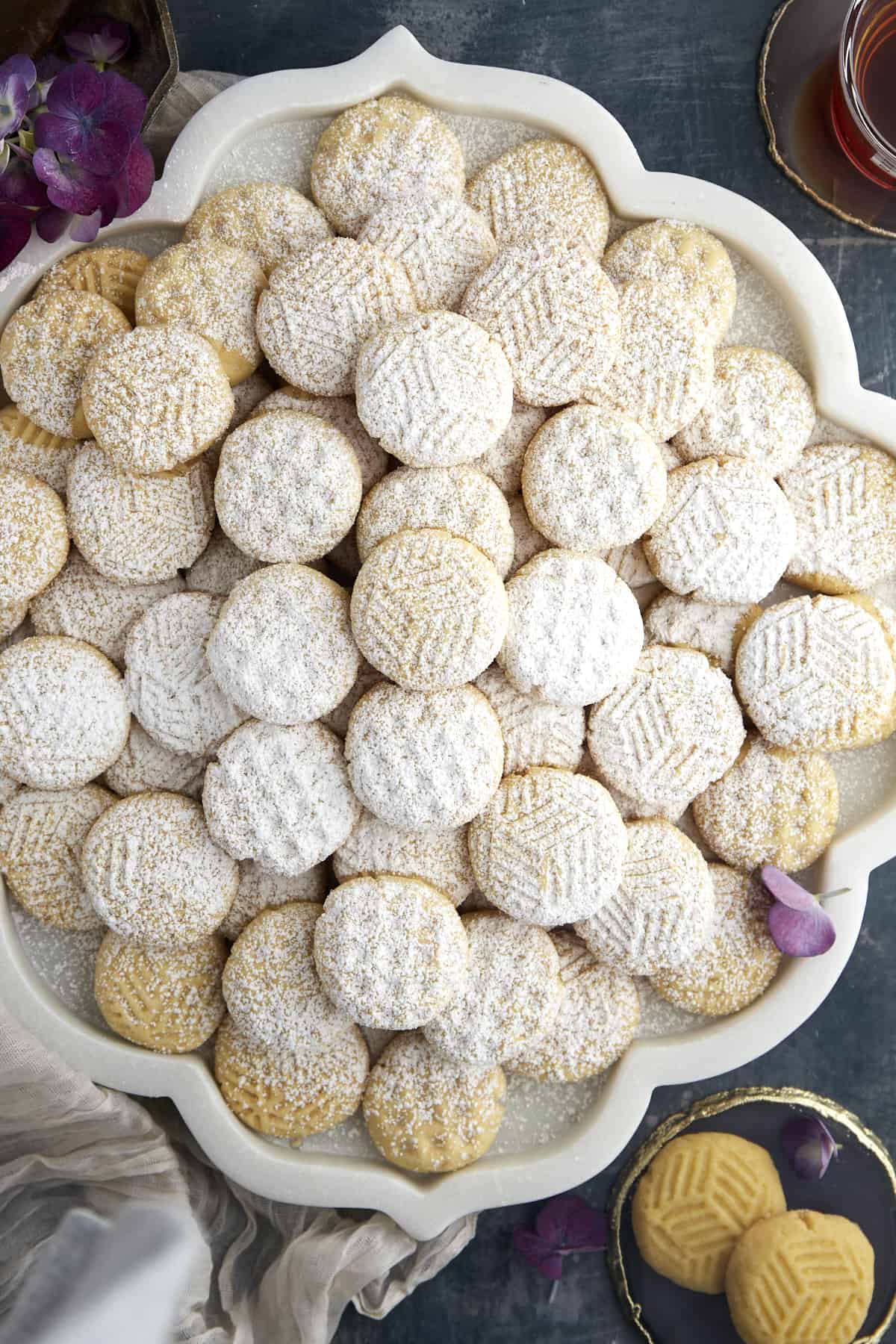 Learn how to make an easy version of classic Kahk Cookies for the perfect dessert to celebrate Eid and all your favorite holidays!
Ingredients
2

cups

all-purpose flour

1/2

teaspoon

baking powder

1/2

teaspoon

instant yeast

1/8

teaspoon

sea salt

Optional: 2 Tablespoons sesame seeds

Optional: 1 teaspoon reheet il kahk

kahk spice mix*

1

cup

clarified butter or ghee

room temperature

1

teaspoon

vanilla extract

1/4

cup

powdered sugar

plus extra for dusting

1

tablespoon

water

room temperature
Instructions
Preheat the oven to 325° F. Line a baking sheet with parchment paper, and set aside.

In a bowl, combine the flour, baking powder, yeast, salt, sesame seeds, and spices (if using). Set aside.

In the bowl of a stand mixer, beat the butter, vanilla extract, and powdered sugar until creamy.

Turn the mixer on low, and add the dry ingredients, mixing until just combined. Increase the speed to high, add the water, and beat until the ingredients come together as a dough. It will have a similar texture to a playdough.

Use a small ice cream scoop to portion out 1-inch balls of dough. Roll them between two palms, and place them on the prepared baking sheet, 1-inch apart. Stamp the cookies down with a cookie stamp.

Bake 17-19 minutes. They will be blonde on top and the bottom takes is a light golden brown color.

Let the cookies cool slightly before transferring them to a wire rack to cool completely.

Dust with powdered sugar just before serving, and enjoy!

Store at room temperature for up to 1 week or in the fridge for up to 1 month.
Nutrition
Serving:
1
serving
|
Calories:
65
kcal
|
Carbohydrates:
5
g
|
Protein:
1
g
|
Fat:
5
g
|
Saturated Fat:
3
g
|
Polyunsaturated Fat:
0.3
g
|
Monounsaturated Fat:
1
g
|
Cholesterol:
11
mg
|
Sodium:
12
mg
|
Potassium:
10
mg
|
Fiber:
0.2
g
|
Sugar:
1
g
|
Vitamin A:
0.03
IU
|
Vitamin C:
0
mg
|
Calcium:
7
mg
|
Iron:
0.3
mg
Nutrition information is automatically calculated, so should only be used as an approximation.
Like this recipe?
Please leave a comment!
More Desserts to Make for Eid (Or Anytime, Really!)
Looking for more Middle Eastern recipes to satisfy your sweet tooth? Try out more of our favorites below!