Ghraybeh (Middle Eastern Shortbread Cookies)
*This post may contain affiliate links, please see our privacy policy for details.*
Ghraybeh cookies are a popular Middle Eastern shortbread cookie made with 3 simple ingredients. Soft, buttery, and sweet, their melt-in-your-mouth texture and delicate flavor are unbelievably addicting for a treat the whole family will be excited to eat!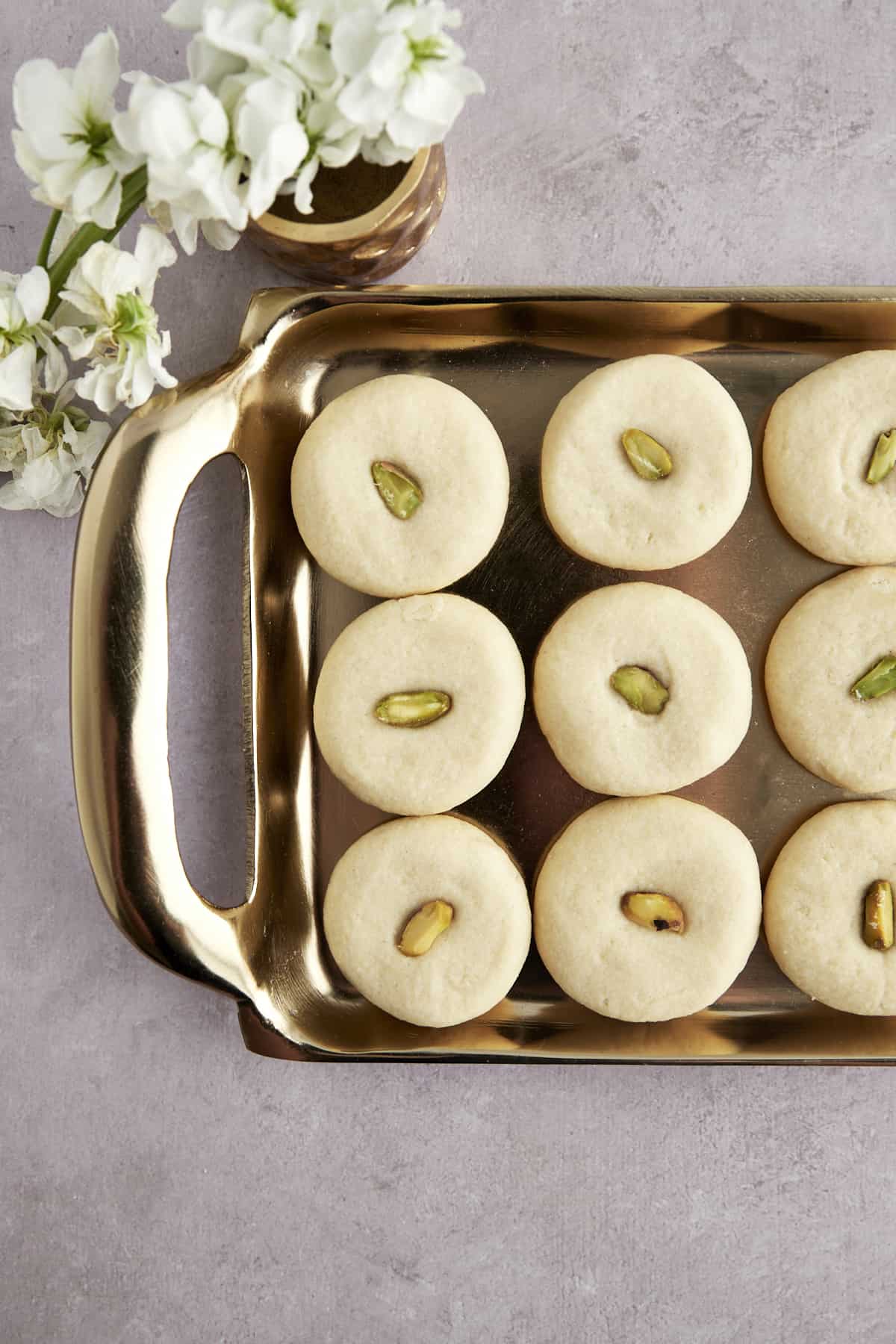 One of our favorite foods to serve to guests during Ramadan, we grew up eating these cookies and continue to make them for our friends and families today!
Extra special during the holy month, we also love to serve them on holiday platters alongside pecan sandies and chocolate chip cookies. Or, whip them up for a fun addition to bake sales! Just don't be surprised when you find yourself eating them by the plateful.
What is Ghraybeh?
Ghraybeh, also known as ghorayeba, ghorayba, or graybeh, is a type of shortbread cookie. However, unlike most American versions, it lacks the crunch of nuts in the batter. Common in Egypt, Syria, Lebanon, and many regions of the Middle East, they can be found in a wide variety of flavors.
For instance, some people make them with citrus flavors like orange blossom or rose water. Meanwhile, other variations are similar to thumbprint cookies, containing a jam-filled center.
However, no matter how they're made, ghraybeh cookies always contain a buttery ghee-based dough. Known for their texture, they're pillowy soft, delicate, and melt in your mouth as soon as you take a bite.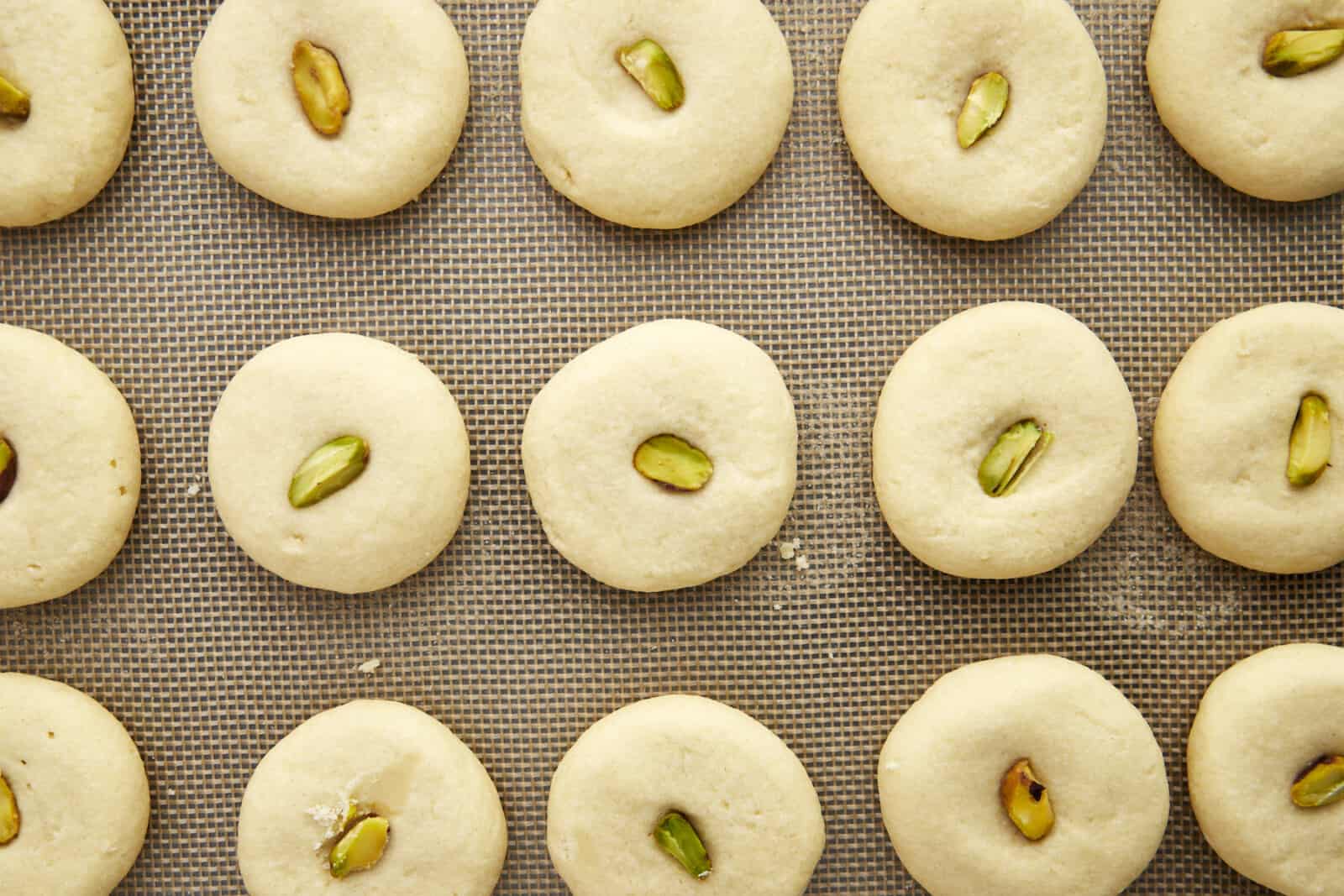 What Are Ghraybeh Made Of?
As mentioned, there are many different versions of these classic cookies. However, we stick with a simple Egyptian version that uses just 4 ingredients. Here's what you'll need:
All-Purpose Flour – This forms the base of the dough. Do not use gluten-free flour, self-rising flour, or cake flour! It won't give you the light, fluffy texture these cookies are known for.
Powdered Sugar – Using powdered sugar is the best way to create a cloud-like texture. Granulated sugar will result in gritty cookies, and brown sugar will be much too moist.
Ghee – This creates a rich, buttery flavor without using butter. Unfortunately, not all ghee is created equal, though. So, be sure to choose carefully as different brands will affect the taste of your ghraybeh! We try to find ghee that tastes as close to butter as possible. Just don't use actual butter. We've tried. It doesn't work.
Pistachios – One half or whole pistachio is gently placed in the center of each cookie adding a pretty appearance and just a hint of savory nuttiness and a bite of crunch.
How to Make The Best Middle Eastern Shortbread Cookies
Don't be fooled by the simplicity of these cookies and think you can just wing the recipe! Although easy, the steps are a bit intricate and must be followed exactly. Otherwise, the taste and texture of your ghraybeh just won't be qutie right.
Whisk. Add the flour and powdered sugar to the bowl of a stand mixer, and whisk to combine. Add the ghee, and continue to whisk on a low speed until a crumbly dough forms.
Beat. Continue to beat for 5 minutes exactly. Once the dough has softened up a bit, increase the speed to medium-high, and continue to beat for another 5 minutes before reducing it back to low. Continue to beat until the dough is smooth and there are no lumps. It will look more like cake batter than cookie dough!
Chill. Transfer the dough to the fridge until it is no longer sticky but still soft.
Portion. Use a small ice cream or cookie scoop to portion the dough into equal-sized balls, rolling them between your palms.
Bake. Place the ghraybeh in the oven just intil the cookies are set.
Cool. Let the cookies cool slightly on teh baking sheet before transferring them to a wire rack to cool completely, and enjoy!
Our Pick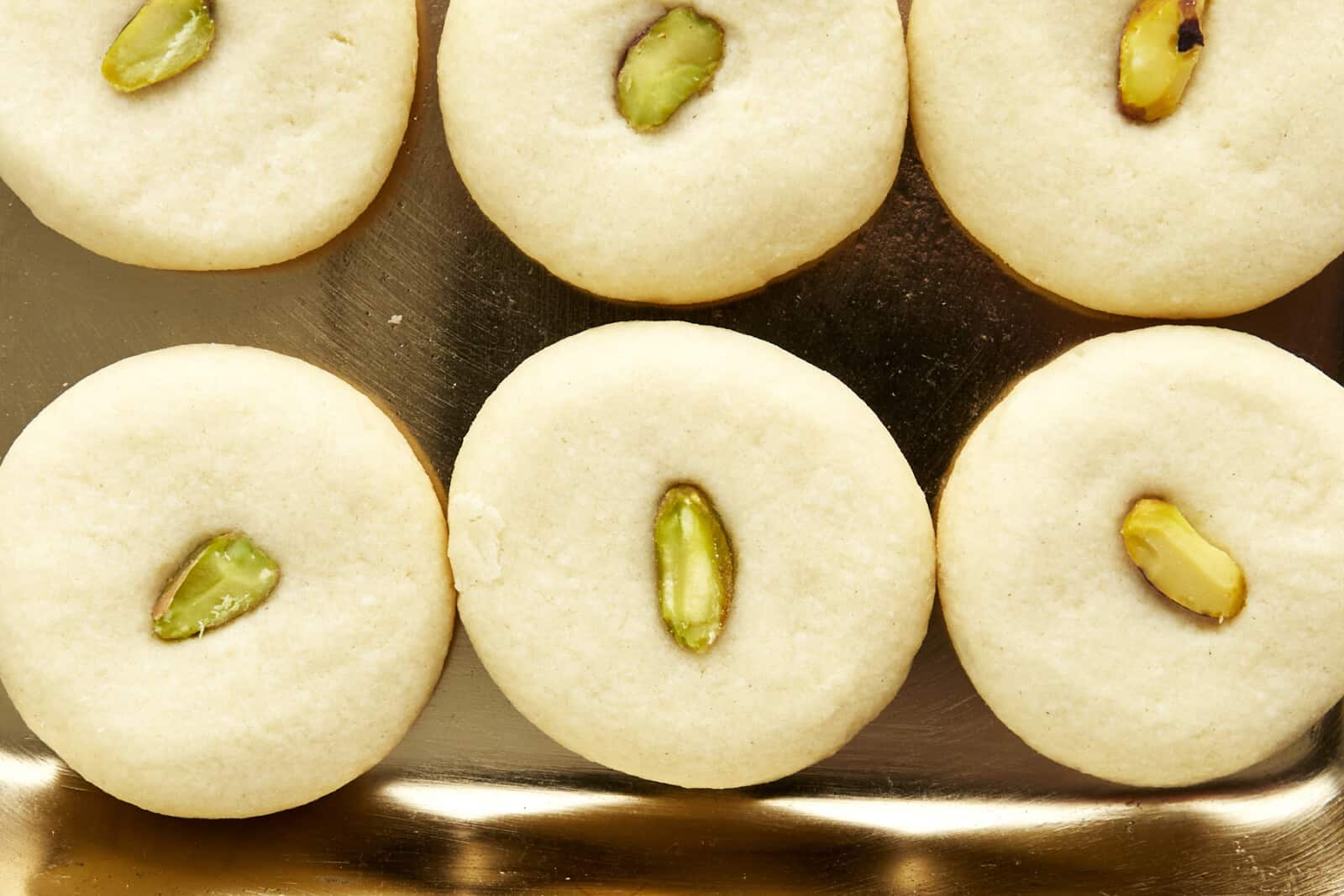 Baking Tips for the Best Results
Use Room Temperature Ghee. You want it to be soft but not melted. Otherwise, your cookies will turn out flat! However, if the ghee is soft enough to be malleable, it will allow for easy mixing, making it easier to avoid overworking the dough.
Don't Add Flour! Because the mixed batter does not look like standard cookie dough, many bakers are tempted to add more flour to help absorb some of the moisture. Don't. You want the batter to look like a cross between hummus and cake batter.
Allow the Dough to Chill. Do not skip the chilling process, and leave the dough in the fridge for at least 20-25 minutes. This will prevent the cookies from spreading too much as they bake or from becoming crumbly.
Avoid Overbaking. Every oven cooks differently and these cookies are easy to overbake. So, be sure to keep a close eye on them! You'll want to remove them as soon as the edges are set. They should still be white all around, even on the bottom. They should feel set to the touch but still leave a bit of dough on your finger when you pull it away.
Cool Completely. Ghraybeh continues to bake and set as they cool. So, as tempting as it is, make sure to allow them enough time to cool completely either on the baking sheet or a wire rack.
Trouble Shooting
Although simple in theory, ghraybeh can prove difficult to make. To help guarantee your success, we've done a little trouble shooting on our own.
Hard Cookies
There are three common reasons why ghraybeh cookies may turn out hard:
The ingredients were not measured properly. To avoid error, we highly recommend using a food scale!
The dough was overworked. You want it to be combined just until no lumps remain.
The cookies were overbaked. You'll want to pull them out before you think they're done!
Cracked Cookies
If your cookies crack in the oven, it is likely because of one (or more) of the reasons as to why they may turn out hard. In addition, an overly hot oven can also cause cookies to crack. Make sure it is set to the right temperature and is not left to heat too long!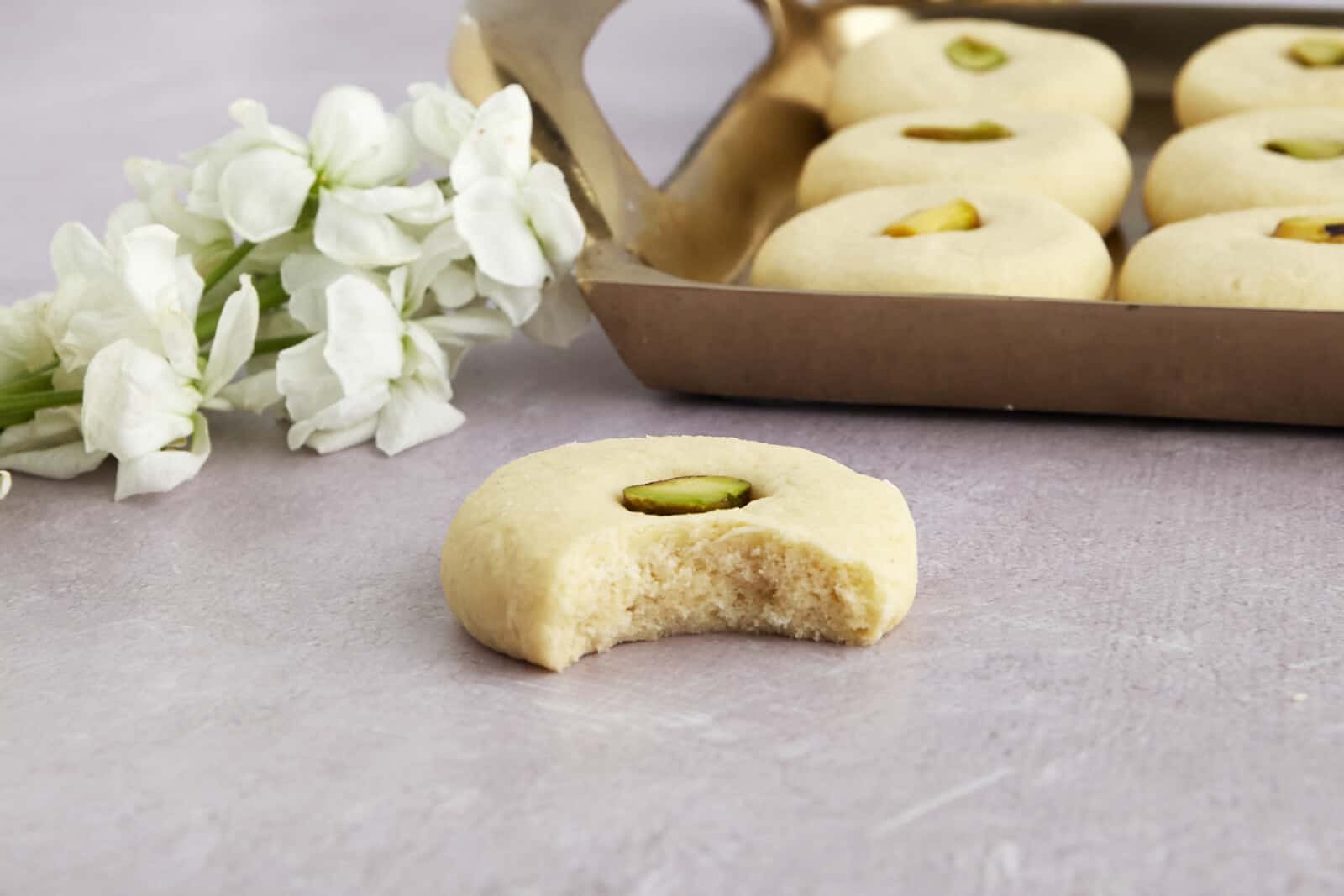 Ghraybeh Common Questions
Can I use a hand mixer instead?
You can, but it gets tiring! Altogether you'll be beating the dough for at least 15 minutes, maybe more. You'll definitely get your workout in for the day!
Why can't I use butter?
Butter has more moisture than ghee which is nearly entirely fat. As a result, it will alter the textre or your ghraybeh cookies.
How long do these cookies keep?
Believe it or not, these cookies taste even better the next day, if you can get them to last that long! Once cooled, they can be transferred to a loose container (You don't want it to be airtight) and stored at room temperature for 2-3 weeks.

Can I make the dough ahead of time?
Absolutely! Once shaped, the cookies can be stored in the fridge for 3-4 days or in the freezer for up to 1 month.
Can I bake these cookies from frozen?
Yes! Just add an extra 2-3 minutes of baking time, and be careful not to let them burn.
More Middle Eastern-Inspired Treats
Looking for more dessert recipes for all your special occasions? Don't miss out on some of our favorites below!
Ghraybeh (Middle Eastern Shortbread Cookies)
Ghraybeh cookies are a popular Middle Eastern shortbread cookie made with 3 simple ingredients!
Ingredients
4

cups

all-purpose flour

(leveled)

1 1/2

cups

+ 1 Tablespoon powdered sugar

(sifted)

1 1/2

cups

ghee

(room temperature)

1/3

cup

pistachios

(sliced, or any nut of your choice)
Instructions
Adjust the oven rack to the middle position. Preheat the oven to 250° F. Line 2 baking sheets with parchment paper or silicone mats, and set aside.

In the bowl of a stand mixer fitted with a paddle attachment, add the flour and powdered sugar. Whisk together until well combined.

Add the ghee, and continue to mix on low speed until a crumbly dough starts to form. Continue to beat for 5 minutes. Note: The dough will look very crumbly and stiff at first but will soften up as it is mixed.

Increase the speed to medium-high, and continue mixing for 5 minutes. Reduce the speed to low, and beat for another 5 minutes or until the dough is very smooth with no lumps. It will like like a cross between cake batter and hummus. Do NOT add more flour!

Transfer the dough to the fridge to chill for 20-25 minutes or until it is no longer sticky to the touch. It should still be soft!

Using a small ice cream scoop, portion the dough out into equal-sized balls roughly 1 heaping tablespoon in size, rolling them between two palms.

Place the cookies on the prepared baking sheet, and use lightly floured fingers to gently flatten them out. Press a pistachio into the center of each cookie.

Bake 15-16 minutes just until the edges have set. NOTE: The entire cooking should still be white and will leave residue if touched.

Allow the cookies to cool completely, keeping them out for at least 2 hours or up to overnight before storing.

Store in a container at room temperature for 2-3 weeks.
Notes
We recommend doing a test batch of a few cookies to determine the perfect baking time.
This recipe was inspired by and adapted from Cleobuttera's, The Perfect Ghoraybea recipe.
Nutrition
Serving:
1
cookie
|
Calories:
60
kcal
|
Carbohydrates:
7
g
|
Protein:
1
g
|
Fat:
3
g
|
Saturated Fat:
2
g
|
Polyunsaturated Fat:
0.2
g
|
Monounsaturated Fat:
1
g
|
Cholesterol:
8
mg
|
Sodium:
0.2
mg
|
Potassium:
11
mg
|
Fiber:
0.2
g
|
Sugar:
2
g
|
Vitamin A:
2
IU
|
Vitamin C:
0.03
mg
|
Calcium:
1
mg
|
Iron:
0.3
mg