This no-knead focaccia bread art recipe is all about being easy – there's no need to break a sweat with homemade dough! We've got you covered with a super-simple hack: just snag some store-bought frozen Rhodes dinner rolls, and and upgrade your focaccia game in the easiest way. Who says fabulous has to be complicated?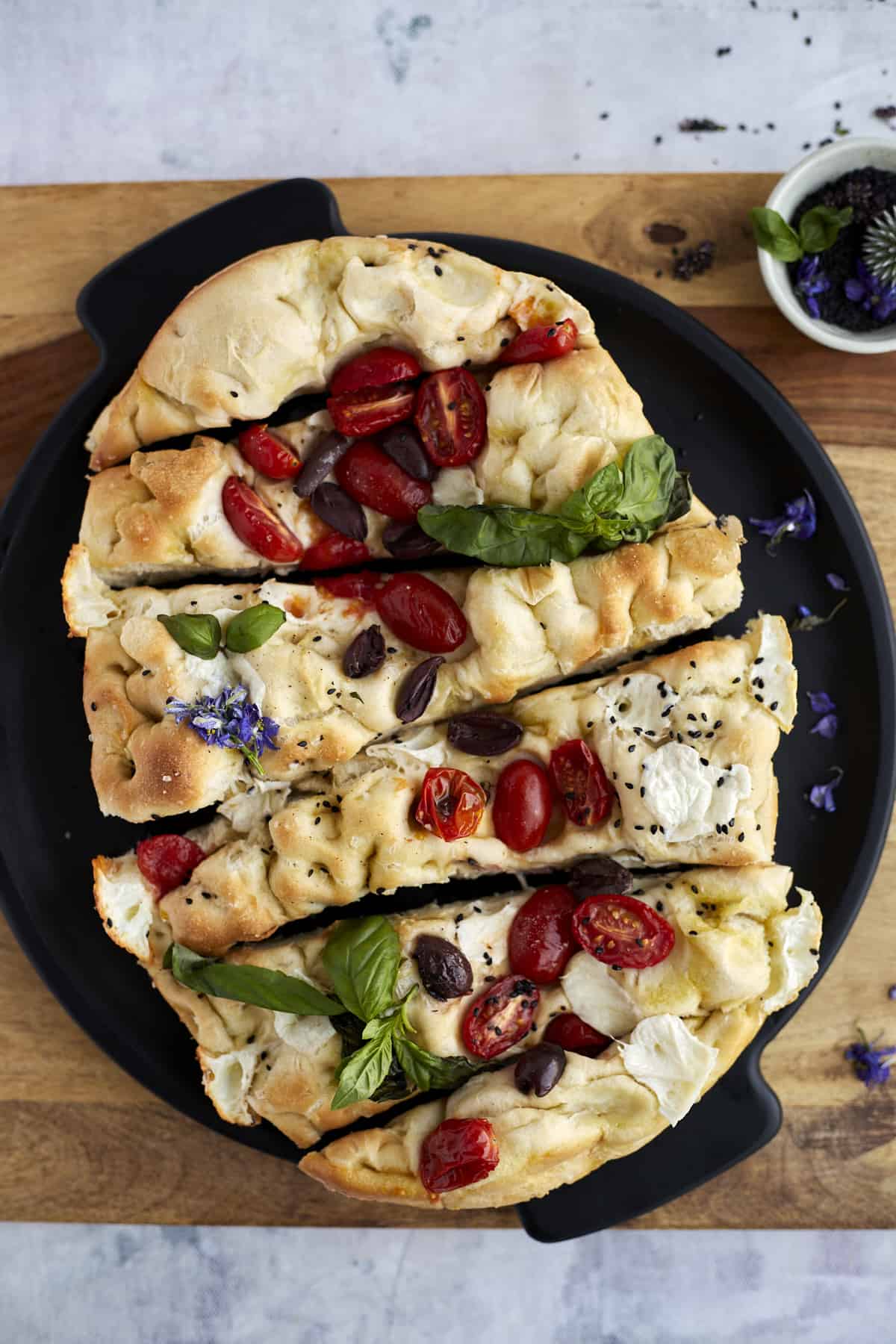 What is Focaccia Bread
Focaccia (pronounced fo-kah-cha) is a flatbread similar to a pizza dough that you can make either sweet or savory. It originates in the providence of Liguria in Italy. Liguria is the best-known region for its classic focaccia, which is called "classica" in Genoa. Typically it is flattened to about 1/2 to 1 inch thick, with indentations throughout the whole surface. Focaccia bread has a lot of herbs and olive oil with cheese and other toppings as a garnish.
How To Make Focaccia
Like any other bread, focaccia is simply made with water, flour, yeast, and oil. First, you let the dough rise for several hours, and sometimes overnight. Second, stretch the dough into a large rectangular shape in a greased baking dish with olive oil. The last step is the fun part of making focaccia: drizzling olive oil on top of the dough and creating indentations with your fingers. Sprinkle the top with your favorite herbs and salt.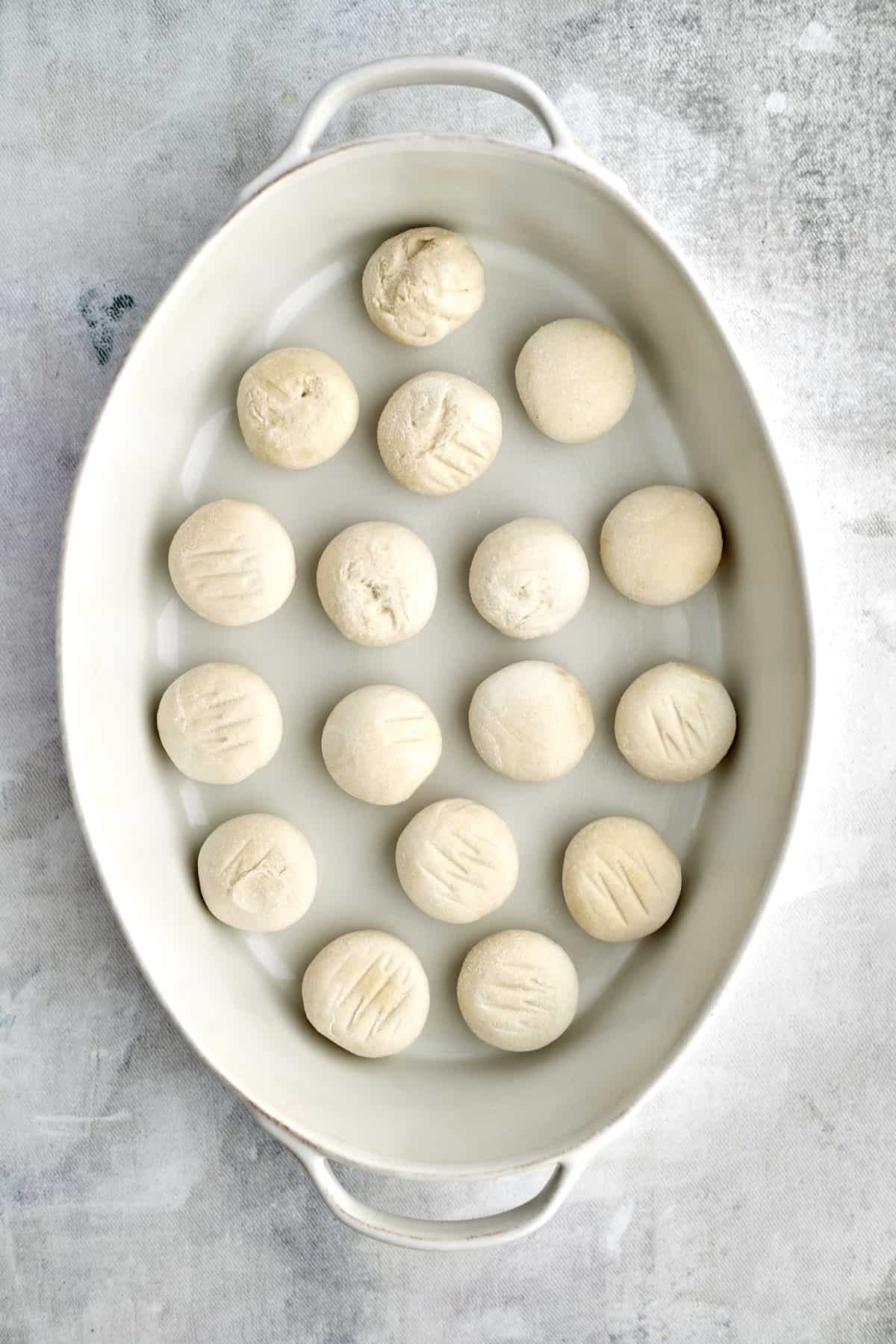 How to Keep Focaccia Fresh
Since this bread has tomatoes, olives, and cheese, we recommend consuming it on the same day. If you end up having leftovers (if that's possible!) store them in an airtight container or bag in the refrigerator for up to 3 days. We like to reheat in the oven or air fryer.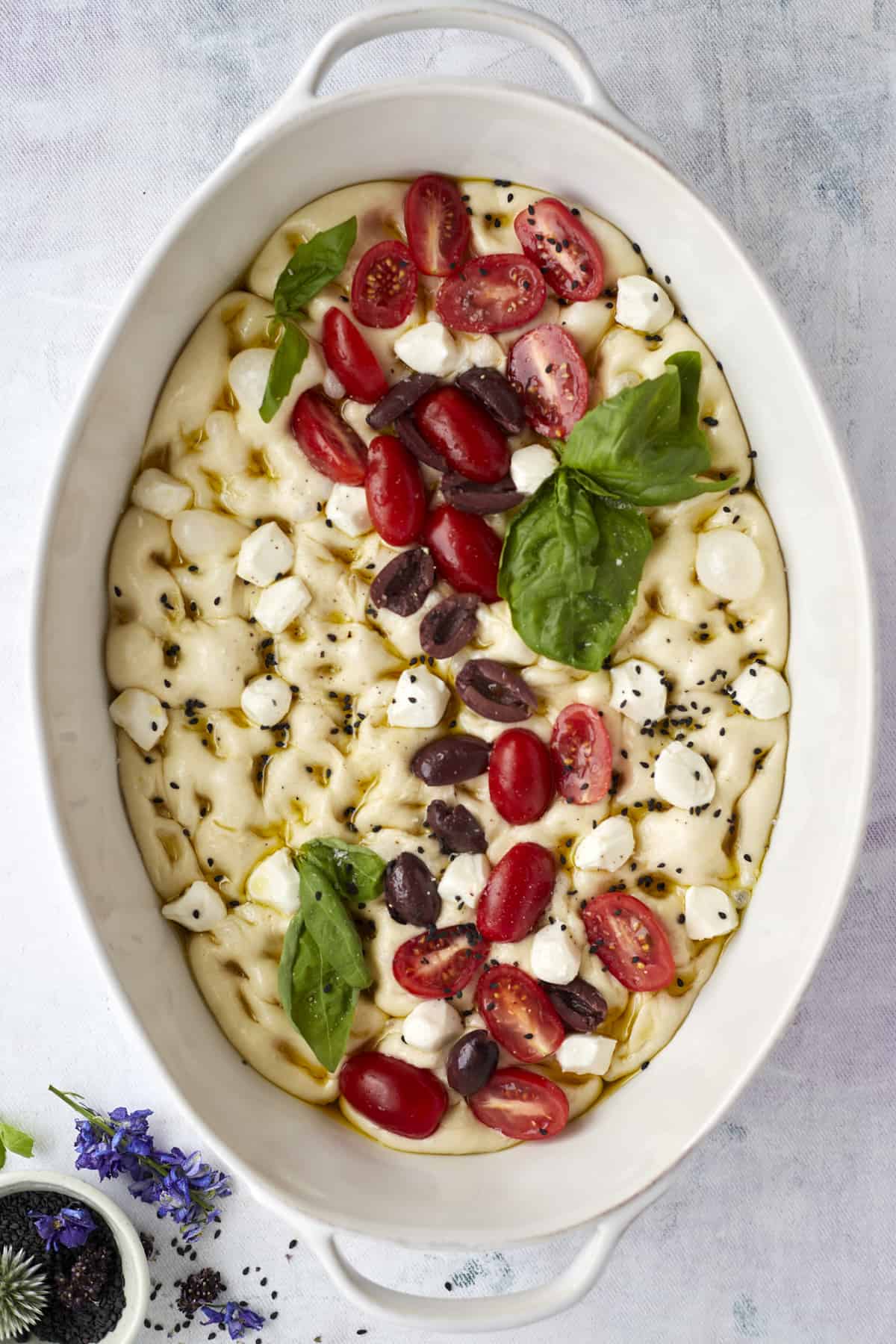 Why We LOVE this Focaccia Hack
As you read, focaccia definitely requires a few steps. Since we're not all about making things complex in the kitchen, we love using frozen dinner rolls. Start off by thawing the bread in a greased 13×9 baking dish, once the bread rises (about 4-5 hours), comes the fun part! Add olive oil, make the indentations, and top with tomatoes, olives, herbs, fresh basil, and fresh mozzarella cheese. The beauty of this recipe is not having to wait overnight for this bread — there's no kneading, and no need to keep using multiple dishes. Moreover, it's made in one baking dish — you can't beat that!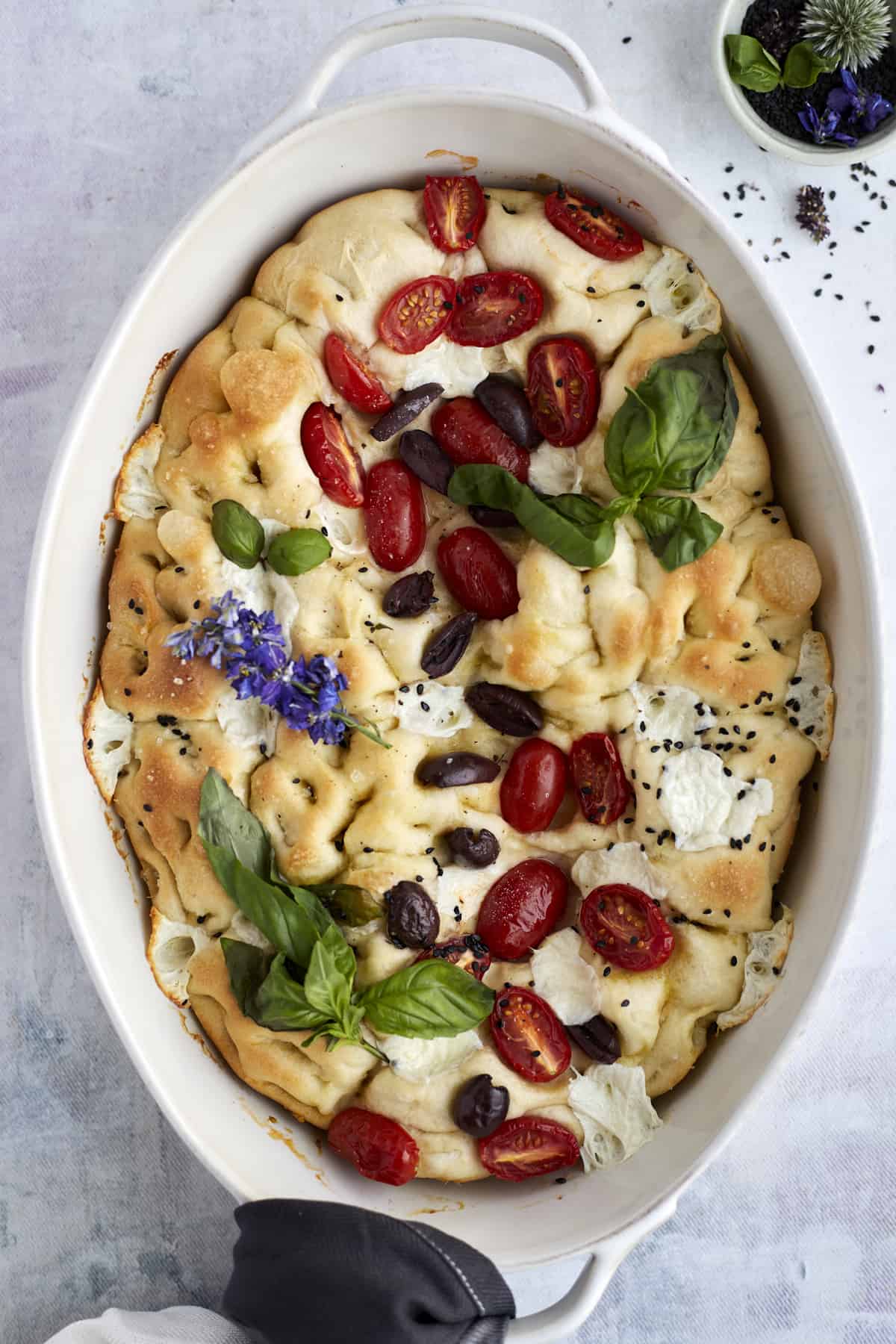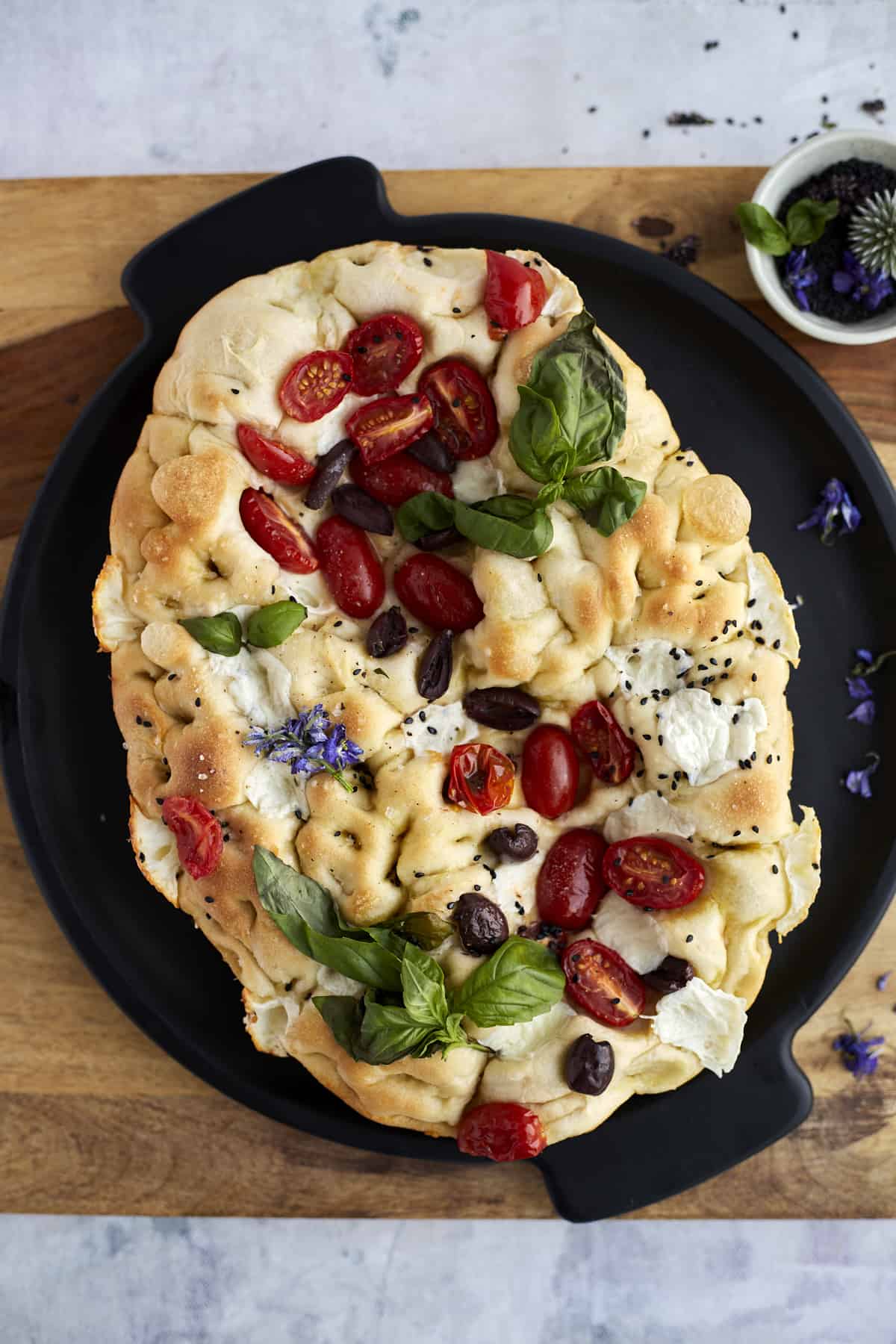 No Knead Focaccia Bread Art
Frozen dinner rolls turned into a fancy roasted tomato and olive focaccia bread.
Ingredients
14-16

frozen Rhodes dinner rolls

8

oz

cherry tomatoes

quartered

4

oz

pitted and sliced kalamata olives

4

oz

fresh mozzarella cheese pearls/balls

1/4

cup

extra virgin olive oil

1

tbsp

Italian seasoning

2

tsp

oregano

1

tbsp

black sesame seeds

salt and pepper

to taste
Instructions
In a large buttered 13×9 baking dish arrange 14-16 frozen dinner rolls, leaving approximately 1/2 inch space between each roll. Lightly brush each frozen roll with a little bit of olive oil. Cover with saran wrap and light rise for 4-6 hours.

Preheat oven to 350 degrees F.

Once the bread has risen to double remove the saran wrap.

Now comes the fun part of making focaccia, drizzle with olive oil on top of the dough and creating indentations with your fingers.

Top the bread with tomatoes, olives, fresh basil, and herbs. Give it a little sprinkle of salt and pepper to the top. Get creative and make a pretty design with the toppings!

Bake for 20-25 minutes or until bread is golden brown. Careful not to overbake! Serve warm.
Equipment
Notes
*Note. If you are finding that the inside is a little doughy. Cover and continue to cook for an additional 5-8 minutes!
Nutrition information is automatically calculated, so should only be used as an approximation.
Like this recipe?
Please leave a comment!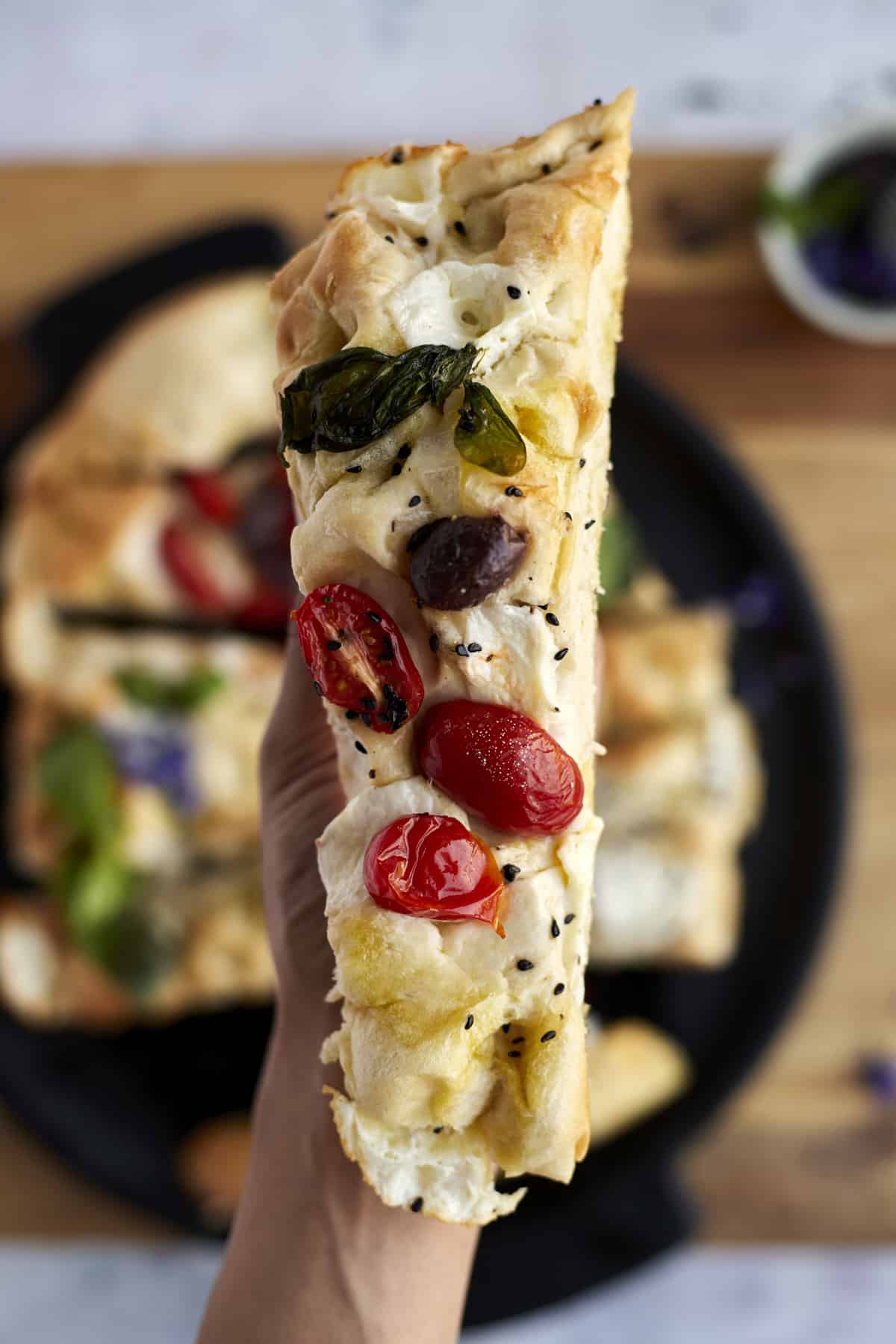 Other recipes using Rhodes Frozen Dinner Rolls
Spinach and Artichoke Bread Ring
Spinach and Artichoke Bread Boats
If you love this baking dish, find it here.