If your kitchen utensil drawer is a chaotic mess and you're tired of rummaging through a jumble of spatulas, whisks, and ladles just to find the right tool for the job, we have the most stylish solution — drawer organizers. We recently got our own drawers out of their state of discombobulation and we have all the tips to help you.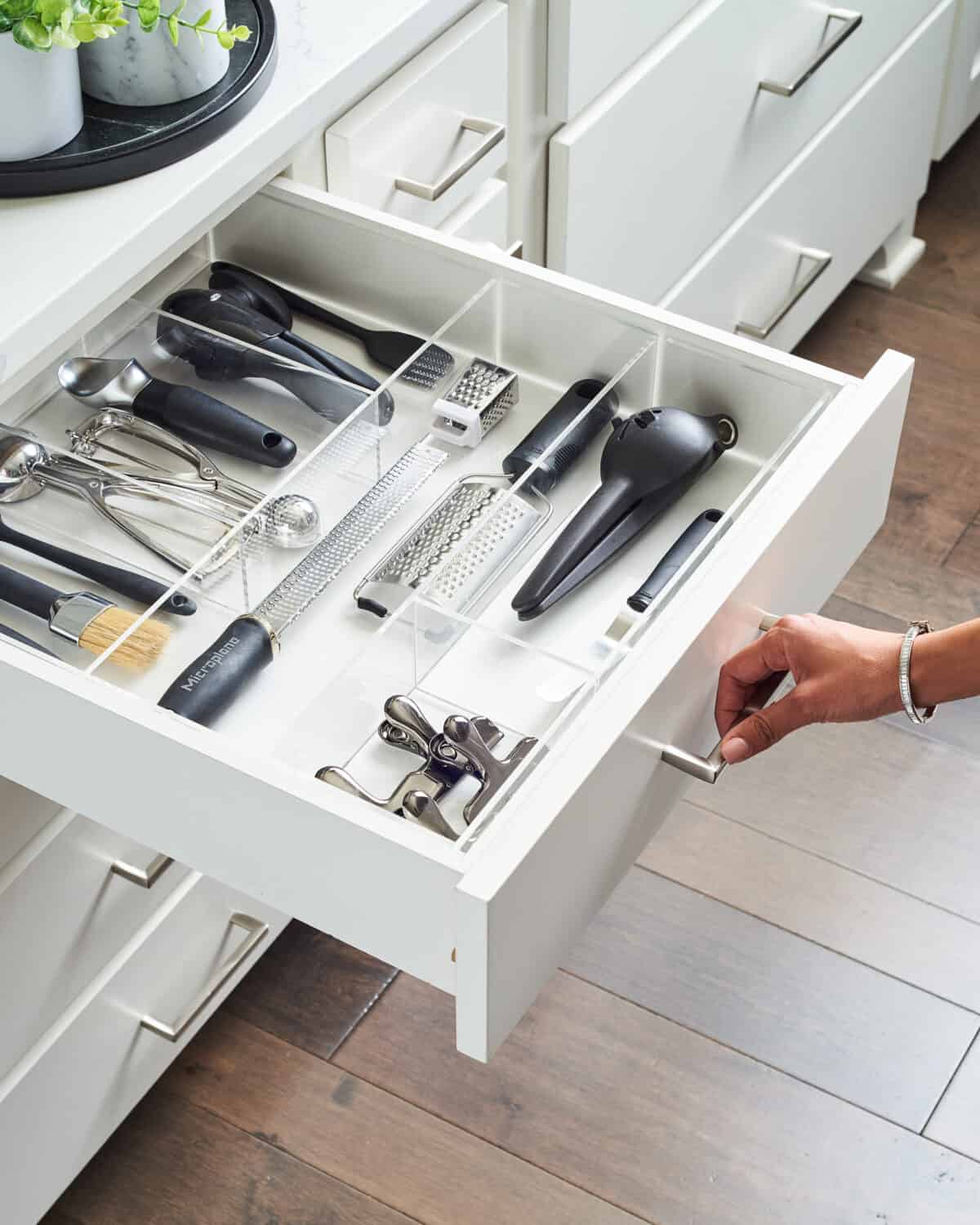 When you realize you need some serious help getting your kitchen in order, it just makes sense to turn to experts. When it comes to kitchen organization, Salt by Sabrina's utensil drawer organizers (Use code fooddolls for 10% off!) inspired us — they aren't just functional; they're a work of art that will transform your daily cooking routine into a seamless symphony.
Let us take you on a journey through the world of utensil drawer organizers (did you think this could be so fun?), and how to find just the right solutions.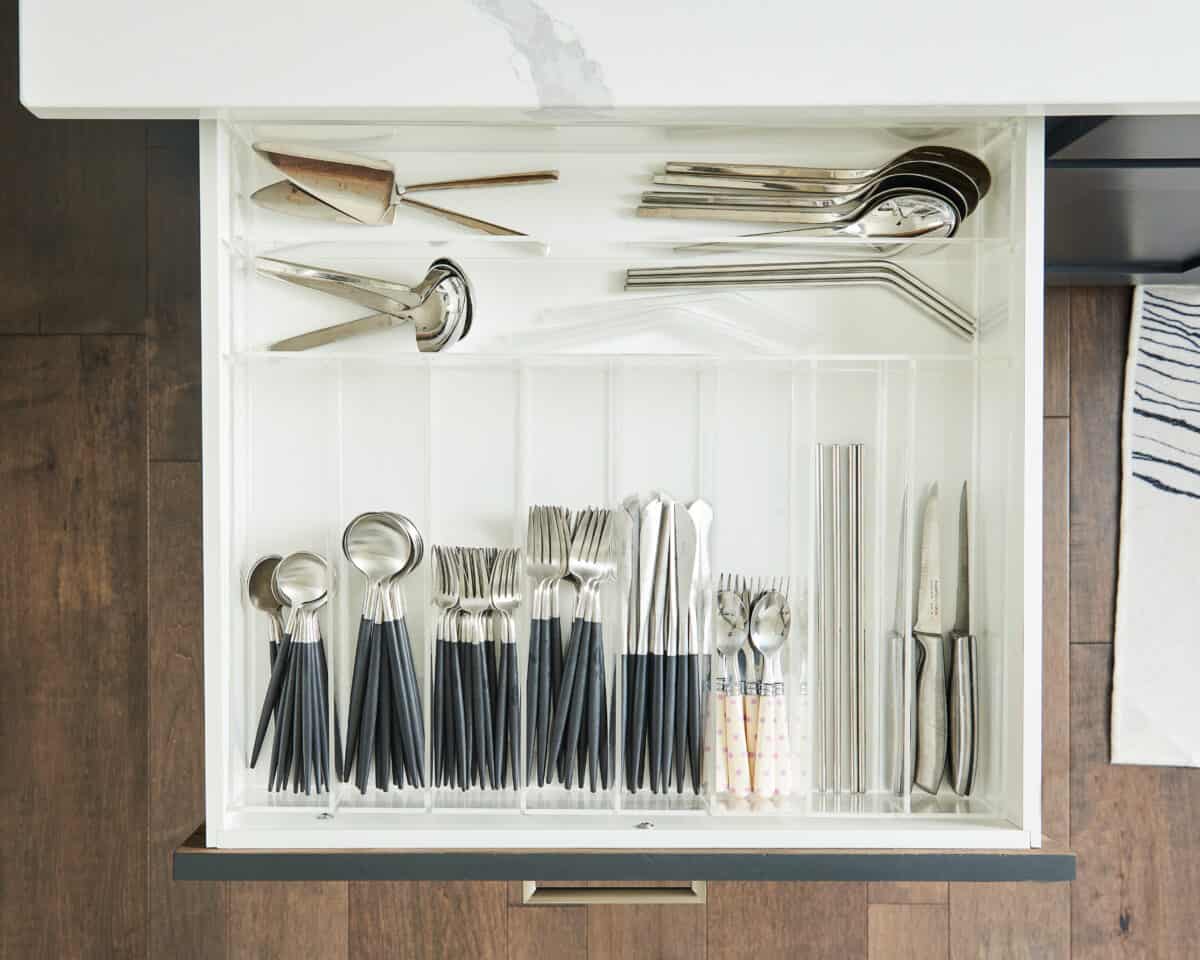 Drawer Storage Style Meets Functionality
If your kitchen drawers are a chaotic mess of mismatched utensils, random gadgets, and expired condiments, you're in the right place. We're about to dive headfirst into the world of kitchen drawer storage and trust us, it's not just about decluttering – it's about revolutionizing the way you approach your culinary adventures.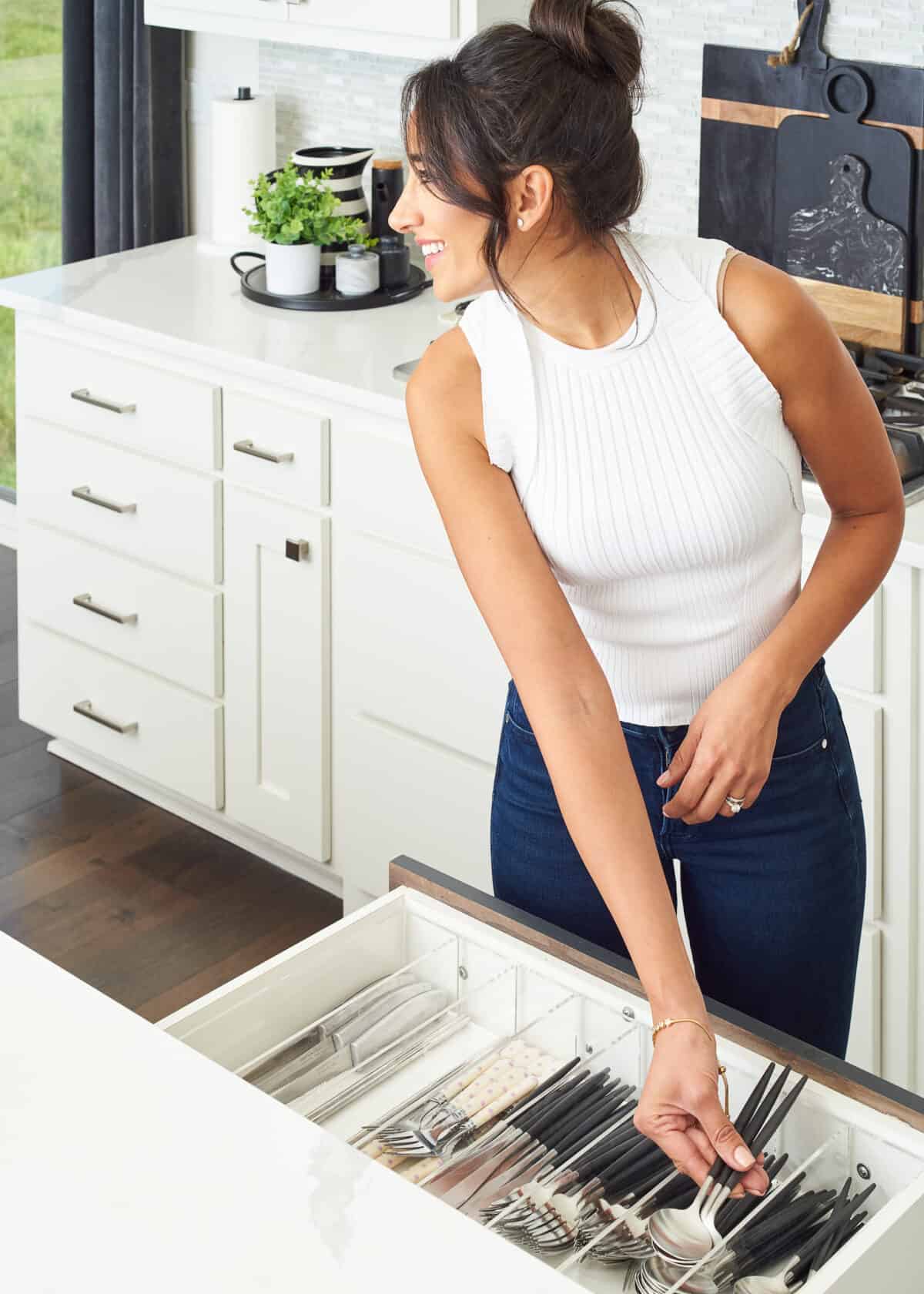 First Steps Before You Invest In Drawer Organizers
Let's take a closer look at how utensil drawer organizers can improve your whole kitchen and cooking outlook.
The Problem with Chaos
Before we get into the glorious world of organized kitchen drawers, let's address the elephant in the room: the chaos. You know the struggle – trying to find that elusive whisk while juggling the likes of a hot pan of cheesy pasta, a recipe, and maybe even a semi-hostile cat?
Yeah, been there, done that. The first step to achieving kitchen drawer nirvana is recognizing the problem –chaos impedes your ability to create your culinary masterpieces. Now, let's fix it!
Declutter Like a Pro
Alright, folks, it's time to roll up those sleeves and declutter like you've never decluttered before. Start by emptying out your kitchen drawers.
That's right; take everything out. It's like a culinary intervention.
Now, pick up each item and ask yourself, "Do I really use this tool?" If the answer is no, it's time to let it go.
Pro tip: If you've got those fancy-schmancy gadgets you got for your birthday and never used, sell them or donate them to a worthy cause. There's no room for kitchen drawer dead weight.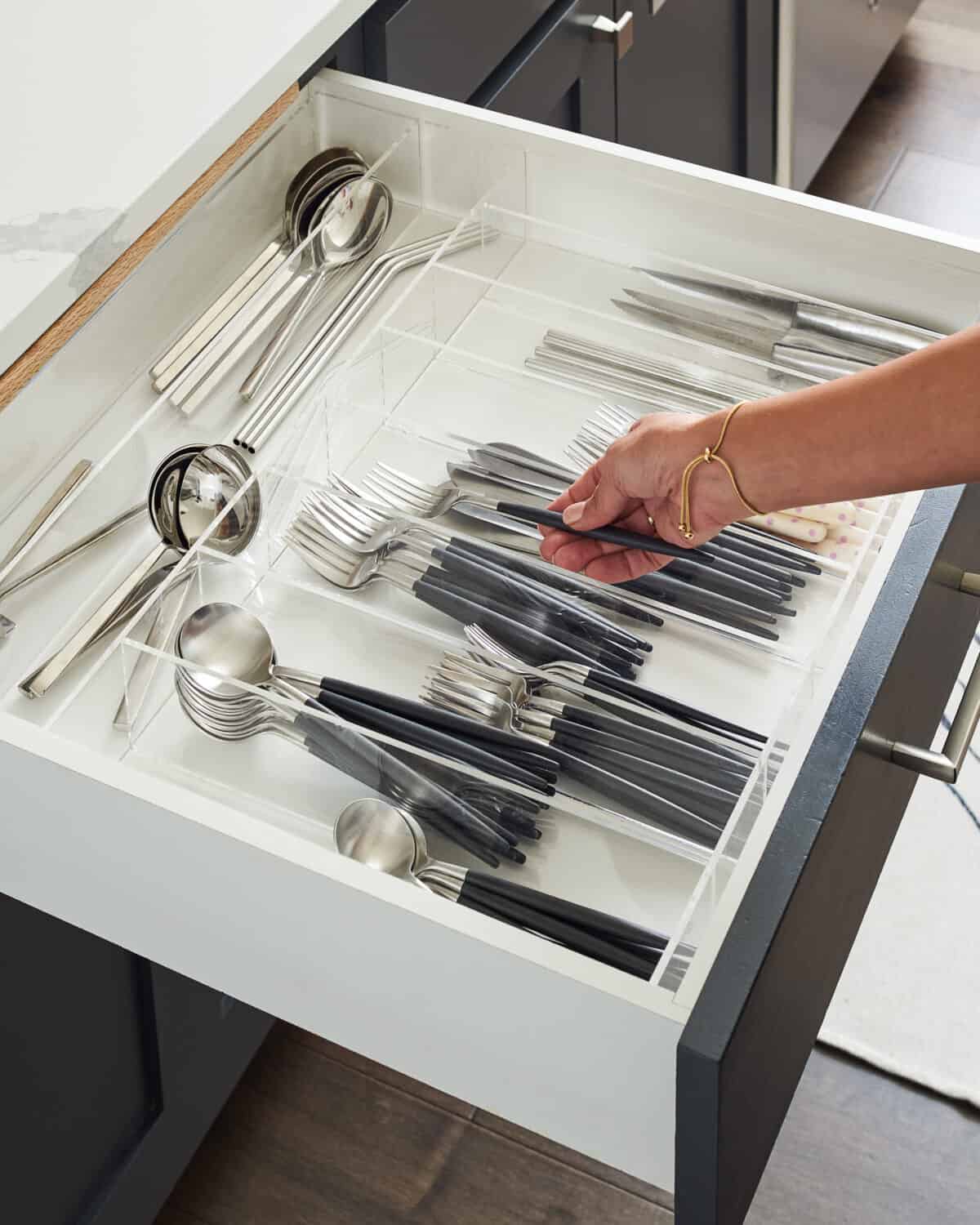 Salt by Sabrina in Action
Enter the Hero – Salt by Sabrina
Now that we've acknowledged the chaos and eliminated some of the excess, let's introduce our savior – Salt by Sabrina. This is not your average, run-of-the-mill brand. Sabrina knows her stuff.
She's the Marie Kondo of kitchen drawer storage, and her products are here to save the day — she's got everything you need to whip those drawers into shape.
The Art of Drawer Dividers
Okay, now that you've narrowed down your utensils and gadgets to only the essentials, it's time to talk drawer dividers. This is where Salt by Sabrina steps in with her genius products.
Picture this: a drawer divider that perfectly fits your knives, another one for your spatulas and tongs, and a dedicated section for your whisks and wooden spoons. No more rummaging around in a mess – everything has its place. You'll feel like a professional chef with an organized kitchen drawer arsenal.
The Baking Drawer Revolution
If you're a baking enthusiast, you know that the baking drawer can quickly turn into a horror show. Salt by Sabrina offers specialized drawer dividers and organizers that will keep your measuring cups, rolling pins, and cookie cutters in order. Say goodbye to the days of digging through piles of parchment paper and flour bags.
Color Code for Clarity
Here's a fun idea: color code your kitchen drawer dividers. Use different colors to distinguish between sections for a visual pop. Not only does it look aesthetically pleasing, but it also makes it easier to locate what you need at a glance.
Maintenance Matters
Kitchen drawer storage isn't a one-and-done deal. To keep your drawers in tip-top shape, perform regular maintenance. Do a quick check every few months to ensure everything is in its rightful place. If you find something that doesn't belong, it's time for another round of decluttering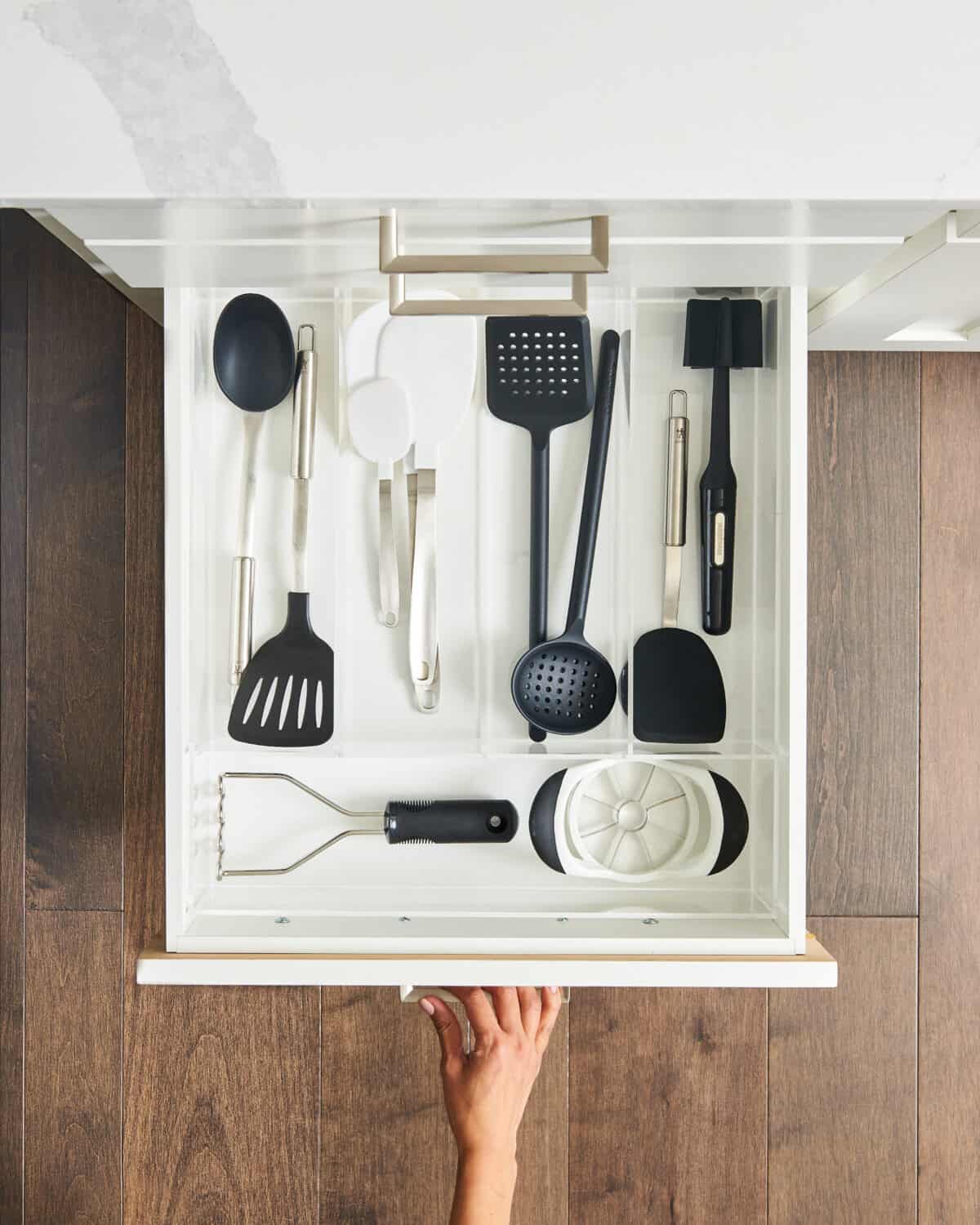 FAQ – Because We Know You Have Questions
Are Salt by Sabrina organizers compatible with all drawer sizes?
Salt by Sabrina offers a range of organizer sizes to accommodate various drawer dimensions. Before purchasing, measure your drawer to ensure a perfect fit.
Are drawer organizers easy to clean?
Absolutely! A simple wipe-down with a damp cloth is all it takes to keep your organizer looking fresh and fabulous.
Can I use these organizers in other areas of my home?
While these organizers are designed with the kitchen in mind, their versatility knows no bounds. Feel free to use them in your bathroom, office, or anywhere else that needs a stylish and functional organizational boost.
Do these organizers come with a warranty?
Salt by Sabrina stands by the quality of its products. Each organizer comes with a warranty to ensure your peace of mind and satisfaction. If you use another designer, be sure to check on their warranties and policies.
How do I choose the right organizer design for my kitchen style?
Your choice of design depends on your personal taste and kitchen decor. Consider the existing color scheme, aesthetic, and the vibes you want your kitchen to exude. Salt by Sabrina offers a variety of options to cater to all style preferences.
Can I purchase Salt by Sabrina organizers online?
Absolutely! These sassy and stylish organizers are just a few clicks away from revolutionizing your kitchen organization. Head to Salt by Sabrina's website, or check out their selections on your favorite online retailers.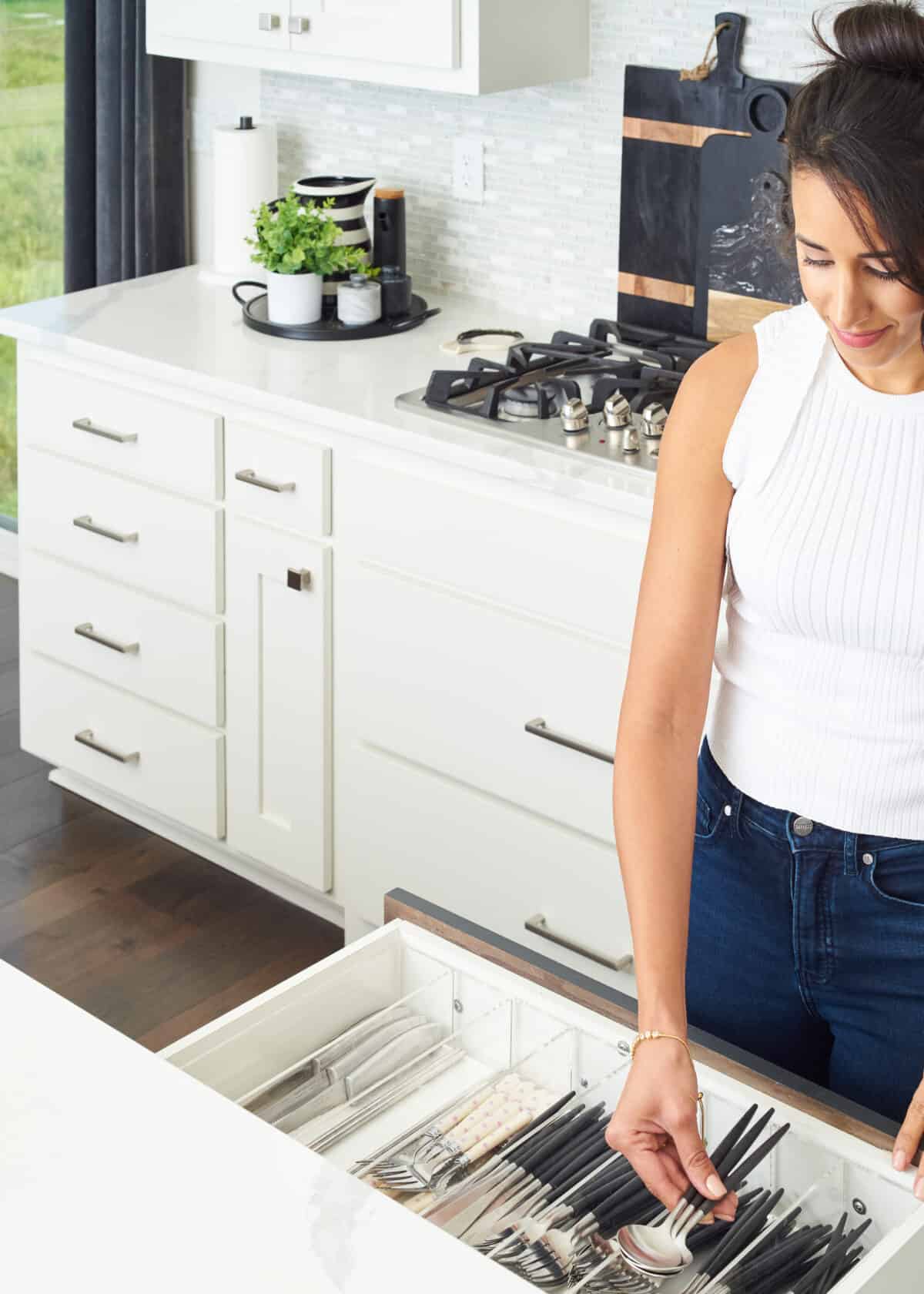 The Final Word On Kitchen Drawer Organizers For Utensils
Your kitchen deserves some flair and functionality, and stylish utensil drawer organizers offer both in spades. Transform your cooking haven into an organized oasis of style. Say goodbye to the clutter, and welcome the symphony of organization. Your kitchen will never be the same again!
Note: This post contains affiliate links. We only share items we love and appreciate you for helping support our blog and allowing us to share free content. If you're interested in upgrading your drawers, shop Salt by Sabrina, and use code fooddolls for 10% off your order!