Made with simple ingredients and ready in less than 2 minutes, this Coffee Mug Cake is the perfect way to treat yourself to an indulgent dessert without the need to whip up a whole cake!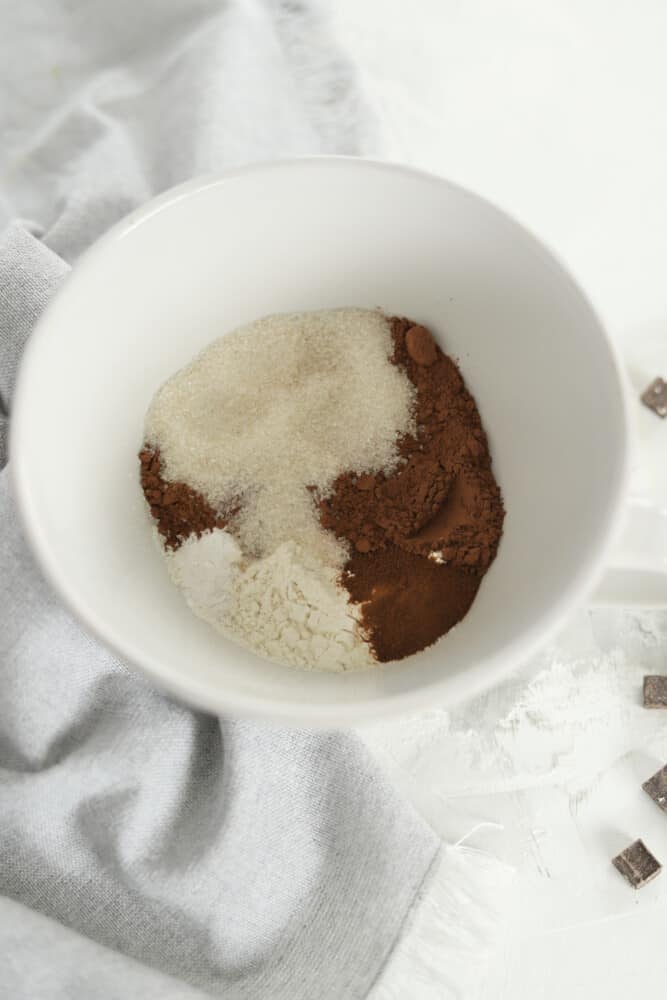 Why You'll Love this Coffee Mug Cake
Who doesn't love a decadent chocolate dessert? Especially one that's full of rich espresso flavors, too. This microwave mug cake recipe is one of our favorite ways to treat ourselves when we're in the mood for something sweet. Not only is it delicious, but it's also:
Moist, soft, and fluffy

Made with just a handful of kitchen staples

Rich in antioxidants

Ready in less than 2 minutes

Perfect for portion control!
What is a Microwave Mug Cake, Anyway?
Before we go any further, let's first cover what exactly a microwave mug cake is. As the name suggests, it's a cake that is prepared in a mug and baked in the microwave. Unlike traditional cake recipes, coffee mug cakes serve just one person and cannot be made in the oven as most mugs would shatter to pieces under such intense heat. Due to their ease and convenience, these recipes have gained lots of popularity in the last several years, and we're not complaining!
What You'll Need
Flour
Unsweetened Cocoa Powder
Espresso Powder
Baking Powder
Vanilla Extract
Milk
Unsalted Butter
An Egg
Sugar
Salt
Dark Chocolate Chunks
Espresso vs Coffee
Although commonly confused, espresso and coffee are not the same things! Both drinks are made from coffee beans. However, espresso is a thicker, more concentrated liquid. Meanwhile, coffee has a higher ratio of water to coffee grounds which results in a milder taste and thinner consistency.
Does it Matter What Kind of Espresso I Use?
We recommend using an instant espresso powder. However, any espresso powder you have on hand or find in the store will work just fine!
Can I Use Coffee Grounds Instead of Espresso Powder?
Yes, while we suggest sticking with espresso powder if you can find it, coffee grounds can be used in its place if you're in a pinch.
How to Make Chocolate Coffee Cake
Mix.

To start, add all of the dry ingredients to a coffee mug, and mix until they are well combined.

Stir.

Then, stir in the wet ingredients, until a smooth batter is formed

.
Top.

Top your mug cake recipe with chocolate chunks. Or, if you're feeling extra indulgent, press a large chocolate square into the center.

Microwave. Place your mug in the microwave, and cook on high for 1-1.5 minutes until your batter is cooked and a toothpick can be inserted into the center and comes out clean (apart from the gooey chocolate, of course).
Baking Tips
We admit that this coffee mug cake recipe is already super easy to make. However, for the best results, we've gathered up a few extra tips to ensure it turns out perfect every time.
Don't Overbake! If you leave your coffee mug cake in the microwave for too long it will become way too dry. To prevent this from happening, be sure to keep an eye on it while cooking, and pull it out as soon as the batter has set.
Use the Right Sized Mug. For this recipe, most conventional coffee mugs will work just fine. The trick is to allow an extra two inches from the top of the batter. This ensures that the cake has enough room to expand as it bakes. Otherwise, it will explode while cooking, and you'll be left with a mess!
Measure Carefully. When measuring your flour, we recommend you use the spoon and level method. To do so, use a spoon to scoop it into a measuring cup. Then, level it off with the back of a knife. Or, use a food scale to weigh out the exact amount.
Serving Suggestions
This chocolate coffee mug cake recipe is best served warm! We recommend topping it with a big scoop of vanilla ice cream, but you could also add whipped cream, sprinkles, or fresh fruit!
Common Questions
Can I make this recipe in the oven?
No, this coffee mug cake recipe is only suitable for the quick cooking time of a microwave.
Can I double the recipe?
We do not recommend doubling the ingredients as typical mugs will not be large enough to hold all of the batter. If you want to make a double portion, we recommend using two separate mugs.
Are microwave mug cakes safe to eat?
Yes! As long as you leave them in the microwave long enough for the flour and egg to completely cook, microwave mug cakes are completely safe to consume.
Can I prepare this recipe ahead of time?
Yes, this coffee mug cake can be kept in the fridge for up to 1 day. Then, when you're ready to eat, just reheat it in the microwave for 15-30 seconds or just long enough for it to warm. Just make sure not to overcook your cake, or it will become dry and rubbery!
More Microwave Mug Cake Recipes You'll Love
Chocolate Coffee Mug Cake
This Chocolate Coffee Mug Cake is made with simple ingredients and ready in less than 2 minutes for a single-serving dessert that will satisfy your sweet tooth with ease!
Ingredients
1/4

cup

all-purpose flour

2

tablespoons

unsweetened cocoa powder

1

teaspoon

instant espresso powder

1/4

teaspoon

baking powder

1/2

teaspoon

vanilla extract

3

tablespoons

milk

3

tablespoons

unsalted butter

melted

1

large egg

room temperature

2

tablespoons

sugar

1/4

teaspoon

salt

2

ounces

dark chocolate chunks
Instructions
Add all of the dry ingredients to a microwave-safe mug. Mix until combined.

Add the wet ingredients to the mug with the dry ingredients. Mix again until smooth.

Top with chocolate chunks.

Microwave on high for 1 minute. (See notes.)
Notes
For an extra-indulgent dessert, replace the chocolate chunks with a square of dark chocolate instead.
Baking times may vary, depending on the microwave. If the mug cake is still gooey after 1 minute, microwave it for an additional 30 seconds.
Be careful not to overbake your cake! If left in the microwave too long, it will become dry and rubbery.
Nutrition information is automatically calculated, so should only be used as an approximation.
Like this recipe?
Please leave a comment!
We hope you love this coffee mug cake recipe as much as we do. If you do give it a try, please let us know in the comments below!