Batata harra is a popular Lebanese potato side dish that's spicy and full of flavor, served over a creamy and cool whipped feta dip.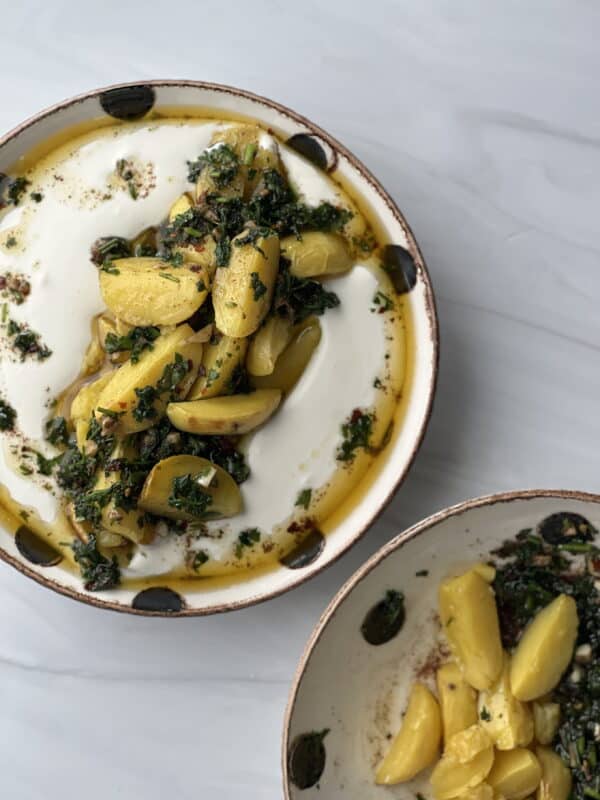 If you're looking for a potato side dish, and you appreciate some spice, try these spicy potatoes! Not only do we make these delicious potatoes but we serve it over whipped feta dip for a mouthwatering side! The warm and spicy appetizer pairs so well with the cool and creamy feta dip.
If you tried our Whipped Feta with Roasted Tomatoes and Chickpeas or the Whipped Feta with Roasted Olives, than this recipe is a must add to your list!
What is Batata Harra?
Batata Harra literally translates to "spicy potatoes." It's commonly served in Lebanon but it's made its way to homes all across the Middle East and beyond.
Traditionally, the potatoes are cubed and deep fried, then you drain the excess oil with paper towels. To make the spicy herb sauce you start of by heating up olive oil in a pan, add a lot of garlic, crushed red pepper, spices, and cilantro.
We opted to make this a little lighter by roasting the potatoes in the oven until the outside is nice and crispy and the inside is tender. We use a simple extra virgin olive oil, and salt on the potatoes. We do not put too much spice and seasonings on the potatoes as it will get a good amount of flavor from the feta dip and the olive oil herb sauce.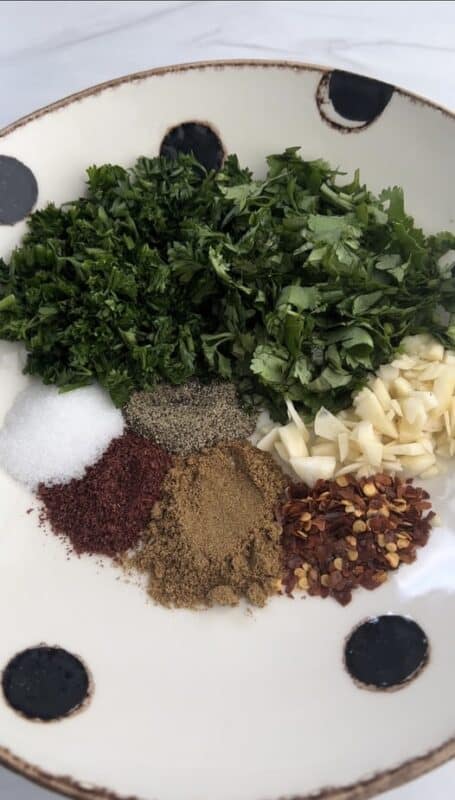 How to make ahead?
Make the cheese dip and potatoes according to the recipe instructions, refrigerate until you are ready to serve.
Once you are ready to serve. Take the dip out of the refrigerator to allow it to get to room temperature.
Bake the potatoes back in the oven at 350 degrees F. for about 15 minutes, just until they are warm.
Make the garlic herb sauce.
Spread on a plate and top with the potatoes and sauce.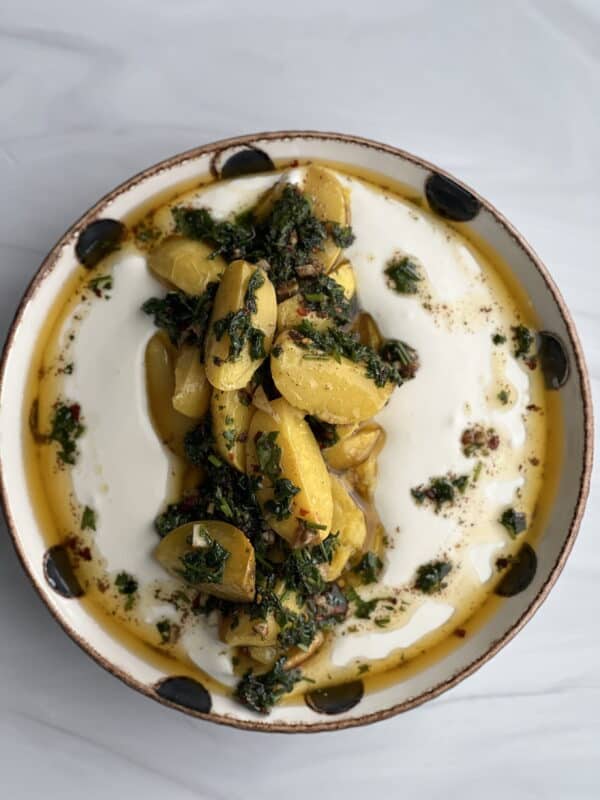 Cheese Variations:
If don't have ricotta cheese, that's okay, substitute with cream cheese or mascarpone cheese.
How to store leftover feta dip
If you end up having leftovers, try taking the potatoes off as that can be heated up separately. Store the leftover dip in an air tight container in the refrigerator for up to 3-4 days.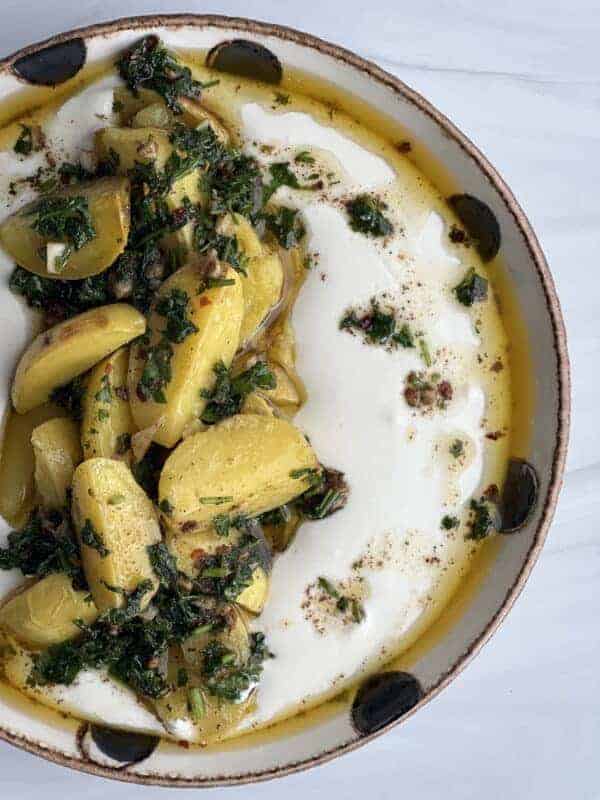 Batata Harra with Whipped Feta Dip (Middle Eastern Spicy Potatoes)
Spicy Lebanese potatoes topped over a creamy whipped feta dip!
Ingredients
3

peeled and chopped yukon gold potatoes

2

tbsp

extra virgin olive oil

1

tsp

sea salt
Spicy Herbed Olive Oil
1/2

cup

extra virgin olive oil

2

tsp

crushed red pepper

more or less to taste

1/2

cup

chopped cilantro

1/2

cup

flat leaf Italian parsley

3

cloves

grated garlic

1

tsp

chili powder

1/2

tsp

cumin

1/4

tsp

salt

more or less to taste

1/4

tsp

ground cardamom

optional
Whipped Feta Dip
12

oz

feta cheese

1

tbsp

tahini

stirred

3/4

cup

sour cream

2

tbsp

water or milk

1

cup

whole milk ricotta cheese

2

tsp

lemon zest
Instructions
Preheat oven to 400 degrees F.

In a baking dish add quartered or cubed potatoes. Toss together with olive oil and salt. Bake for 20-25 minutes or until potatoes are fork tender.

In the food processor add feta cheese, ricotta, sour cream, tahini, lemon zest and splash of water.

In a sauce pan, heat the olive oil until hot. In a heat safe measuring cup or bowl, add crushed garlic, cilantro, parsley, crushed red pepper, chili powder, cumin, and cardamom. Gently mix together. Being very careful, pour the hot olive oil over the garlic and herbs. Mix until combined.
To Plate
In a 12-inch serving platter add the whipped feta dip. Top with the roasted potatoes and drizzle with as little or as much of the herb mixture as you like.
Nutrition information is automatically calculated, so should only be used as an approximation.
Like this recipe?
Please leave a comment!