Do you want a quick 20-minute dinner? You've found the perfect recipe! This pasta is so simple to make and delicious. The sauce is has ricotta cheese and a touch of heavy cream. We use a pretty spinach leaf pasta, that you can find here. The fresh arugula and lemon zest brighten everything up, and crushed red pepper to give it a little heat.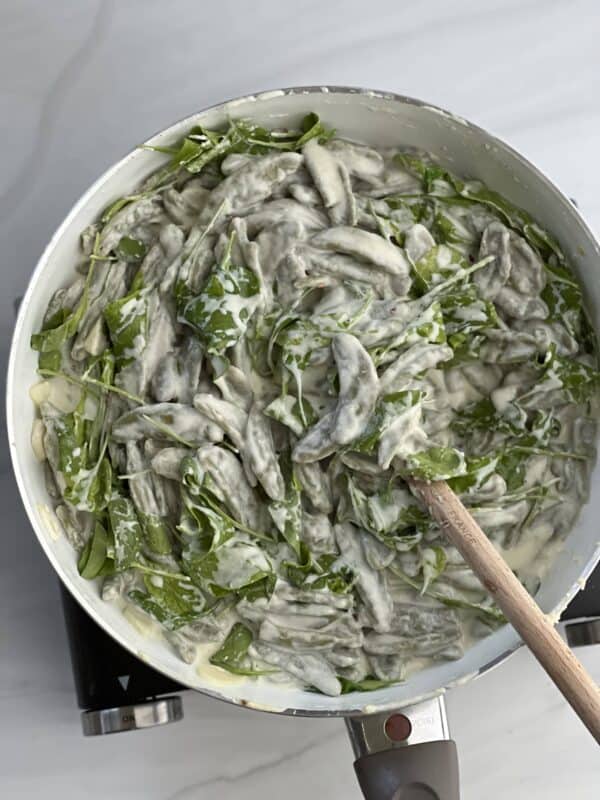 Table of Contents
As you guys know, we love finding unique and fun ingredients to use in our recipes. We recently discovered TerraMar Imports , and loved so many products. This recipe uses a Spinach Leaf Pasta. a bright Lemon Infused Extra Virgin Olive Oil, and the Parmigiano Reggiano If you sign up for TerraMar Imports, mailing list you will get 10% off your first purchase.
Easy spinach pasta with a lemon ricotta sauce and arugala.
Ingredients
1

lb

Spinach and Olive Leaf Pasta

2

tbsp

Lemon Infused Extra Virgin Olive oil

4

minced garlic cloves

1/2

cup

heavy cream

3/4

cup

whole-milk ricotta

1

cup

freshy grated parmesan cheese

1

tbsp

lemon zest

2

cups

arugala

chili flakes

salt and pepper to taste

2

cups

reserved pasta water
Instructions
Cook pasta in salted water according to package instructions. Make sure to cook al-dente, and reserve 2 cups pasta water.

In a sauce pan over medium-high heat add olive oil, garlic, and chili flakes. Cook just until garlic is fragrant.

Turn heat down to medium-low. Add heavy cream and ricotta. Stir until the ricotta has melted and the sauce is smooth and creamy.

Add cooked pasta, salt, pepper, grated parmesan cheese, and lemon zest. Stir until everything is combined.

Gradually add pasta water until the pasta gets nice and creamy and to your desired consistency.

Stir in arugala.

Garnish with extra parmesan cheese, crushed red pepper and lemon zest.
Nutrition information is automatically calculated, so should only be used as an approximation.
Like this recipe?
Please leave a comment!
Recipe additions: If you'd like to add a protein, cooked chicken, or shrimp will make a great addition.
Don't forget to reserve some pasta water! If you forget, don't panic. Add a splash of vegetable broth, or milk to help loosen it up.
Note: We do not give an exact measurement for the salt and pepper. We always say to add a little and add more if you need to.