Let's be real: our kitchens are packed with an ever-expanding collection of culinary contraptions, and keeping them in line is maybe our biggest challenge. But have no fear about tackling how to store your kitchen gear, because we're about to reveal the secrets to stylish kitchen gadget organizers.
We're here to serve up some creative ideas to get your kitchen gadgets in check like we recently did with the help of Salt by Sabrina (Use code fooddolls to get 10% off your order!). Get ready to revolutionize your kitchen storage!
Why Your Kitchen Gadgets Deserve Swanky Storage
Kitchen bosses, let's talk about why your kitchen gadgets deserve top-notch storage that's as fabulous as they are:
Efficiency with a Side of Glam: A well-organized kitchen is the secret ingredient to a smooth cooking operation. No more hunting for that elusive gadget while you're whipping up culinary masterpieces if you have just the right kitchen gadget organizers!
Gadget Glamour for the Long Haul: Proper storage is like an anti-aging serum for your kitchen gadgets. It keeps them looking sharp, shiny, and ready for action, preventing premature gadget wrinkles and wear.
A Kitchen Fit for a Star: An organized kitchen doesn't just make your cooking game strong; it's a feast for the eyes. It transforms your kitchen into a sizzling hot spot where style and substance collide.
Safety Sizzle: Don't forget about safety. Organized storage helps you avoid kitchen gadget disasters. It's especially important if you've got curious little sous-chefs running around.
Sassy Solutions for Kitchen Gadget Storage
Now, let's dive into the wild world of kitchen gadget organizers. The customized kitchen drawer inserts that we got from Salt By Sabrina are number one on the list of game-changers.
This is our number one gadget storage secret that we're sharing here. Once you have your gadgets organized in your drawers you'll see how seamless it can be to get a sizzling hot meal — from feta fried eggs to jalapeño cheddar chicken meatballs — on the table.
Here are some other ways to get your gadgets organized:
Under-Cabinet Magic: Jazz up your space by installing racks beneath your cabinets. They're perfect for showing off cutting boards, baking sheets, and other culinary essentials while keeping them within arm's reach.
Pegboard Passion: Create a visual spectacle with a pegboard wall. Hang your gadgets on hooks, making them the stars of your kitchen show while keeping them neat and accessible.
Pull-Out Pizzazz: If deep cabinets are your nemesis, consider installing pull-out shelves. They're like runway catwalks for your gadgets, making it easy to strut your stuff.
Open Shelving Showstopper: Open shelving is the latest trend in kitchen storage. Use it to display your gadgets while ensuring they're just a grab away.
Hanging Hysteria: Hang baskets beneath your cabinets to store garlic presses, measuring cups, and more. It's like jewelry for your gadgets – functional and fabulous!
Spicy FAQs About Kitchen Gadget Storage
What's the secret to picking which gadgets get prime countertop real estate?
It's all about frequency of use. Keep your kitchen superstars on the countertop for easy access, and let the supporting cast rest in the cabinets.
Any tips for maintaining your stylish storage solutions?
Regular wipe-downs and a bit of decluttering keep your storage solutions in top shape and ensure they're ready to make a grand entrance.
How do you choose the right kitchen gadget organizers for your kitchen's unique needs?
Consider your kitchen layout, your culinary habits, and your gadget collection. Each storage solution has its own flair and works best in different settings.
Can small kitchens unleash the power of gadget storage, too?
Absolutely! Get creative with wall space using hooks, racks, and pegboards, and don't forget to use cabinet doors for vertical storage.
Can I give my storage solutions a style upgrade to match my kitchen's unique personality?
Many storage solutions come in a range of finishes and styles. Choose the ones that complement your kitchen's flair, and let your gadgets strut their stuff.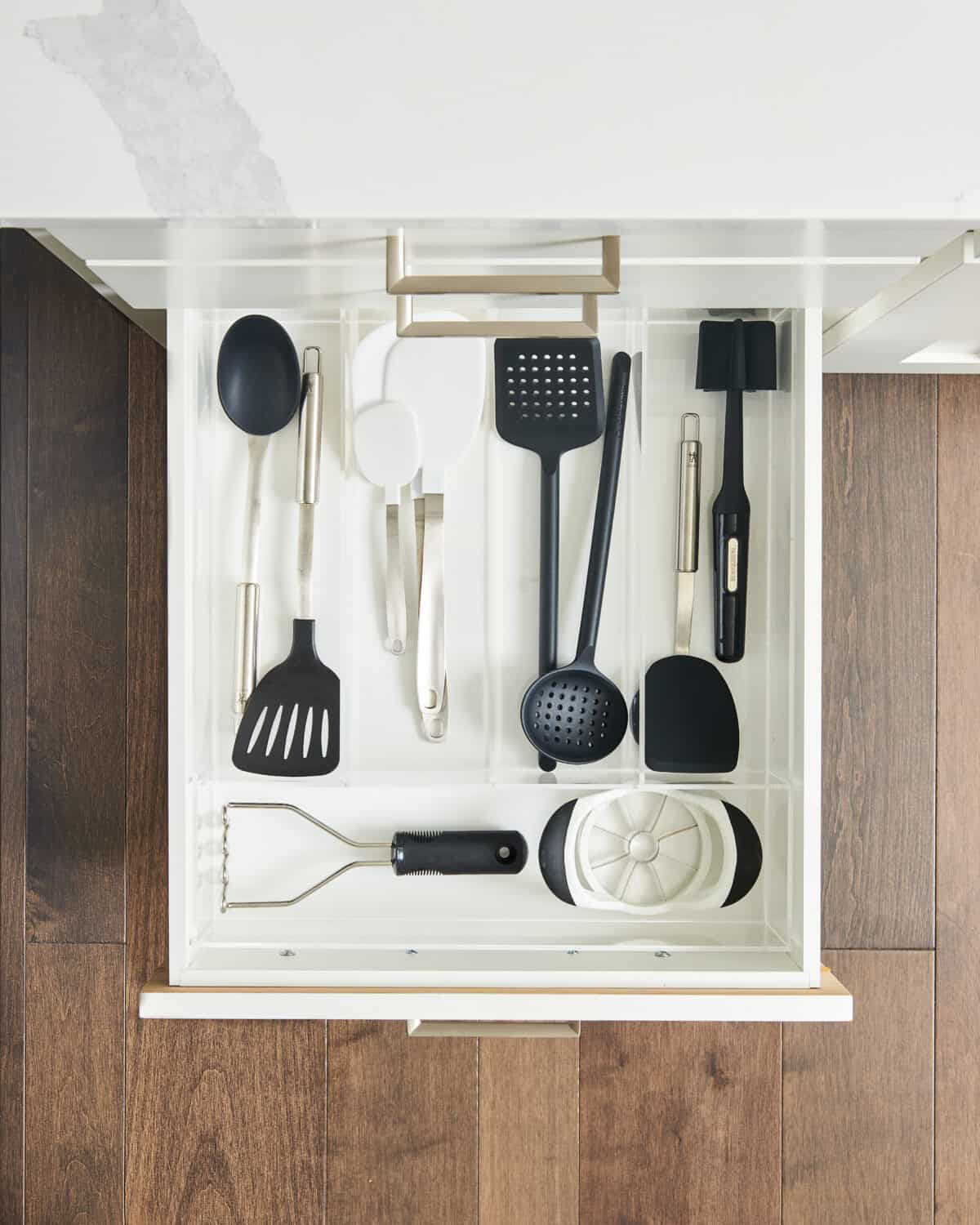 The Final Word On Gadget Storage
Remember that stylish storage isn't just for show; it's for optimizing your kitchen's efficiency and, of course, flaunting your gadgets in their best light. So, give your kitchen the storage sizzle it deserves with some of these kitchen gadget organizers. With some of these savvy solutions, your kitchen will be both incredibly organized and stylish!
Note: This post contains affiliate links. We only share items we love and appreciate you for helping support our blog and allowing us to share free content. If you're interested in upgrading your kitchen gadget space, shop Salt by Sabrina, and use code fooddolls for 10% off your order!