This Magnolia Bakery Banana Pudding Recipe brings all the taste and texture of the infamous Magnolia Bakery recipe right to your kitchen without the need to board a flight to New York City! Made with layers of creamy vanilla pudding, bananas, and Nilla wafers, it's the exact recipe the bakery uses and is guaranteed to become a family favorite!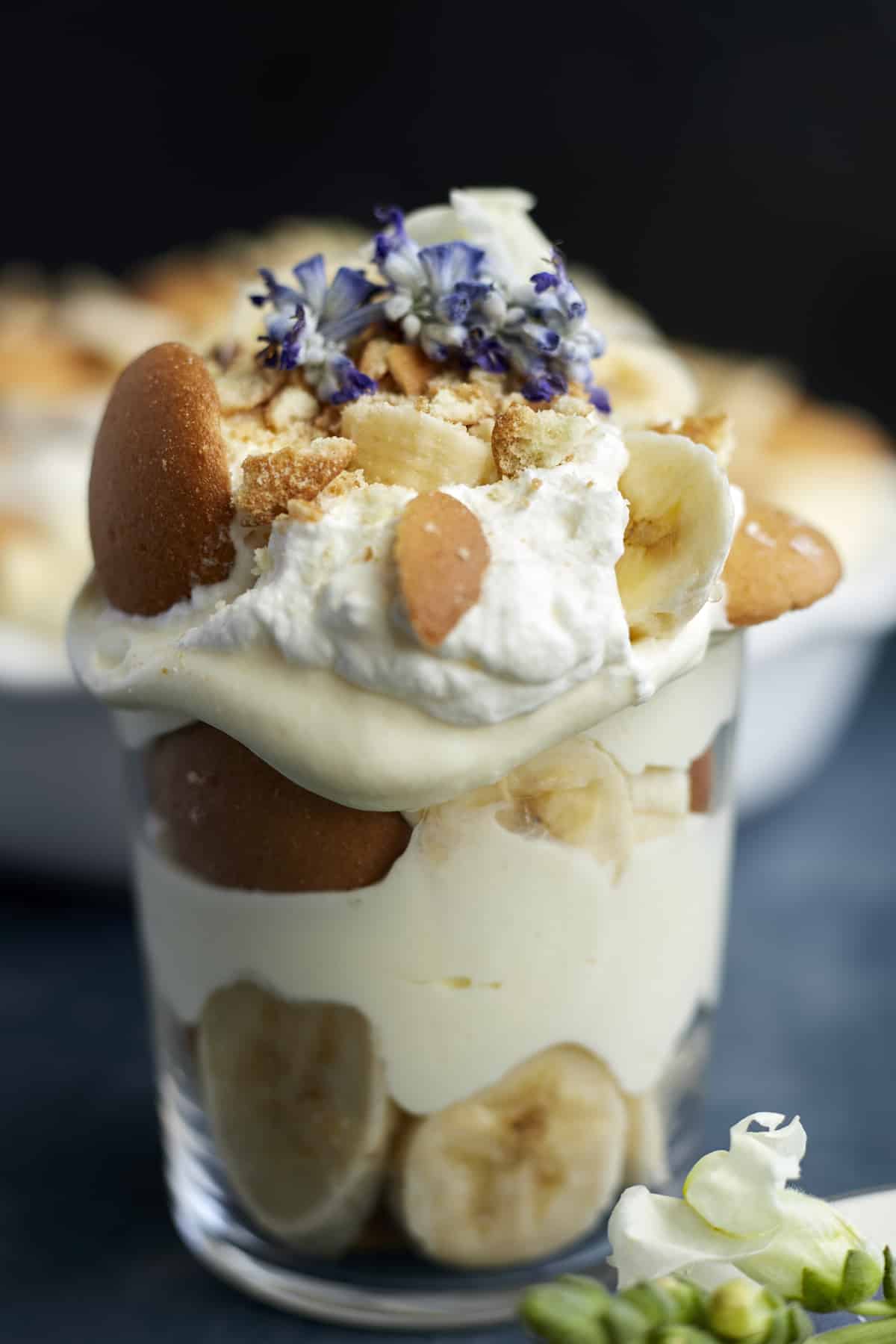 What Is Magnolia Bakey Banana Pudding?
Magnolia Bakery banana pudding is a famous dessert originating from the iconic Magnolia Bakery in New York City. It consists of layers of creamy vanilla pudding, freshly sliced bananas, and chunks of vanilla wafers. This delightful treat is known for its rich, comforting flavors and has become a beloved classic, often enjoyed in a cup or container for a nostalgic and indulgent dessert experience.
Why Is Magnolia Bakery So Famous?
If you're a fan of baked goods like cupcakes, chances are you've heard of Magnolia Bakery. They're a bakery famous for their sweet treats, and for good reason!
Everything they make is to die for. That said, they weren't always so well known.
The original Magnolia Bakery was founded in the West Village in 1996. However, today the company has expanded to include 30 shops around the world, six of which are in New York City!
Although loved by locals, the bakery didn't explode to national popularity until it was featured in a quick cameo in an episode of the popular TV show Sex and the City. Soon after, lines began to form around the block for the bakery's treats, the most popular being their banana pudding, and the rest is history!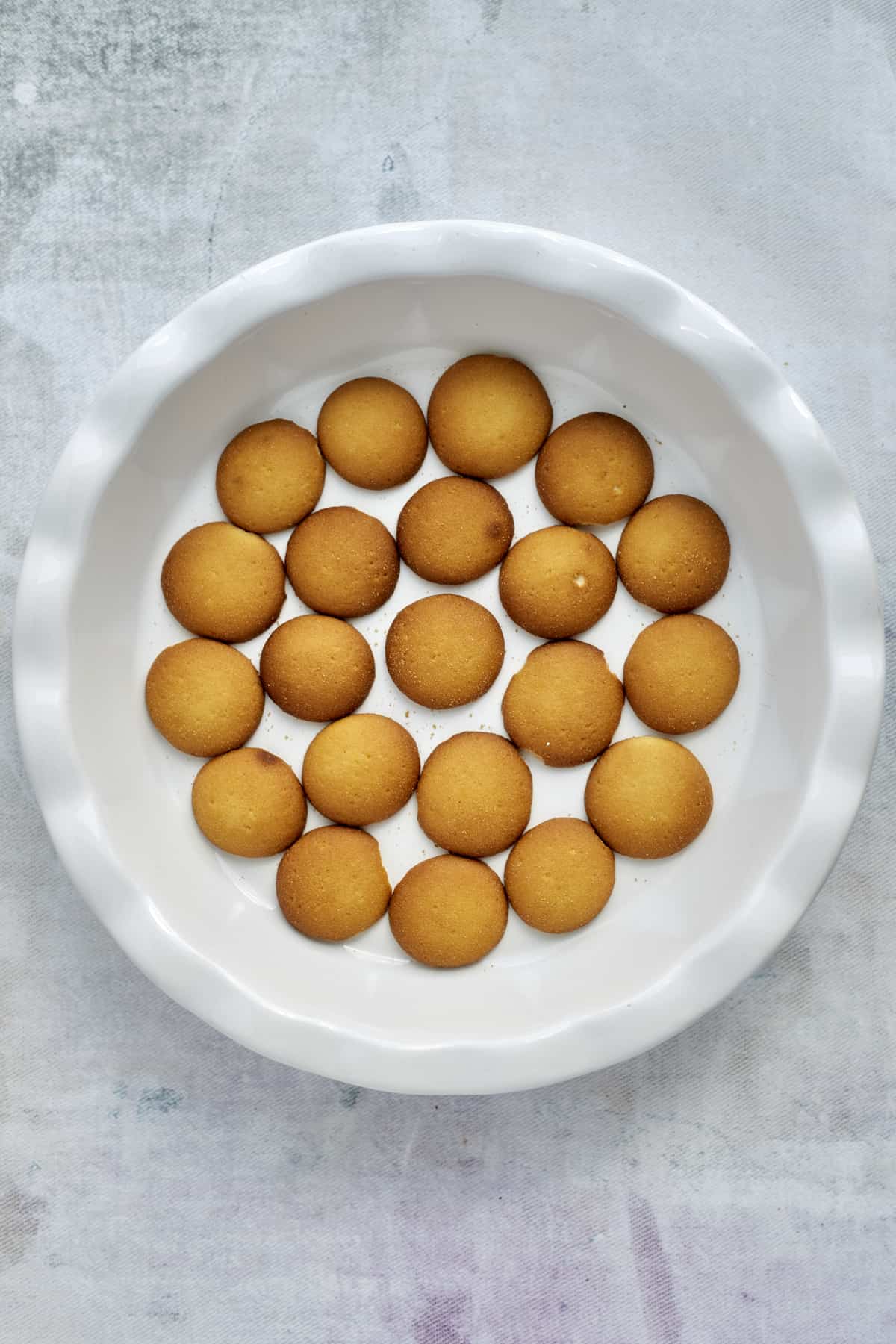 What Is Magnolia Banana Pudding Made Of?
Given the layers of ingredients and depth of flavor, you might assume that this recipe requires a long list of ingredients. But, we managed to recreate the famous Magnolia Bakery banana pudding recipe with just a handful of simple ingredients including:
Sweetened Condensed Milk – Do NOT confuse this with evaporated milk!
Cold Milk – This combines with the condensed milk for a thick, creamy pudding layer. For the best taste and texture, we highly recommend using whole milk.
Heavy Cream – The secret to creating a fluffy consistency.
Instant Vanilla Pudding Mix – Make sure to use instant vanilla pudding mix, not homemade pudding or the cook-and-serve kind! It's crucial to an authentic banana pudding. French vanilla pudding mix works as well.
Bananas – Use ripe bananas that are still firm to add sweet banana flavor throughout the entire dish.
Nilla Wafers – Regular Nilla wafers are traditional, but we prefer to use mini wafers for a sweet, crunchy flavor in every scrumptious bite.
Skip the Bakery and Make Magnolia Banana Pudding with Ease
Before we made this recipe, we thought banana pudding would be intimidating to make. The truth is, it's quick, easy, and super fun when you follow the instructions below!
Beat. Add the condensed and cold milk to a large mixing bowl. Use a hand mixer or stand mixer to beat until they're well combined and creamy. Then, add the pudding mix, and beat again until no lumps remain.
Chill. Cover the bowl, and transfer the mixture to the fridge to chill and solidify.
Combine the Filling. In a separate large bowl, beat the heavy cream until stiff peaks form. Then, add the chilled pudding mixture, and beat again until it is fluffy and well combined.
Assemble. Arrange a layer of Nilla wafers in the bottom of a deep pie dish or trifle bowl. Add a layer of sliced bananas on top, and pour part of the pudding mixture over them. Repeat this process until all the ingredients have been used, ending with a layer of pudding.
Top. Arrange a mound of Nilla wafers and banana slices on top of the dish.
Refrigerate. Carefully cover the banana pudding, and transfer it to the fridge to chill.
We earn a commission if you make a purchase, at no additional cost to you.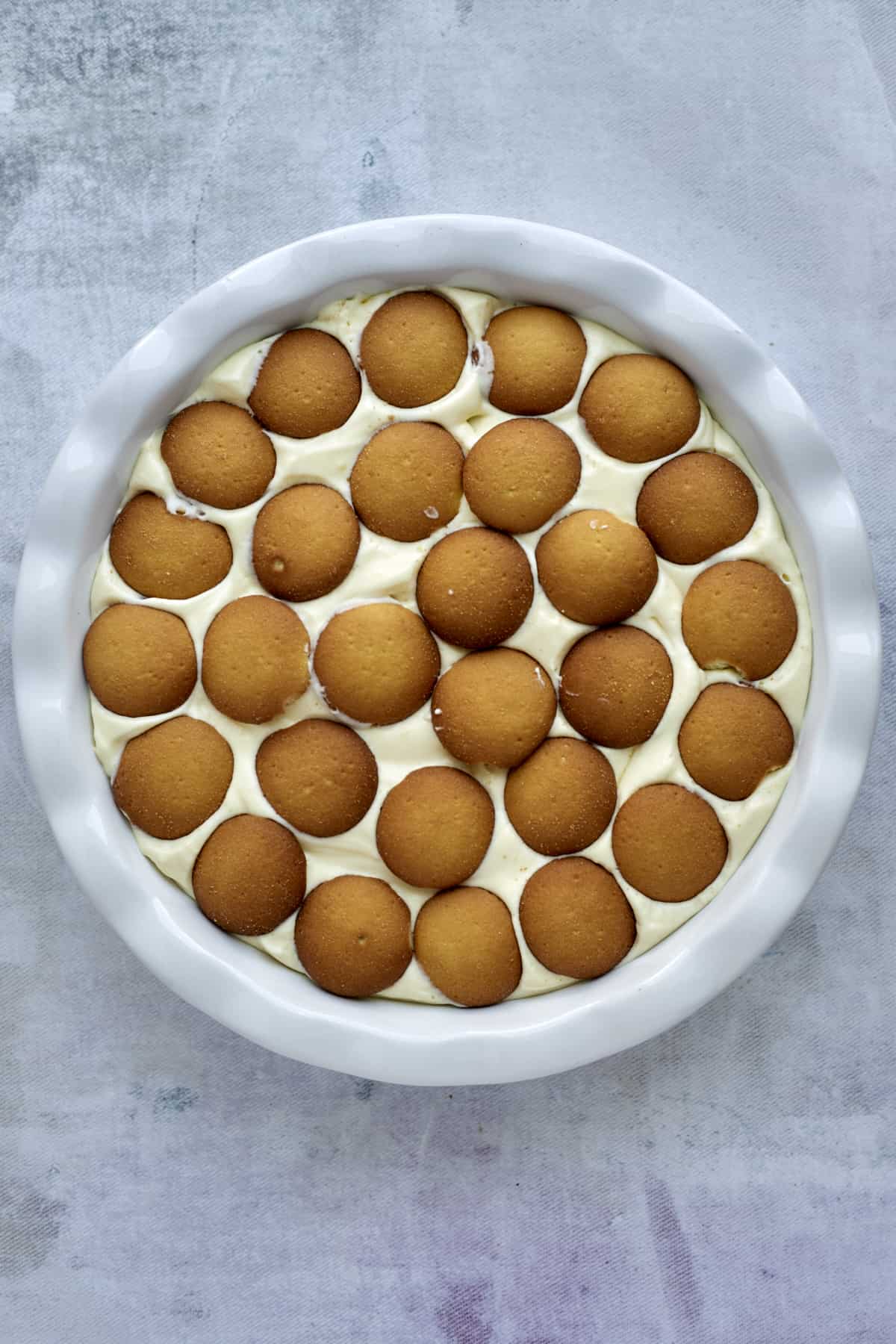 How to Keep Bananas From Browning
It's recommended to enjoy this homemade Magnolia Bakery banana pudding right away because once they're sliced the bananas quickly begin to oxidize and turn brown. That said, there are a few ways you can prevent them from doing so.
Use Barely Ripe Bananas. Try to find bananas that are bright yellow and just a little green at the stem. They tend to last a little longer than riper varieties.
Add Acidity. Brush a small amount of acidic fruit juice like lemon juice, orange juice, apple juice, or pineapple juice over the bananas to help neutralize the pH and prevent browning.
Use Club Soda. Non-tonic club soda is a good alternative to fruit juice as it slows the browning process without affecting the taste of the fruit.
Keep Them Airtight. Do your best to limit the banana's exposure to air. Fully coat the slices with the pudding mixture, and keep the dish as covered as possible.
Flavor Variations
This recipe is pretty straightforward, but that doesn't mean you can't get a little creative!
Wafers – We used classic Nilla wafers, but any vanilla wafer cookie can be substituted. Or, swap them out for graham crackers instead.
Pudding – The classic Magnolia banana pudding uses plain vanilla pudding. However, if you want to really amplify the banana flavor, try using banana pudding instead.
Mix-Ins – For extra flavor and texture include chocolate chips, chopped nuts, or coconut flakes!
How Long Is Magnolia Bakery Banana Pudding Good For?
This dessert is best served the day it is made as the bananas begin to brown after about eight hours. Magnolia Bakery recommends waiting no longer than twelve hours.
How to Store This Banana Pudding Recipe
If you do happen to have leftovers, don't throw them out! Instead, cover them with foil, or transfer them to an airtight container.
This Magnolia banana pudding recipe can be kept for one to two days. Just be aware that the bananas and wafers may become a little bit soft.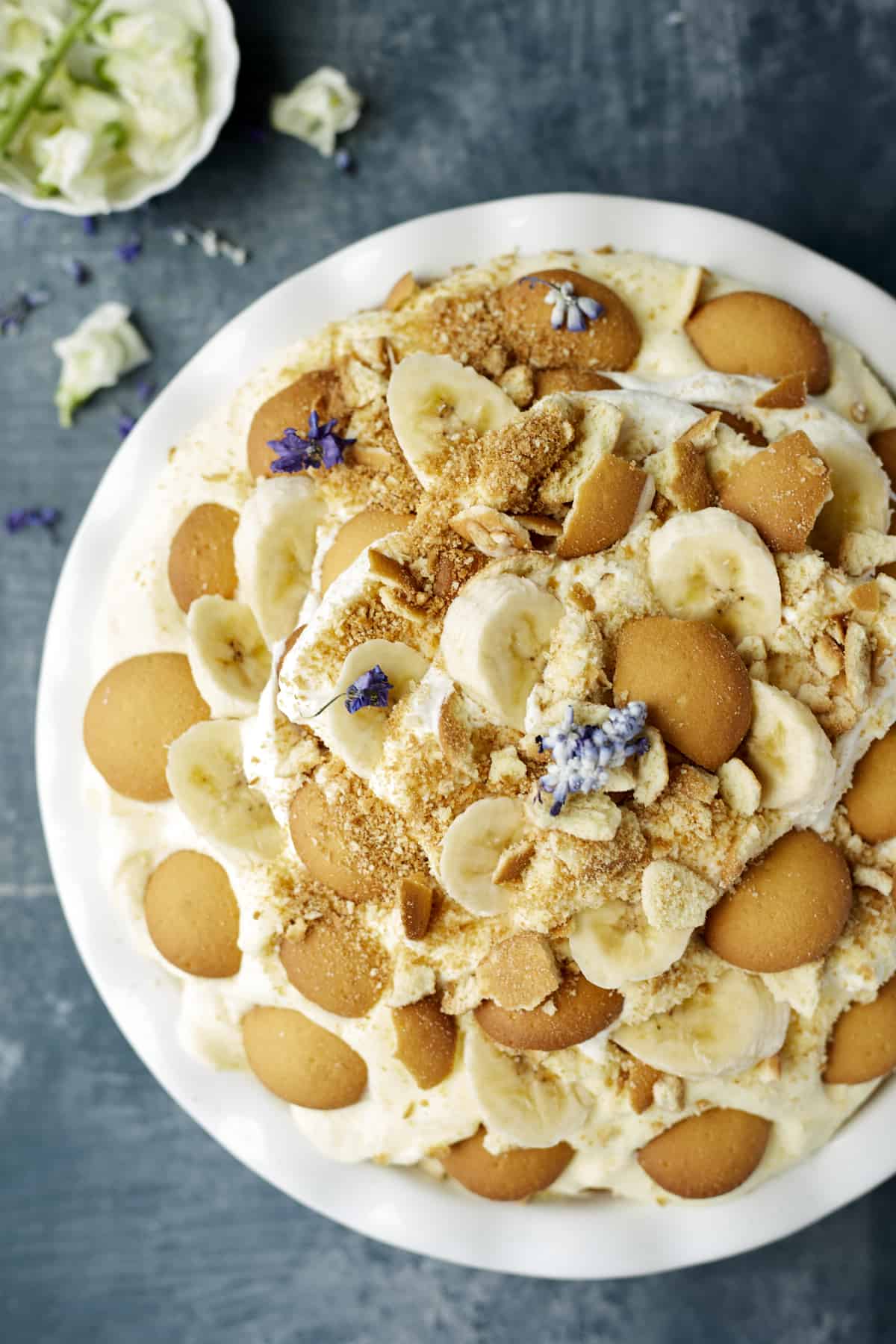 Common Questions About This Magnolia Bakery Banana Pudding Recipe
What is the nutrition of Magnolia Bakery banana pudding?
The nutrition for the original Magnolia banana pudding is said to be about 330 calories per serving. However, you can find the complete nutrition information including calories, fat, carbs, etc. in the recipe card below.
Is banana pudding high in carbs?
Bananas are a high-carbohydrate fruit, meaning banana pudding has a significant amount of carbs.
How many layers should I make?
We use three layers for this recipe, but you may have more or less depending on the size of your pan.
More Banana Recipes
Looking for more ways to use bananas? Put them to use in the recipes below!
Magnolia Bakery Banana Pudding Recipe
Make this Magnolia Bakery banana pudding with simple steps, 6 ingredients, & no baking for an easy dessert just as good as the real deal!
Ingredients
14

ounces

sweetened condensed milk

1 1/2

cups

cold milk

3

cups

heavy cream

2

(3.4 ounce)

packages instant vanilla pudding mix

5

ripe bananas, sliced

18

ounces

(~1.5 boxes) mini Nilla Wafers
Instructions
In a large bowl, add the condensed milk and cold milk. Beat until they come together and look creamy.

14 ounces sweetened condensed milk,

1 1/2 cups cold milk

Add pudding mix to the same bowl, and beat again until all the lumps are gone. Cover and refrigerate the mixture for a minimum of 4 hours or up to overnight.

2 (3.4 ounce) packages instant vanilla pudding mix

When ready to assemble, beat the heavy cream in a large bowl until stiff peaks form. Add the chilled pudding mixture, and beat until the mixture is fluffy and fully blended.

Assemble: Add a layer of Nilla wafers to the bottom of the pie dish followed by a layer of sliced bananas. Pour about 1/3 of the pudding mixture on top. Keep repeating the layers! Mound the top with more mini Nilla (or crushed) wafers and sliced bananas.

18 ounces (~1.5 boxes) mini Nilla Wafers,

5 ripe bananas, sliced

Cover and refrigerate for at least 6 hours or overnight! Enjoy immediately.
Nutrition
Serving:
1
serving
|
Calories:
628
kcal
|
Carbohydrates:
78
g
|
Protein:
8
g
|
Fat:
33
g
|
Saturated Fat:
19
g
|
Polyunsaturated Fat:
4
g
|
Monounsaturated Fat:
8
g
|
Trans Fat:
0.1
g
|
Cholesterol:
83
mg
|
Sodium:
343
mg
|
Potassium:
440
mg
|
Fiber:
2
g
|
Sugar:
53
g
|
Vitamin A:
1044
IU
|
Vitamin C:
5
mg
|
Calcium:
174
mg
|
Iron:
0.3
mg
Nutrition information is automatically calculated, so should only be used as an approximation.
Like this recipe?
Please leave a comment!