Learn how to make a homemade caramel popcorn recipe with just a few simple ingredients. It's sweet, buttery, salty, crunchy, and irresistible. Make a big batch in minutes for movie nights, party snacks, and gifts!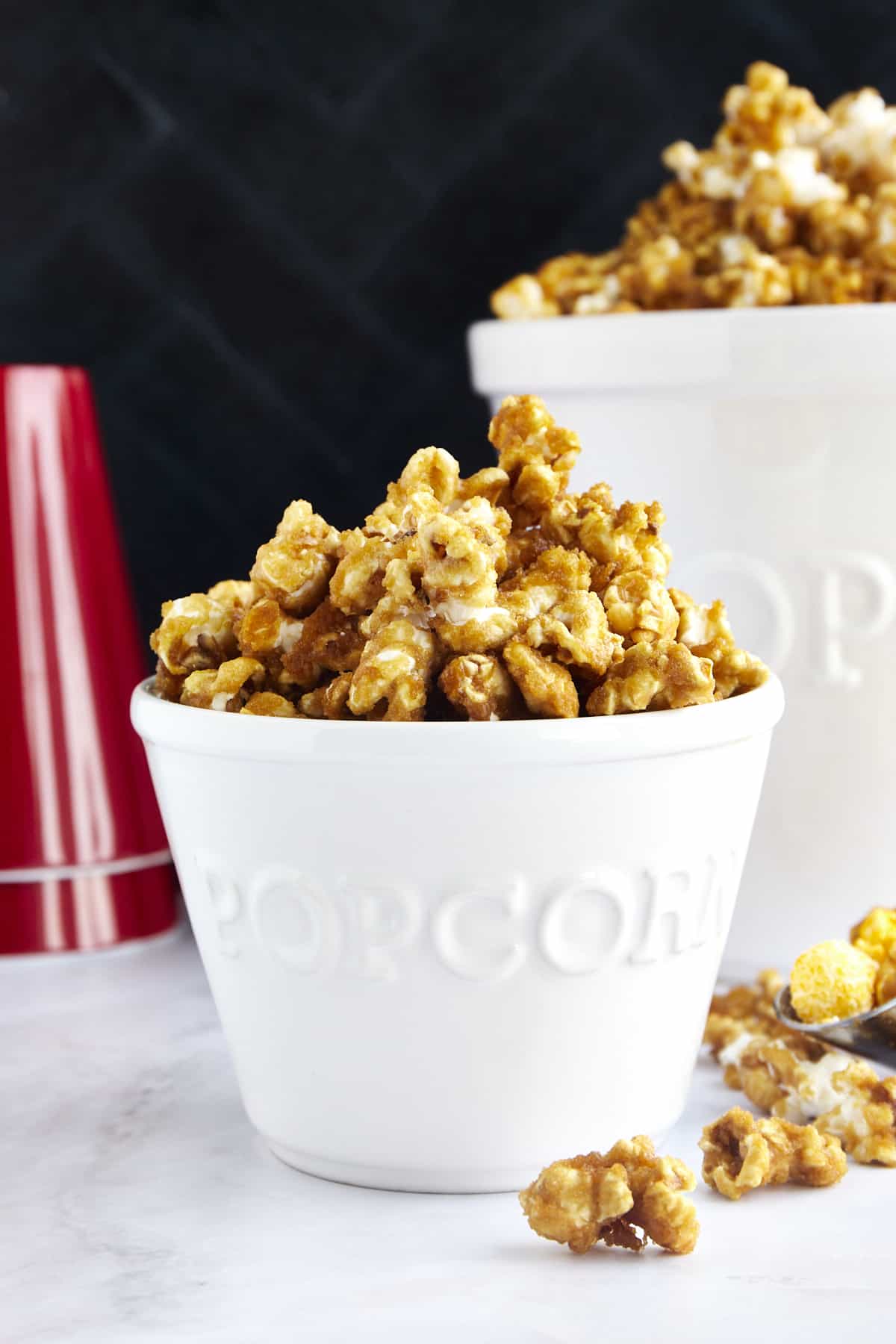 Why This Homemade Caramel Popcorn Recipe Will Knock Your Socks Off
We love caramel popcorn, but we've found that storebought recipes are often either too sweet or don't have the proper popcorn-to-caramel ratio. Luckily, it's super easy to make at home and tastes way better than anything you'll find in the store!
We make this sweet and savory treat all year long and use it for afternoon snacks, movie night treats, holiday gifts, and snacks for parties. Not only is it guaranteed to please a crowd, but it also:
Comes together with just a handful of pantry staple ingredients.
Makes a batch big enough to feed a crowd.
Features a combination of sweet, savory, and butter flavors to satisfy all your tastebuds.
Stores well to enjoy for days.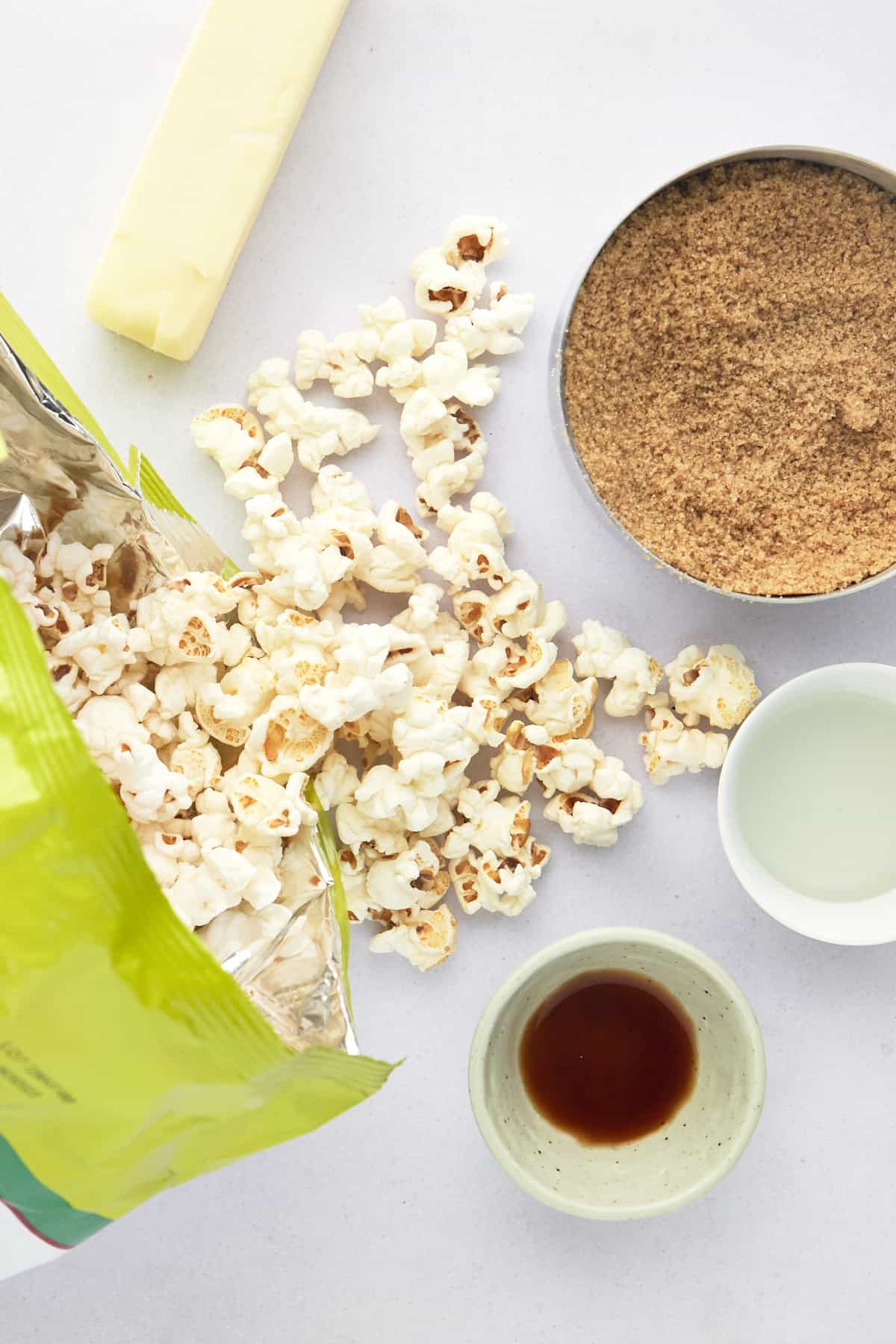 How to Make Caramel Popcorn
This caramel popcorn recipe is super easy to make! Just be sure to have all your ingredients and tools ready to use, because it comes together quickly.
Ingredients You Need
Popcorn – Any type of popped popcorn will work. However, for the best results, we recommend using plain kernels and popping them yourself.
Butter – Unsalted butter is used as the base of the caramel sauce to create a rich flavor, velvety texture, and a soft, chewy consistency. Salted butter can be used instead if preferred. Just be sure to reduce the amount of extra salt included so you don't overpower the sauce!
Brown Sugar – This sweetens the caramel while keeping it moist.
Corn Syrup – Used to help prevent the sugar from crystalizing and the caramel from seizing, keeping it smooth and pourable.
Vanilla – Use pure vanilla extract to enhance the rest of the flavors.
Salt – Include as little or as much as you'd like for a sweet and salty taste.
Baking Soda – This reacts with the acid in the brown sugar and corn syrup, creating carbon dioxide air bubbles for the foamy texture we're looking to achieve.
Instructions
Prepare. Preheat the oven, and line a large baking sheet with a silicone baking mat. Trust us, this makes it so much easier to clean! Parchment paper can be used, too. It just doesn't work quite as well.
Prepare the Popcorn. Spread the popped popcorn in an even layer on the baking sheet.
Create the Caramel. In a saucepan over medium heat, mix the butter, brown sugar, and corn syrup, whisking constantly until the ingredients are completely melted and combined. Continuing to whisk, add the vanilla, salt, and baking soda. The baking soda will cause some bubbling!
Thicken. Let the caramel cook, stirring consistently until it thickens, lightens in color, and takes on a fluffier texture.
Coat the Popcorn. Working quickly, pour the caramel over the popcorn, and use a spatula to toss and coat each piece.
Bake. Place the coated popcorn in the oven, and bake tossing the popcorn after every 15 minutes, until the caramel has become sticky and hardened slightly.
Cool. Transfer the caramel popcorn to a baking sheet. Break up any clumps that may have formed, and sprinkle extra salt on top, if desired before setting it aside to cool.
Optional Mix-Ins
We kept this caramel popcorn recipe super plain, focusing on the caramel flavor. But you can always add extra toppings and mix-ins!
Some of our favorite options include:
Candy Pieces (M&Ms, KitKats, Reese's, etc.)
Pretzels
Chocolate Drizzle
Sprinkles
Chocolate Chips
Marshmallows
Chips
Common Questions About This Caramel Popcorn Recipe
What's the difference between caramel and toffee popcorn?
Although similar, toffee and caramel are not the same. Toffee is made out of just caramelized sugar and butter, unlike caramel which contains corn syrup and sometimes milk or cream. As a result, toffee popcorn is more brittle and crunchy in flavor and has a distinct buttery taste.
How long does this recipe last?
When stored in an airtight container or sealable bag at room temperature, this recipe will stay fresh for up to 2-3 weeks. But only if you can get it to last that long!
Why is my popcorn grainy?
Grainy caramel popcorn is a result of the sugar crystals in the caramel seizing up and clinging together. You don't have to worry about that happening with this recipe, though! The use of corn syrup and baking soda prevents it from happening by breaking up the brown sugar molecules.
More Tasty Snack Recipes
If you enjoy this homemade caramel popcorn recipe, you won't want to miss out on more of our favorite homemade snacks below!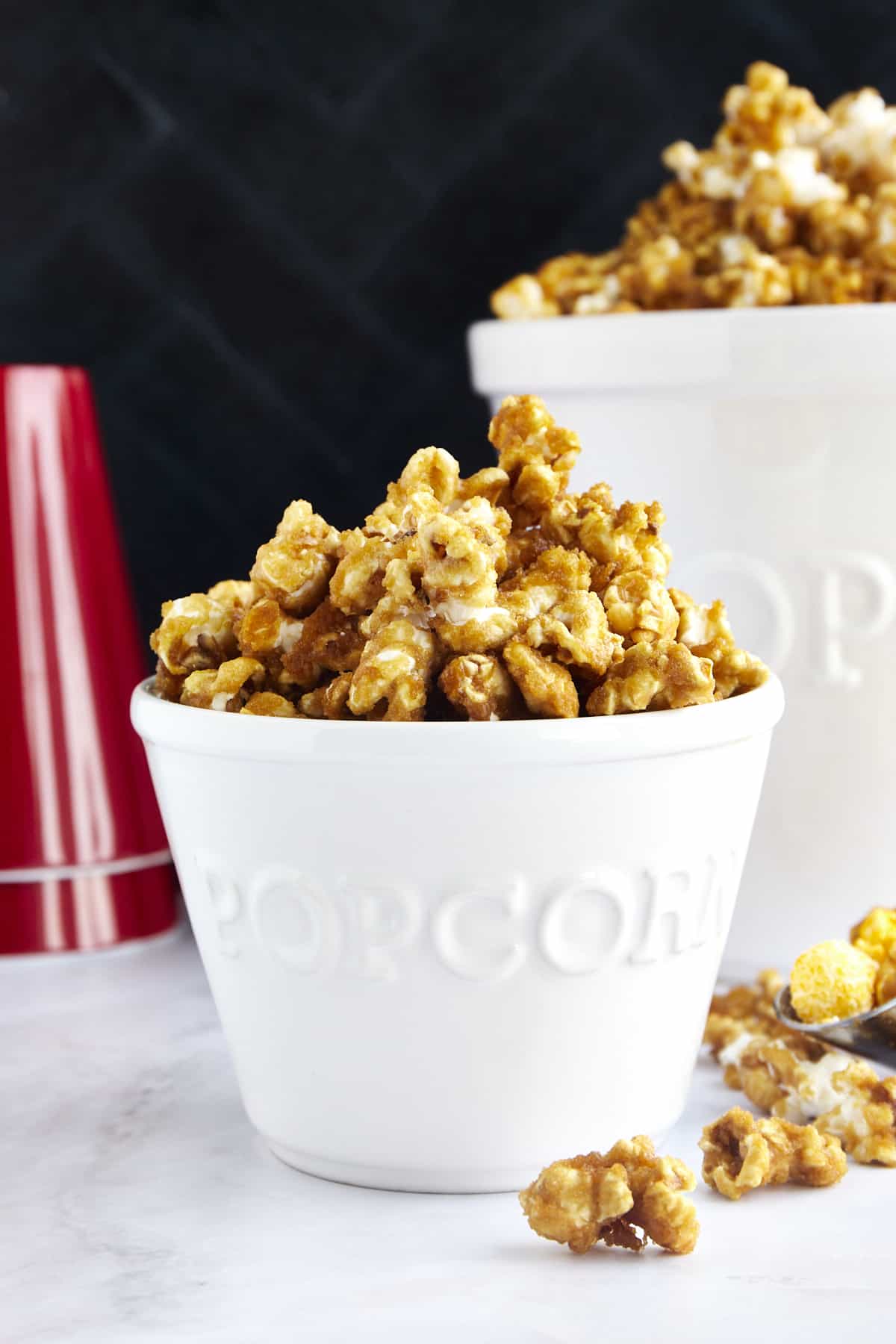 Homemade Caramel Popcorn Recipe
Make this homemade caramel popcorn recipe with seven simple ingredients for a sweet and salty treat guaranteed to satisfy all your cravings!
Ingredients
8

cups

popped popcorn

1/2

cup

unsalted butter

1 1/2

cups

brown sugar

6

Tablespoons

corn syrup

1/2

teaspoon

vanilla

1

teaspoon

salt

plus additional if desired

1

teaspoon

baking soda
Instructions
Preheat the oven to 200 degrees Fahrenheit (93 degrees Celsius).

Line two large baking sheets with a silicone baking mat. NOTE: If only one silicone mat is available, line a second baking sheet with parchment paper (A silicone baking mat yields the best results for this recipe).

Spread the popped popcorn evenly across the prepared baking sheet, and set it aside.

In a saucepan over medium heat, combine the unsalted butter, brown sugar, and corn syrup. Whisk the mixture constantly until the butter has melted and the brown sugar has dissolved. This usually takes about 3-5 minutes.

While continuing to whisk, add the vanilla, salt, and baking soda to the caramel mixture. The baking soda will cause some bubbling.

Remove the saucepan from heat once the caramel has thickened and takes on a lighter, fluffier texture. This typically takes about 1-2 minutes.

Pour the caramel over the popcorn and, working quickly, use a spatula to toss the popcorn, ensuring it is fully coated with caramel.

Place the caramel-coated popcorn in the preheated oven, and bake it for 3 or 4 intervals of 15 minutes each, resulting in a total baking time of 45 minutes. At each 15-minute interval, remove the baking sheet from the oven and toss the popcorn to ensure it is fully coated. Break up any clumps that may have formed. At the 45-minute mark, check if the popcorn is sticky and well-coated.

Transfer the baked caramel popcorn to the second baking sheet to cool. Use a spatula to break up any lumps that may have formed.

For salted caramel popcorn, sprinkle a bit of coarse salt over the popcorn immediately.

Once completely cooled, store the caramel popcorn in an airtight container to maintain its freshness for up to 2-3 weeks.
Nutrition
Serving:
1
serving
|
Calories:
460
kcal
|
Carbohydrates:
87
g
|
Protein:
9
g
|
Fat:
9
g
|
Saturated Fat:
4
g
|
Polyunsaturated Fat:
2
g
|
Monounsaturated Fat:
2
g
|
Trans Fat:
0.2
g
|
Cholesterol:
15
mg
|
Sodium:
231
mg
|
Potassium:
254
mg
|
Fiber:
10
g
|
Sugar:
27
g
|
Vitamin A:
177
IU
|
Calcium:
24
mg
|
Iron:
3
mg
Nutrition information is automatically calculated, so should only be used as an approximation.
Like this recipe?
Please leave a comment!