Perfectly browned butter and sweet toffee bits combine to create these easy toffee cookies. Soft and decadent, they're loaded with flavor and couldn't be quicker to make! Serve them with a glass of cold milk or a big scoop of vanilla ice cream.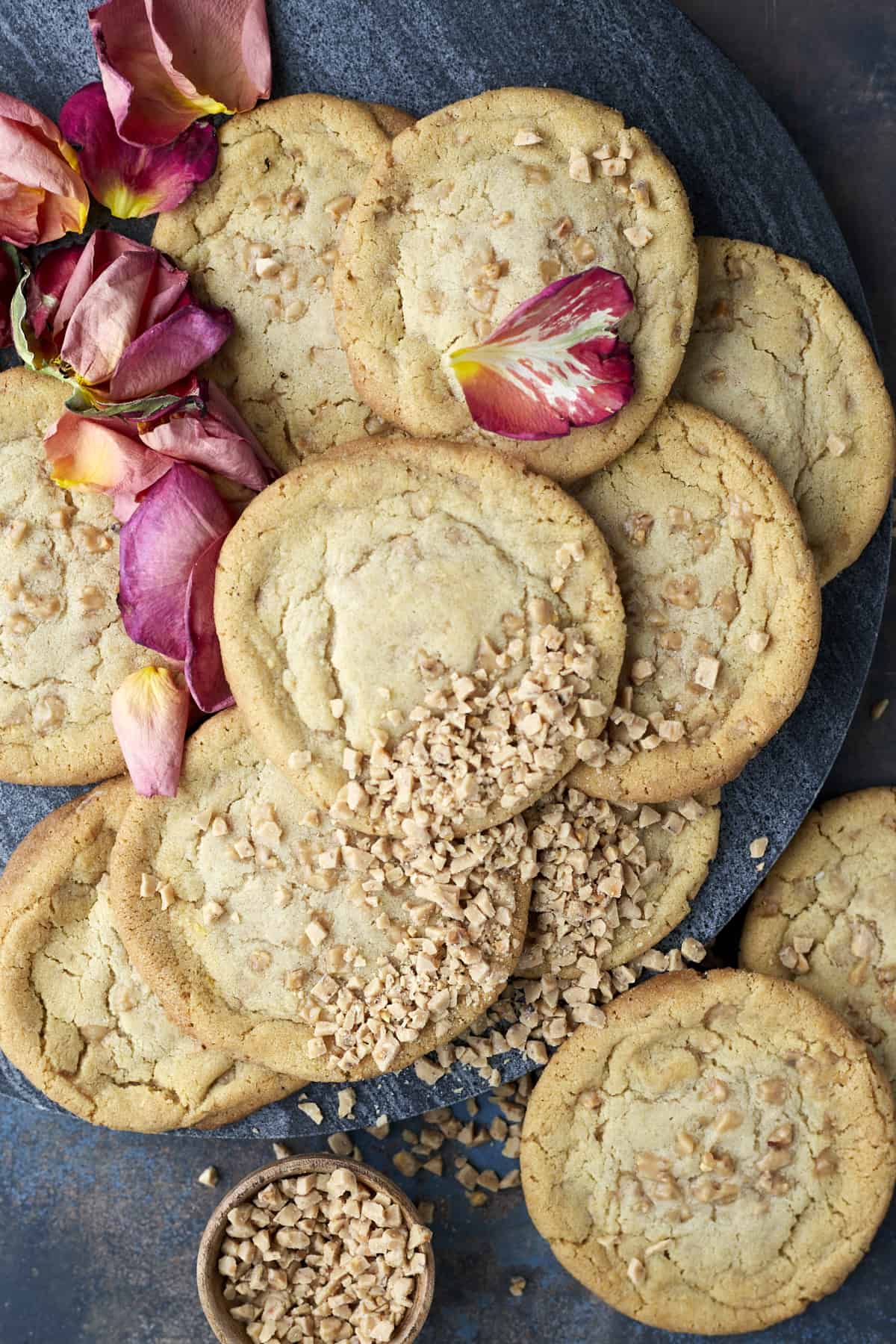 What Is Toffee?
Similar in taste to caramel, toffee is simply butterscotch that has been cooked longer. It is made using the same base of butter and brown sugar. It is cooked until it reaches a temperature somewhere between 295 and 309° Fahrenheit at which it begins to harden and crack.
Unlike butterscotch which is chewy, toffee is characterized by its harder, more brittle consistency.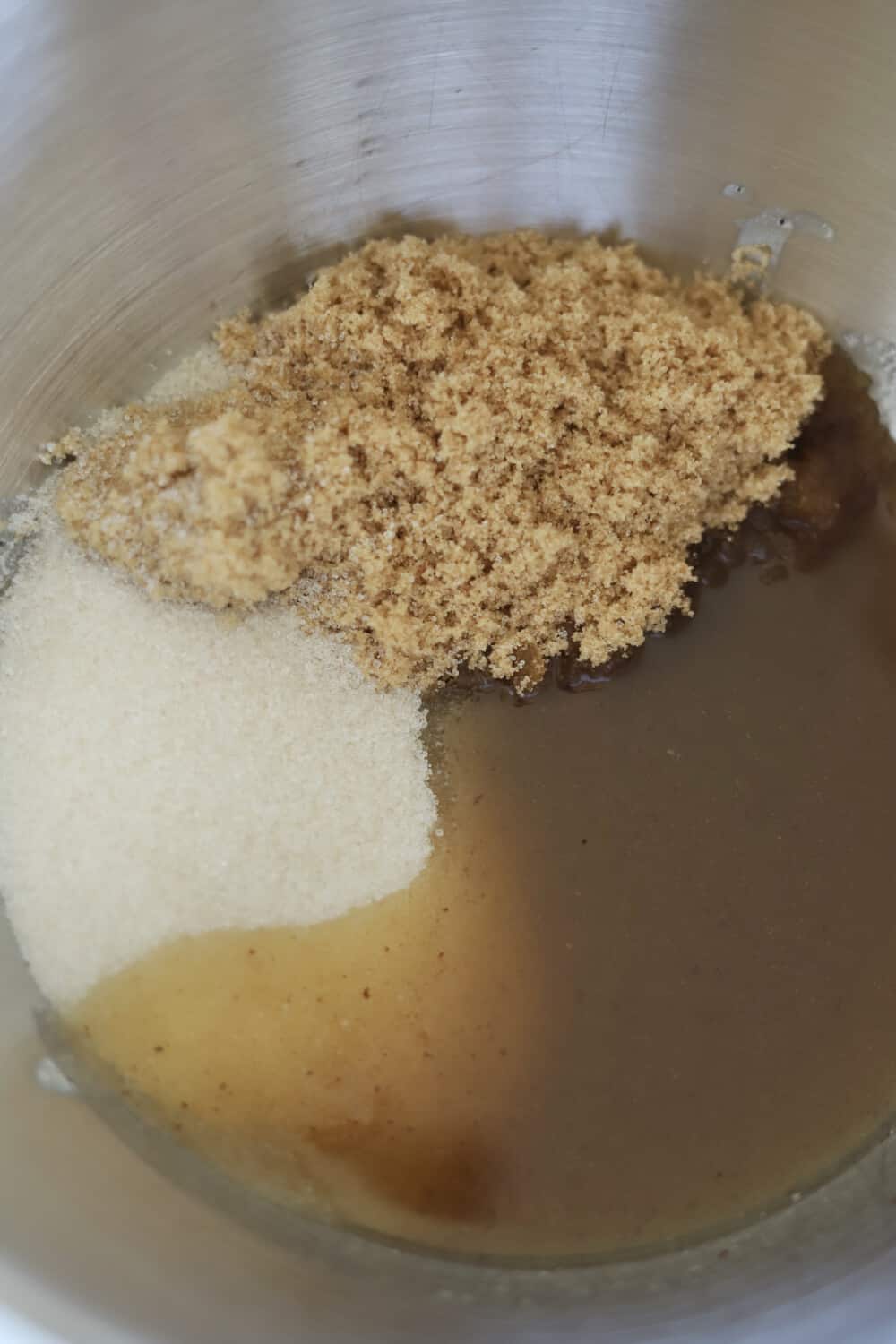 Toffee Cookie Recipe Ingredients
The beauty of toffee cookies is how simple they are to make. Given their rich flavor profile, one might assume they require an extensive list of strange ingredients, but this couldn't be further from the truth! Take a look below to find everything you'll need.
Unsalted Butter allows for complete control over the amount of salt used and helps us create the perfect balance of sweet and savory tastes.
All-Purpose Flour creates soft toffee cookies and allows for super easy baking.
Cornstarch is used as a thickening agent and helps make a slightly crumbly cookie texture for a treat that melts in your mouth!
Baking Soda releases carbon dioxide while baking which allows your cookies to rise and become fluffy.
Salt helps enhance the natural flavors of the other ingredients and also works to strengthen the protein in the dough, creating chewier cookies.
Granulated Sugar not only adds sweetness to these cookies, but it also absorbs some of the liquids and creates slightly crispier cookies
Brown Sugar contributes to the moist, chewy texture of toffee cookies and adds a delicious caramel flavor!
Eggs (and Egg Yolk) add healthy proteins and fats to any recipe and are crucial to maintaining the structure of cookies.
Vanilla Extract plays a similar role to salt, taking your toffee cookie recipe from bland and boring to rich in depth and flavor!
Toffee Bits are the secret to creating out-of-this-world toffee cookies. The combination of chocolate and toffee flavors is totally irresistible. We used Heath Toffee Bits, but any you can find should work!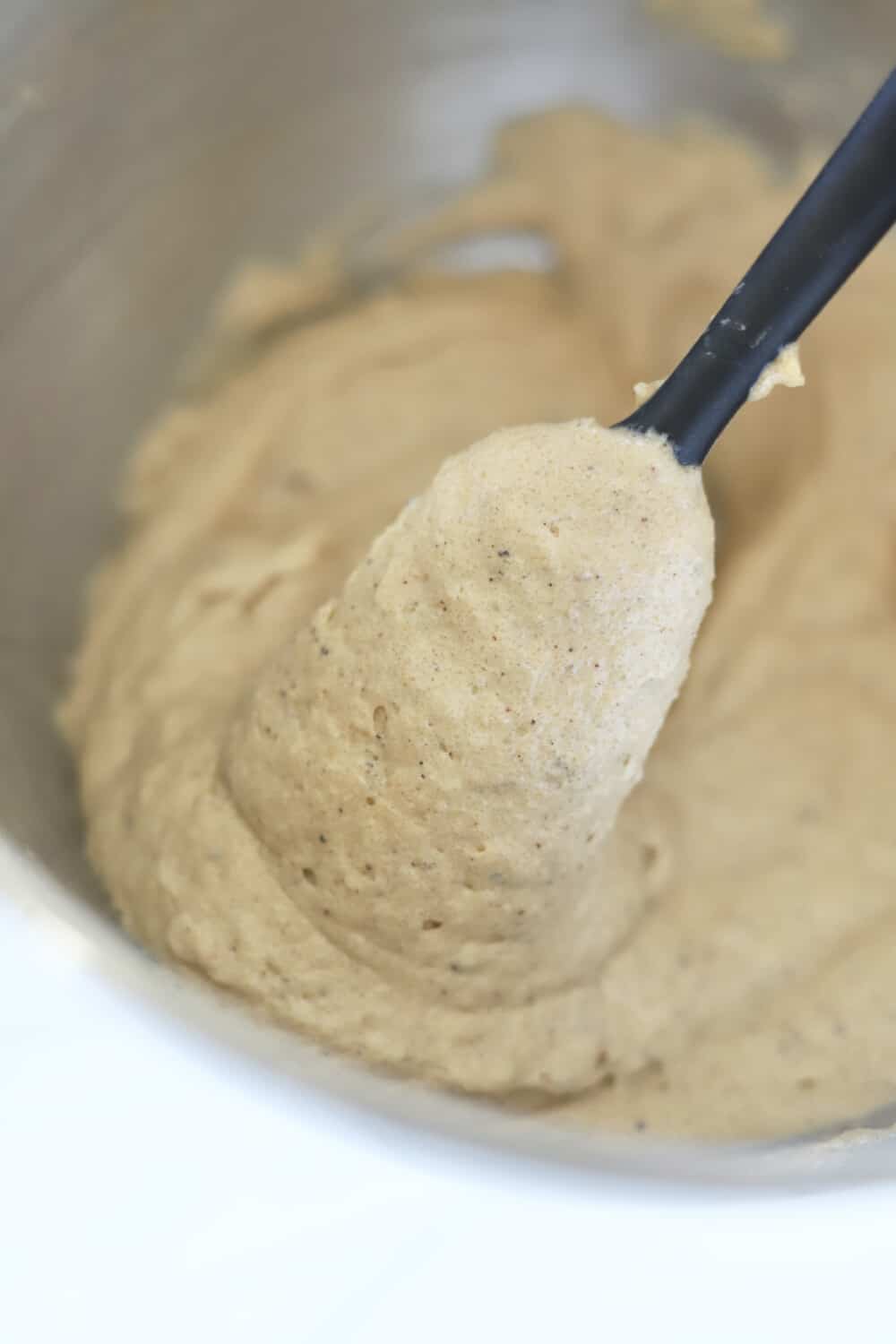 How to Brown Butter Toffee Cookies
Once you make this toffee cookie recipe, you'll never buy storebought versions again. It's quick, simple, and so delicious! Follow the steps below, and you'll have warm homemade cookies in just 10 minutes.
Preheat your oven to 350° Fahrenheit.
Make the browned butter (see below).
Whisk the dry ingredients (minus the sugars) together in a large mixing bowl.
Next, whisk both sugars into the bowl if a stand mixer, fitted with the paddle attachment. Add the room temperature browned butter, and softened butter. Then, add in the egg, beat for 1 minute, stop and scrape down the sides, then add the egg yolk, and vanilla. Beat again until the mixture is light and fluffy.
Pour the dry ingredients into the bowl with the wet ingredients. Stir until well-combined, being careful not to overmix!
Gently fold in the chocolate toffee bits.
Use a cookie scoop to portion out equal-sized balls of dough, and place them on a parchment-lined baking sheet.
Bake for 9-10 minutes or until the edges are just lightly browned.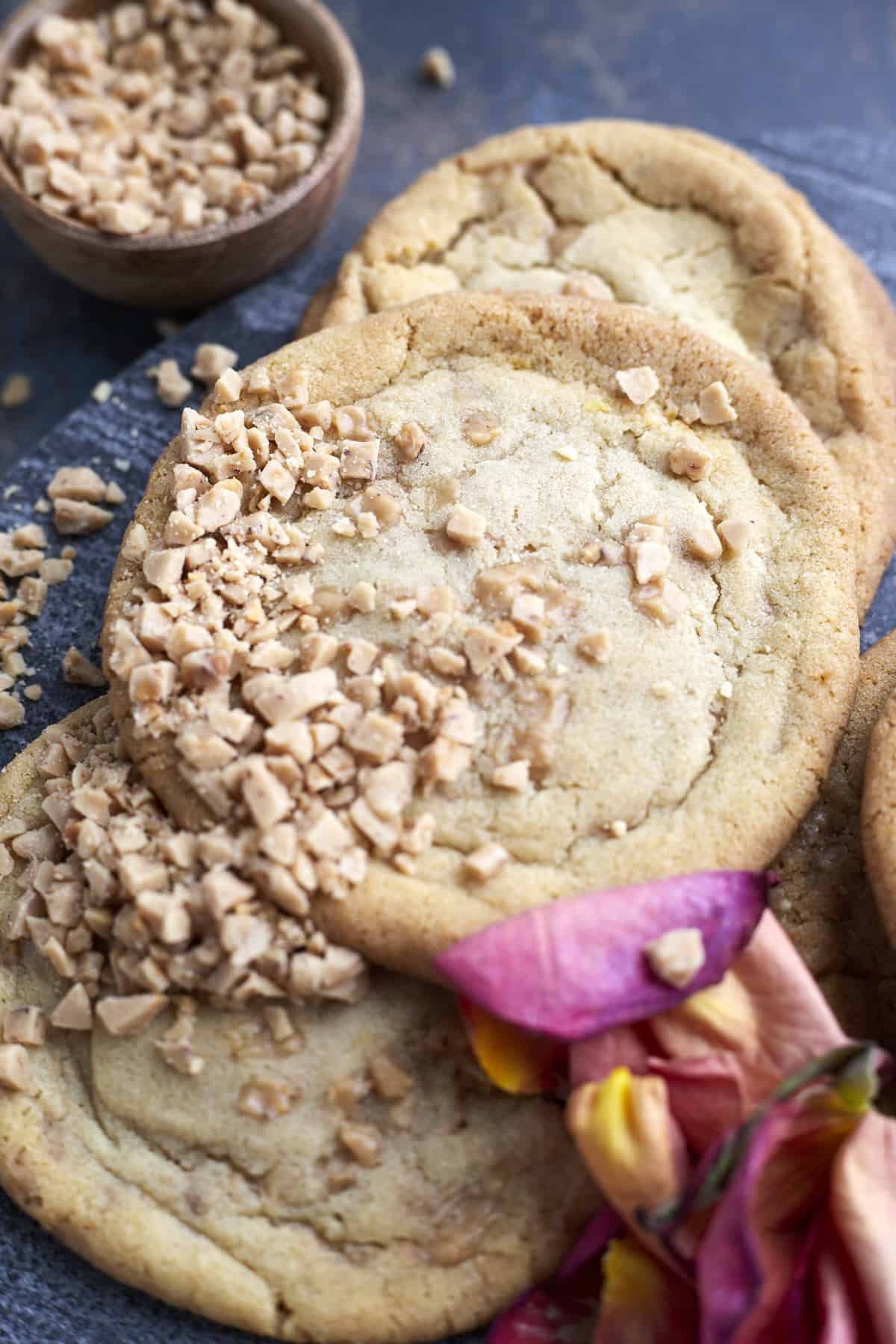 Step-By-Step Instructions to Create Browned Butter
Melt 1 stick butter in a saucepan over medium heat, whisking frequently.
Once melted, the butter will begin to form brown specs in the bottom of the pan and have a slightly nutty aroma.
Once the brown specs have formed, remove the butter from the heat, and allow it to cool! Be careful not to burn the butter!
In our homes, these cookies are eaten immediately! However, if you can get them to last, they can be stored in an airtight container at room temperature or in the fridge for up to 3 weeks.
Can I Freeze Leftover Toffee Cookies?
We don't recommend freezing baked toffee cookies. You can freeze the dough, though! We prefer to portion the cookies into balls of dough first. Then, add the dough to a baking sheet, and place it in the freezer for about 20 minutes or until it has hardened. Once firm, transfer the individual dough balls to an airtight container or sealable bag, and store them in the freezer for up to 3 months. When you're ready to bake, simply pull the dough from the freezer, and pop it in the oven!
Or, if you do not portion your cookies ahead of time, store the dough in an airtight container, and let it thaw in the fridge overnight before baking.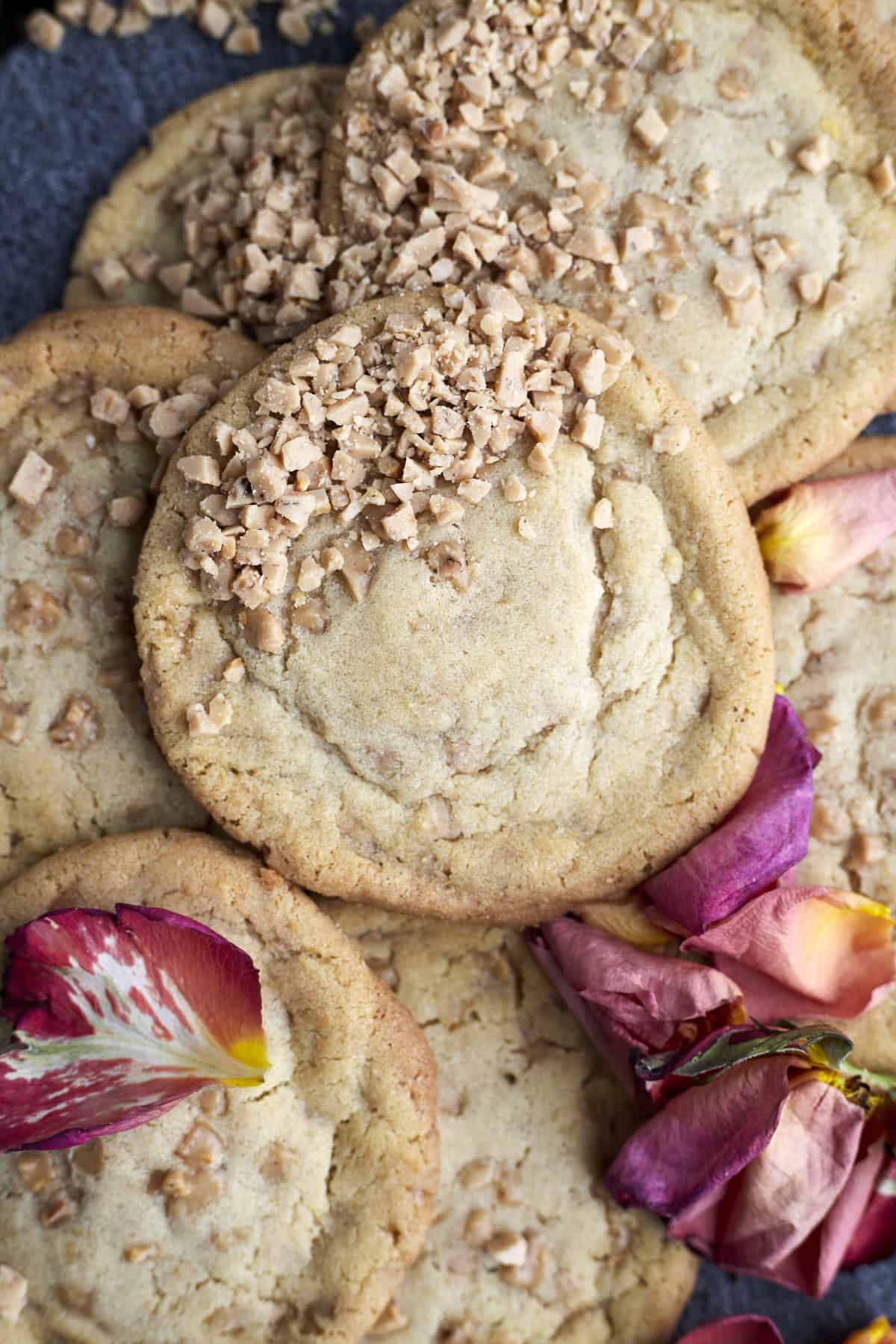 More Craveable Cookies
Looking for more cookie recipes? Take a look at some more of our favorites below!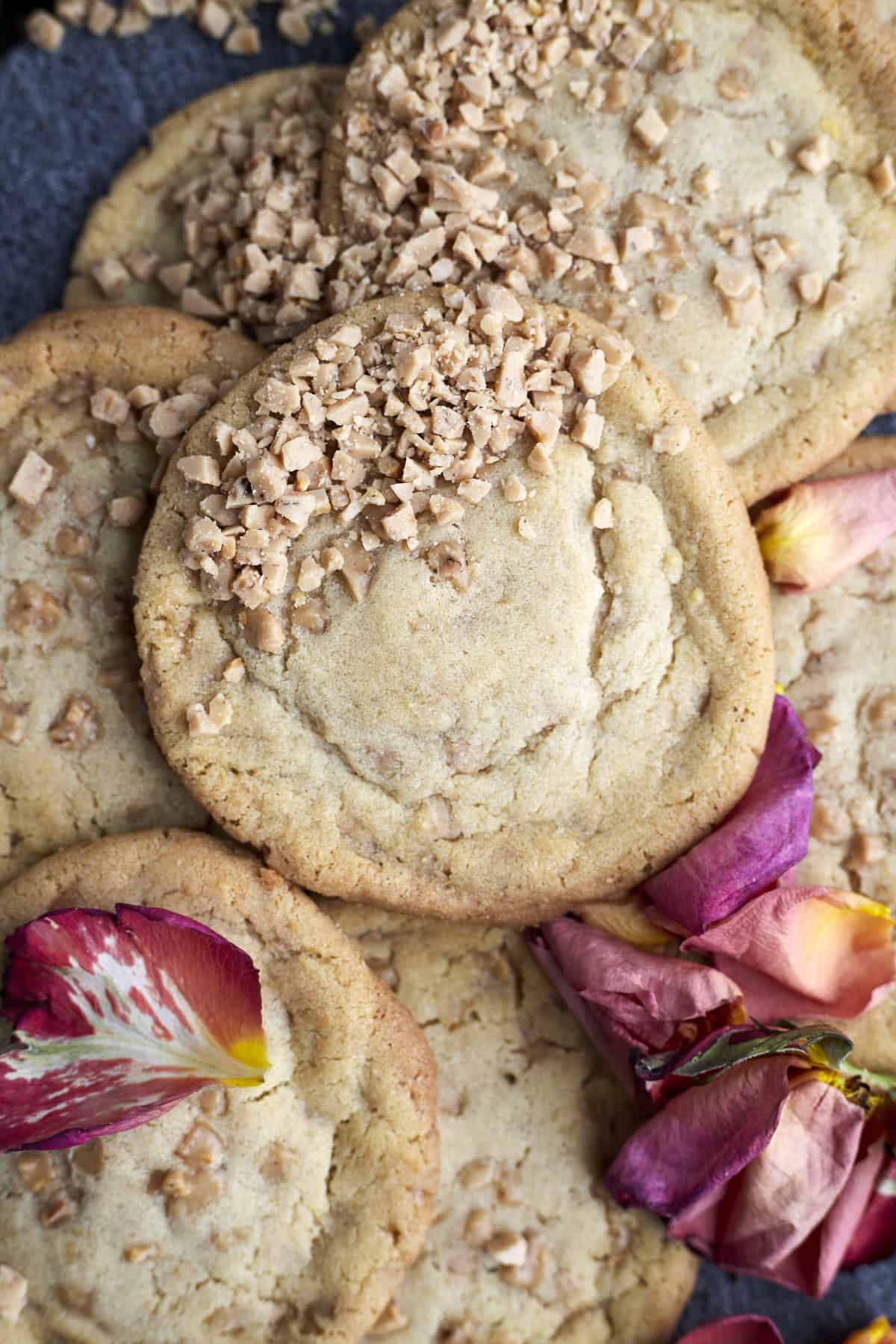 Brown Butter Toffee Cookies
Ready in less than 30 minutes, these easy toffee cookies are full of rich chocolate and toffee flavors for a decadent dessert everyone will love!
Ingredients
9

tablespoons

unsalted butter

softened

8

tablespoons

unsalted butter

2

cups

all-purpose flour

3/4

teaspoon

baking soda

1/2

teaspoon

salt

3/4

cup

granulated sugar

3/4

cup

packed brown sugar

1

egg

room temperature

1

egg yolk

room temperature

1/2

teaspoons

vanilla

6

ounces

toffee bits
Instructions
Preheat the oven to 350° Fahrenheit. Line a baking sheet with parchment paper, and set it aside.

Make the brown butter by heating 8 tablespoons butter in a saucepan over medium heat until brown bits form. Try not to walk away as it can burn very quickly. Immediately remove the butter from the heat, and set it aside to cool completely.

In a large mixing bowl, whisk together the flour, baking soda, and salt.

In a separate large bowl, whisk together the brown sugar, white sugar, softened butter, and cooled brown butter until smooth. Add the whole egg, beat for 1 minute. Scrape down the sides and the egg yolk and vanilla. Beat until fluffy 1-2 minutes.

Add the dry ingredients to the bowl with the we ingredients. Stir until no streaks of flour remain. Be careful not to overmix!

Gently fold in the toffee bits.

Use a large cookie scoop to portion out the dough into equal-sized portions. Arrange them on a baking sheet.

Bake for 9-10 minutes or until the edges are golden brown.

Transfer to a cooling rack.
Nutrition information is automatically calculated, so should only be used as an approximation.
Like this recipe?
Please leave a comment!