This Biscoff Tiramisu is a delightful twist on the classic Italian dessert. Combining the rich and buttery goodness of Biscoff cookies with layers of velvety cream and a hint of espresso, each bite is a heavenly experience. The cookies soften and meld with the luscious cream, creating a symphony of textures and flavors that will leave you craving for more.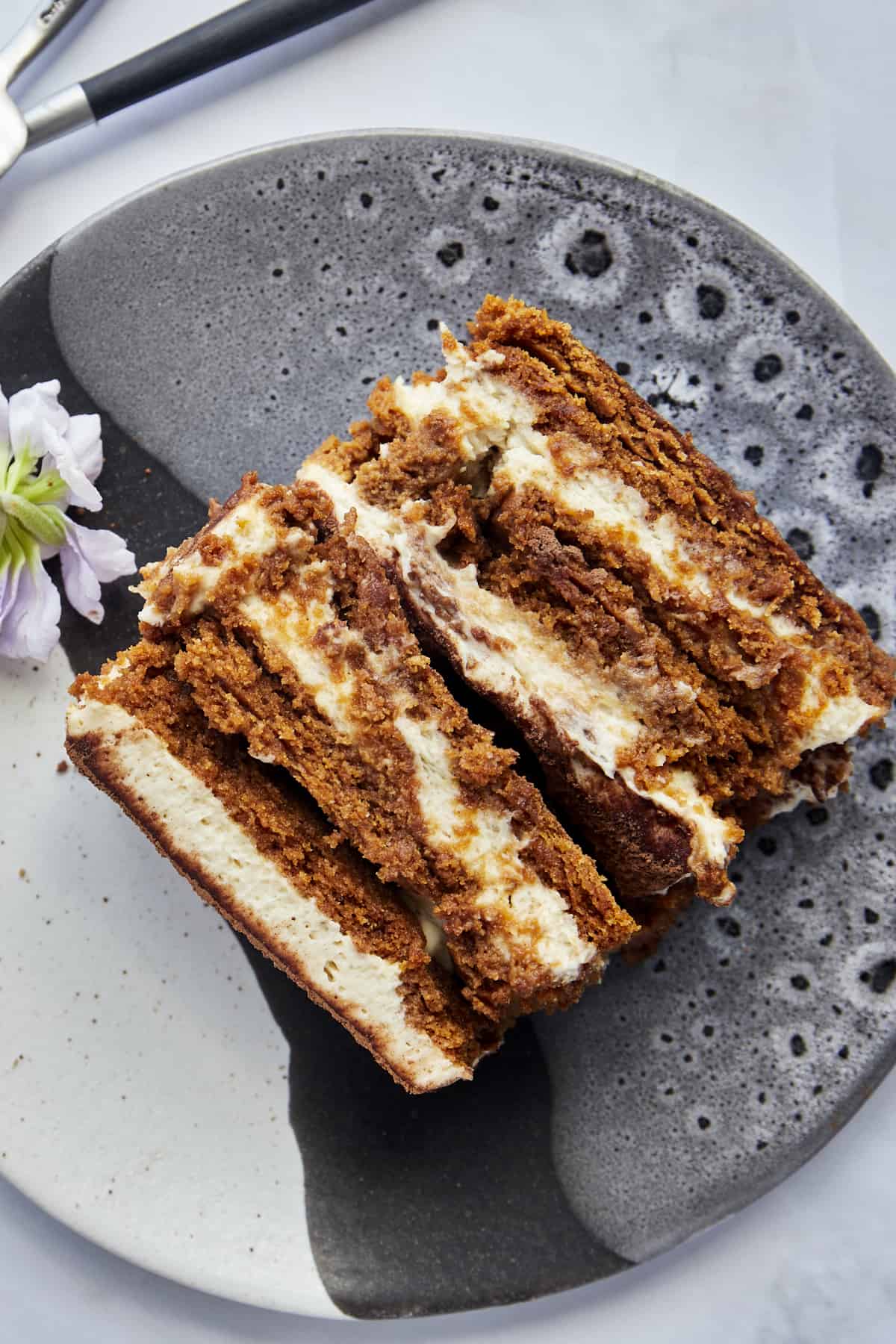 What Is Biscoff Tiramisu?
An irresistible mash-up of desserts, Biscoff Tiramisu takes a classic tiramisu dessert and replaces the ladyfinger cookies with Biscoff cookies and a layer of cookie butter, too. The result is a decadent recipe that has the creamy texture of tiramisu with the sweet flavor of Biscoff.
As if that wasn't enticing enough, this dessert is:
Made with less than ten simple ingredients.
Created with zero baking required.
Great to prepare in advance.
Excellent for feeding a crowd.
Perfect for every occasion.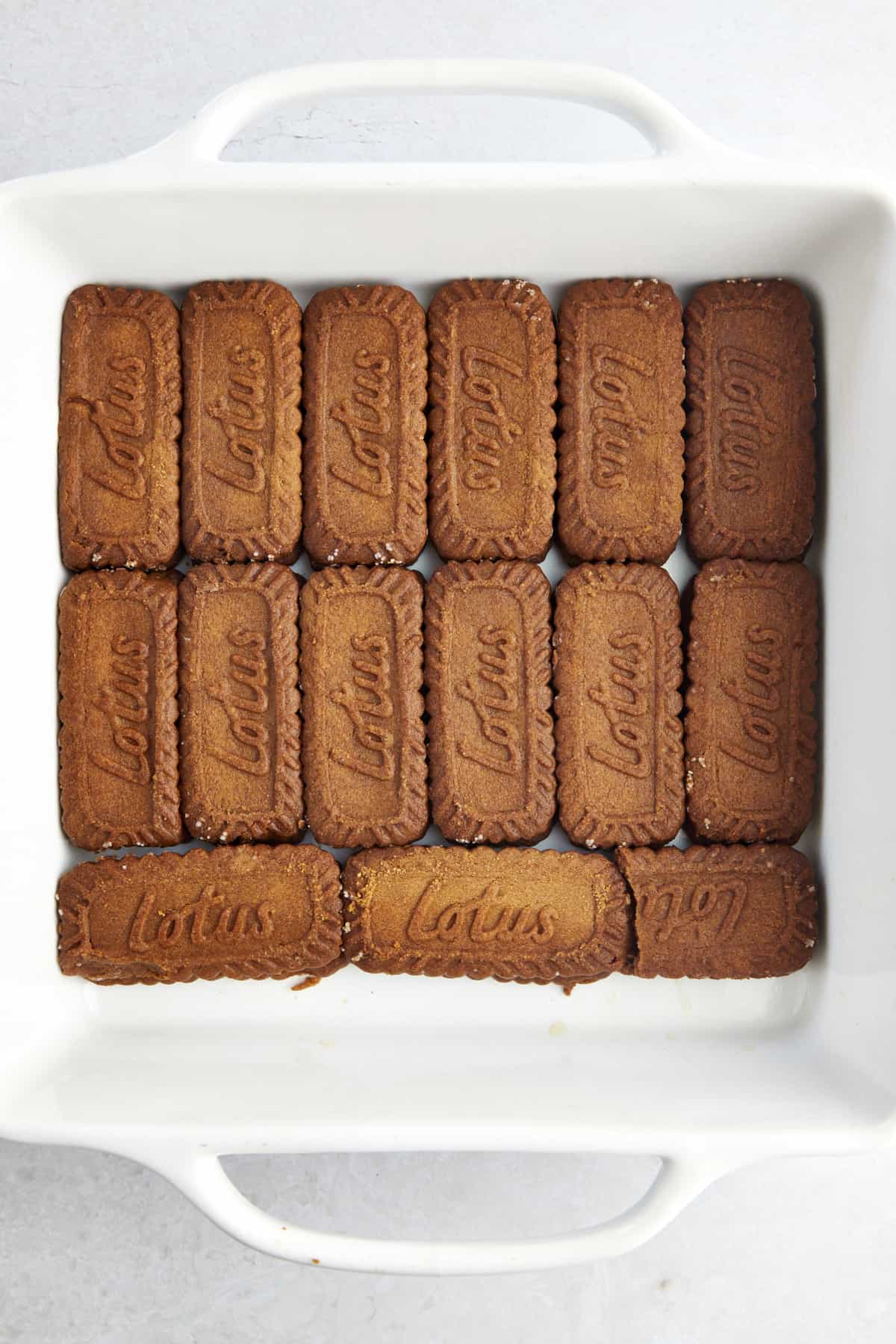 Ingredients You'll Need
For this easy Biscoff tiramisu recipe, we used just a handful of ingredients to create the classic texture you love without a slight twist on the taste. Here's what you need:
Biscoff Cookies – These form the base of the dessert, providing a bit of crunch and helping it hold its shape.
Sugar – Regular granulated sugar helps sweeten the filling, mitigating some of the tanginess of the cheese.
Mascarpone Cheese – This is a crucial component in any tiramisu recipe. For the best results, make sure it's full-fat and plain.
Espresso or Strong Coffee – Feel free to use decaf, if preferred.
Heavy Cream – Combined with the mascarpone, this makes for the fluffiest, smoothest, dreamiest consistency.
Biscoff Cookie Butter – Not found in your average tiramisu, this is our secret weapon for adding an extra element of sweet, spicy flavor that makes this dessert utterly irresistible.
Vanilla Extract – Use pure, high-quality vanilla to enhance the flavor of the rest of the ingredients.
Cocoa Powder – Technically optional but highly recommended, we dust a light layer of cocoa on top for a final touch of rich chocolate you'll love.
How to Make Biscoff Tiramisu
Tiramisu may look super fancy, but it's actually super easy to make, and you don't even have to turn on your oven! Here's how it's done:
Create the Filling. In a large bowl, add the heavy cream, sugar, cookie butter, mascarpone, and vanilla extract. Use a hand mixer or stand mixer to blend the ingredients until stiff peaks form.
Make the Espresso or Coffee. Let cool completely.
Soak the Cookies. Dip two cookies into the espresso at a time, and arrange them in a single layer in the bottom of a baking dish.
Layer. Part of the cream mixture on top, and repeat the process, finishing with a final layer of the cream filling. Then, dust the cocoa powder on top.
Chill. Cover the dish with plastic wrap, and transfer it to the freezer to chill.
Serve. Slice the Biscoff tiramisu into squares, and enjoy chilled!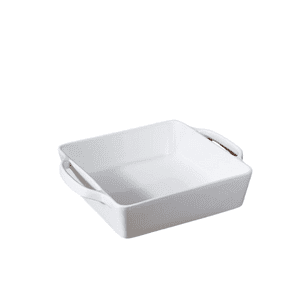 We earn a commission if you make a purchase, at no additional cost to you.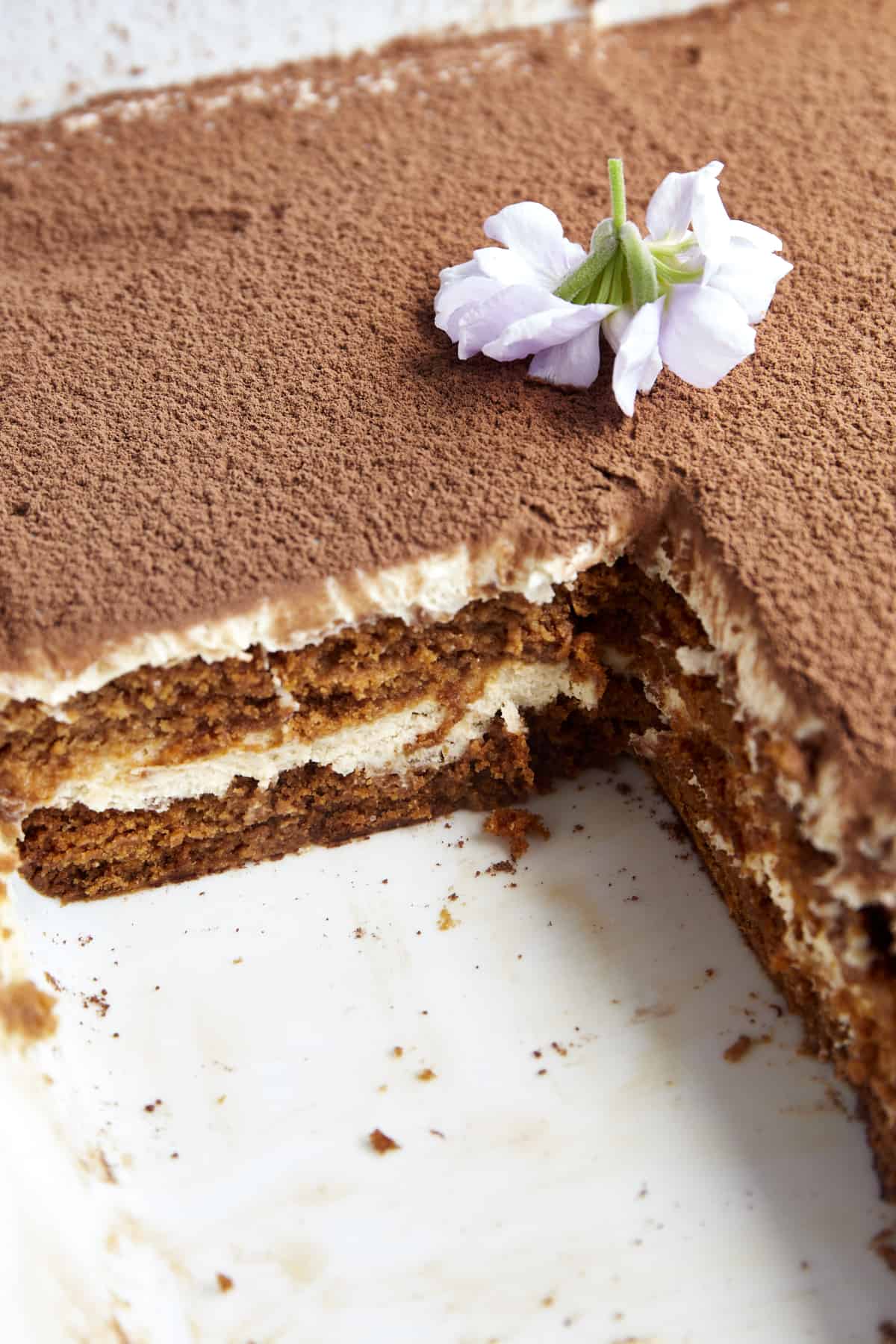 Tips and Tricks
Use Room Temperature Ingredients. For the best results, allow all your ingredients to come to room temperature before you begin to assemble the dessert. This will allow for easier mixing, creating an ultra-fluffy filling.
Don't Oversoak the Cookies. Dunk the cookies in the espresso just long enough for them to be completely coated. Then, be sure to let any extra liquid drip off before arranging them in the baking dish. Otherwise, your cookies are likely to become soggy.
Allow Plenty of Chilling Time. You want your Biscoff tiramisu to chill in the fridge for at least four hours. However, it's best when left in the fridge overnight. This allows for the dessert to set and all of the flavors to meld together.
Storage Options
This Biscoff tiramisu recipe is actually best when made 24 hours in advance! However, it also stores well if you have leftovers or want to prep farther ahead.
Refrigerator: Keep your dish covered with plastic wrap, and store it in the fridge for up to two to three days.
Freezer: If you plan on freezing your dessert, leave off the cocoa powder until just before serving. Then, wrap it in clingwrap followed by aluminum foil, and keep it frozen for up to three months.
To Serve: Thaw your tiramisu in the fridge overnight. Then, add your cocoa powder, and enjoy!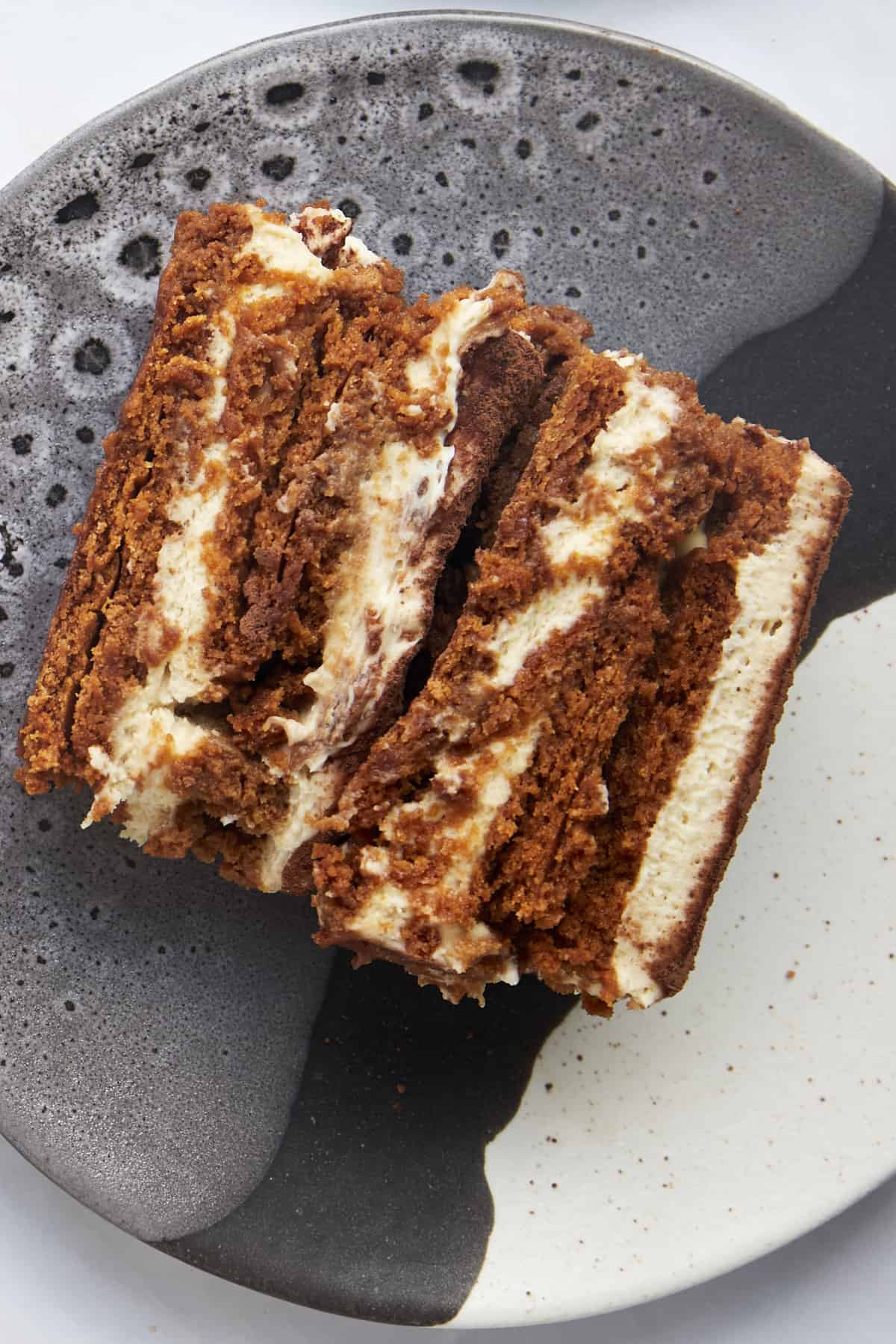 Common Questions About Easy Biscoff Tiramisu
What is Biscoff?
Biscoff spread is a peanut butter or Nutella-like spread that is made from Speculoos cookies. These popular treats are a type of buttery, brown sugar cookie that is flavored with warm spices. Essentially, Biscoff is like spreadable cookies.
What does Biscoff taste like?
Kind of like gingerbread but sweeter, Biscoff has the rich, sugary flavor of brown sugar with notes of warm spices like cinnamon and nutmeg.
Do you have to use alcohol in tiramisu?
We don't! Traditional tiramisu recipes often contain alcohol like dark rum, but we don't find it necessary to include for a delicious dessert.
Are there raw eggs in tiramisu?
In most traditional tiramisu recipes you'll find raw egg yolks, but we don't use them in this simplified version. You still get all the flavor you love, and it's totally safe to eat!
More Tiramisu Recipes You'll Love
If you enjoy this Biscoff tiramisu recipe, you won't want to miss out on more of our favorite tiramisu variations below: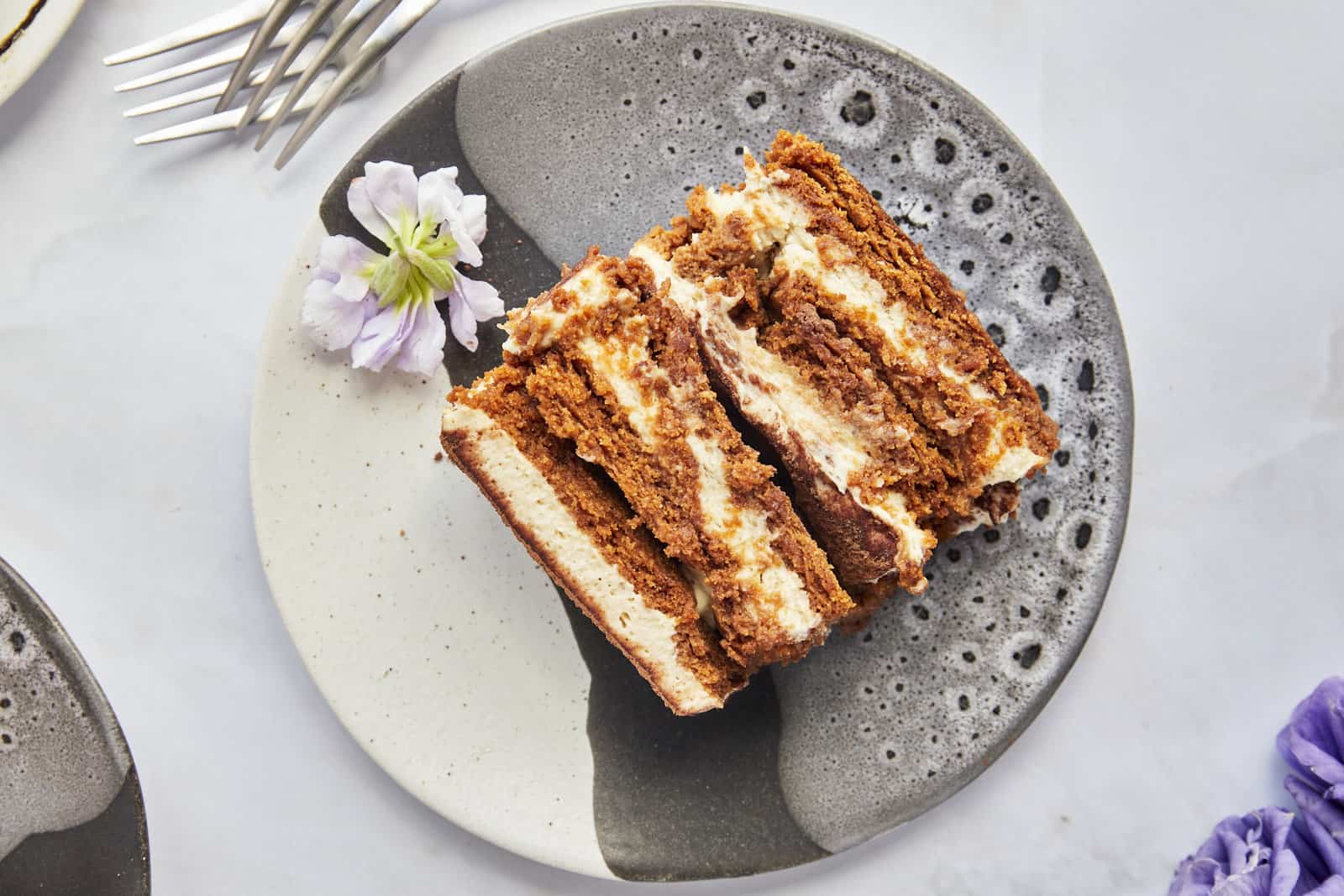 Learn how to make Biscoff tiramisu with just nine ingredients for a fun twist on everyone's favorite Italian dessert!
Ingredients
2

cups

heavy cream

3/4

cup

sugar

1/2

teaspoon

ground cinnamon

1/4

cup

Biscoff cookie butter

8

ounces

mascarpone cheese

1

Tablespoon

vanilla extract

1

cup

freshly brewed strong coffee or espresso

cooled

2

packages Biscoff cookies

Cocoa powder

for dusting
Instructions
In a large bowl, combine the heavy cream, sugar, Biscoff cookie butter, mascarpone cheese, cinnamon and vanilla extract. Using a hand mixer or stand mixer, blend the ingredients on high speed until the mixture forms stiff peaks.

Take 2 Biscoff cookies at a time and dip them into the cooled coffee or espresso. Allow any excess liquid to drip off. Line the dipped cookies in a 9×9 baking dish, forming a single layer.

Spread half of the cream mixture over the layer of cookies. Repeat the process by dipping another 2 cookies at a time in the espresso mixture and creating a second layer on top of the cream.

Finish by spreading the remaining cream mixture over the second layer of cookies. Dust the top of the Biscoff Tiramisu with cocoa powder.

Cover the baking dish with plastic wrap and refrigerate for at least 4 hours, or overnight, to allow the flavors to meld and the cookies to soften.Before serving, cut into portions and enjoy the delicious Biscoff Tiramisu chilled.

Store in an airtight container in the fridge for up to 2-3 days or in the freezer for up to 3 months.
Equipment
Nutrition
Serving:
1
serving
|
Calories:
310
kcal
|
Carbohydrates:
18
g
|
Protein:
3
g
|
Fat:
25
g
|
Saturated Fat:
15
g
|
Polyunsaturated Fat:
1
g
|
Monounsaturated Fat:
4
g
|
Cholesterol:
64
mg
|
Sodium:
27
mg
|
Potassium:
47
mg
|
Fiber:
0.02
g
|
Sugar:
16
g
|
Vitamin A:
849
IU
|
Vitamin C:
0.2
mg
|
Calcium:
53
mg
|
Iron:
0.1
mg
Nutrition information is automatically calculated, so should only be used as an approximation.
Like this recipe?
Please leave a comment!