Beef Pot Roast Recipe in the Oven
*This post may contain affiliate links, please see our privacy policy for details.*
Melt in your mouth delicious, this Beef Pot Roast Recipe is juicy, flavorful, and loaded with veggies for the ultimate comfort food dinner that will have the whole family begging for seconds. Roasted in the oven, it's simple to make and perfect for every occasion!

What Is Pot Roast?
A classic dinner recipe, pot roast is a dish made with a typically tougher cut of meat such as chuck steak, bottom round, or short ribs. The meat is cooked long and slow in order to break down the connective tissues for an ultra-tender texture and out-of-this-world flavor. Typically, the meat is seared and surrounded with vegetables such as carrots, onions, and potatoes. The ingredients are then coated with seasonings and roasted together. The finished product results in a complete meal that leaves your whole house smelling amazing.
What's the Difference Between a Pot Roast and a Chuck Roast?
Often used interchangeably, a pot roast and a chuck roast aren't exactly the same thing. You see, the term pot roast is used to refer to a method of preparation that involves slowly cooking a cut of meat until it is juicy and tender. Meanwhile, the term chuck roast is used to refer to any cut of meat that comes from the chuck (shoulder portion) of a steer. Pot roasts can be made with any cut of meat, including chuck beef, but chuck roasts can only be made with a cut of the chuck.
What Is the Best Type of Meat for a Pot Roast?
When it comes to choosing a cut of meat for your pot roast recipes, it's important to choose one with plenty of marbling. This will help break down the tough tendons as it cooks, creating the tender texture we're looking to achieve. Therefore, our top picks include:
Chuck Roast
Beef Brisket
Bottom Round Roast
Rump Roast
How to Make the Best Oven Pot Roast Recipe
The complex flavors of oven pot roast might lead you to believe that it's a super complex recipe, but that couldn't be farther from the truth! Take a look at the instructions below, and scroll to the bottom for the full details.
Preheat

the oven.

Pat the beef dry

with a paper towel, and

dredge

it with a mixture of flour, salt, and pepper.

Melt the butter and olive oil

in a dutch oven on high heat, and

sear the beef

until browned on all sides.

Transfer the beef to a plate.

Reduce the heat

, and add the broth, tomato sauce, seasonings, and herbs to the dutch oven, scraping the brown bits from the bottom.

Add the beef, carrots, and onions. Then,

cover, and bake.

Remove from the oven,

add the remaining ingredients, and cook until the potatoes are fork tender

.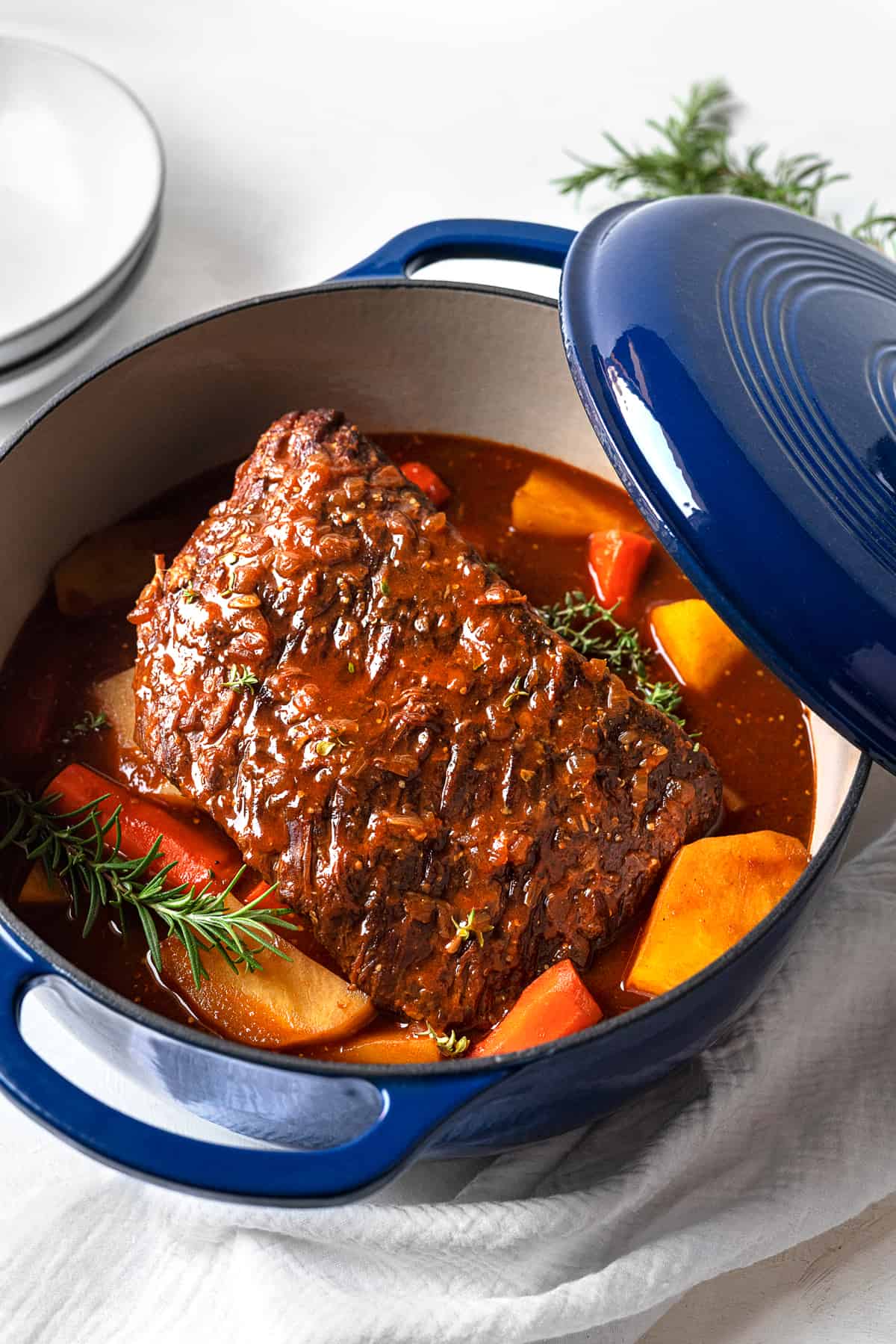 How Do I Make Sure My Beef Pot Roast Recipe Is Tender?
The key to creating a tender pot roast is to sear the beef before cooking. This locks in the moisture, keeping the meat juicy. It's also crucial to keep your dutch oven covered and cook long and slow. This allows the juices to circulate throughout the beef, breaking down the toughness. Trust us, it's worth the wait!
How Lond Should I Cook Oven Pot Roast?
The cooking time will vary based on your oven and the size of the cut of meat. You'll want to make sure to bake your beef until it is fall apart tender and has reached an internal temperature of 145° Fahrenheit. On average, you can follow the cooking times listed below.
3 lb roast for roughly 3-3.5 hours
4 lb roast for roughly 3.5-4 hours
5 lb roast for roughly 4.5-5 hours
Storage and Reheating Options
Beef pot roast is best served warm from the oven. However, if you have leftovers, they can be stored in an airtight container in the fridge for up to 3 days. You can also freeze the beef roast without the veggies for up to 2-3 months.
When you're ready to eat, let the meat thaw in the fridge, and warm in the oven on low heat until your desired temperature is reached.
More Family-Friendly Dinner Recipes
Looking for more comforting meals guaranteed to please a crowd? Take a look at more of our familys' favorite recipes!
Beef Pot Roast Recipe in the Oven
The ultimate homemade dinner, this beef pot roast is cooked long and slow in the oven for a tender, juciy comfort food you'll love!
Ingredients
1/3

cup

all-purpose flour

1

Tablespoon

unsalted butter

2

Tablespoons

olive oil

4

pounds

chuck roast, boneless and fat trimmed

3

cups

low sodium beef broth

1/4

cup

tomato sauce

4

cloves

peeled garlic

2

teaspoons

paprika

1

teaspoon

mustard powder

1

sprig

fresh thyme

1

sprig

fresh rosemary

salt and pepper to taste

4

large

chopped carrots

1

large

onion, chopped

1

pound

Yukon Gold potatoes, cubed

(or potato of choice)
Instructions
Dry the chuck roast with a paper towel. On a plate combine a flour, a generous amount of salt, and black pepper. Stir well. Dredge the chuck roast on all sides into the flour mixture.

In a deep dutch oven, melt together the butter and olive oil on high heat (but not smoking). Sear all sides of the chuck roast until browned, approximately 3-4 minutes per side. Transfer the beef to a plate.

Reduce heat to medium-high. Add the broth, tomato sauce, seasonings and herbs. Mix well, making sure to scrape the bottom of the pot to loosen up any brwon bits.

Add in the seared beef, carrots, and onions. Cover, and bake in the oven for a minimum of 2 hours or until the beef is fork tender and reaches an internal temperature of 145° F.

Remove from the oven, and add chopped potatoes. Cover and cook for an additional 45 minutes or until potatoes are fork tender.
Nutrition
Serving:
1
serving
|
Calories:
504
kcal
|
Carbohydrates:
10
g
|
Protein:
46
g
|
Fat:
31
g
|
Saturated Fat:
13
g
|
Polyunsaturated Fat:
3
g
|
Monounsaturated Fat:
16
g
|
Trans Fat:
2
g
|
Cholesterol:
160
mg
|
Sodium:
411
mg
|
Potassium:
1116
mg
|
Fiber:
2
g
|
Sugar:
3
g
|
Vitamin A:
6166
IU
|
Vitamin C:
6
mg
|
Calcium:
61
mg
|
Iron:
5
mg