Alright, kitchen divas, it's time to talk about how to store the not-so-pretty necessities in your kitchen. Handy kitchen bags and totes are essential for storing everything from pantry staples and fresh produce to leftover feta dip or chocolate chip cookies. But we know how challenging bag storage can be — it sometimes feels impossible to keep bags organized and accessible in the heart of your home.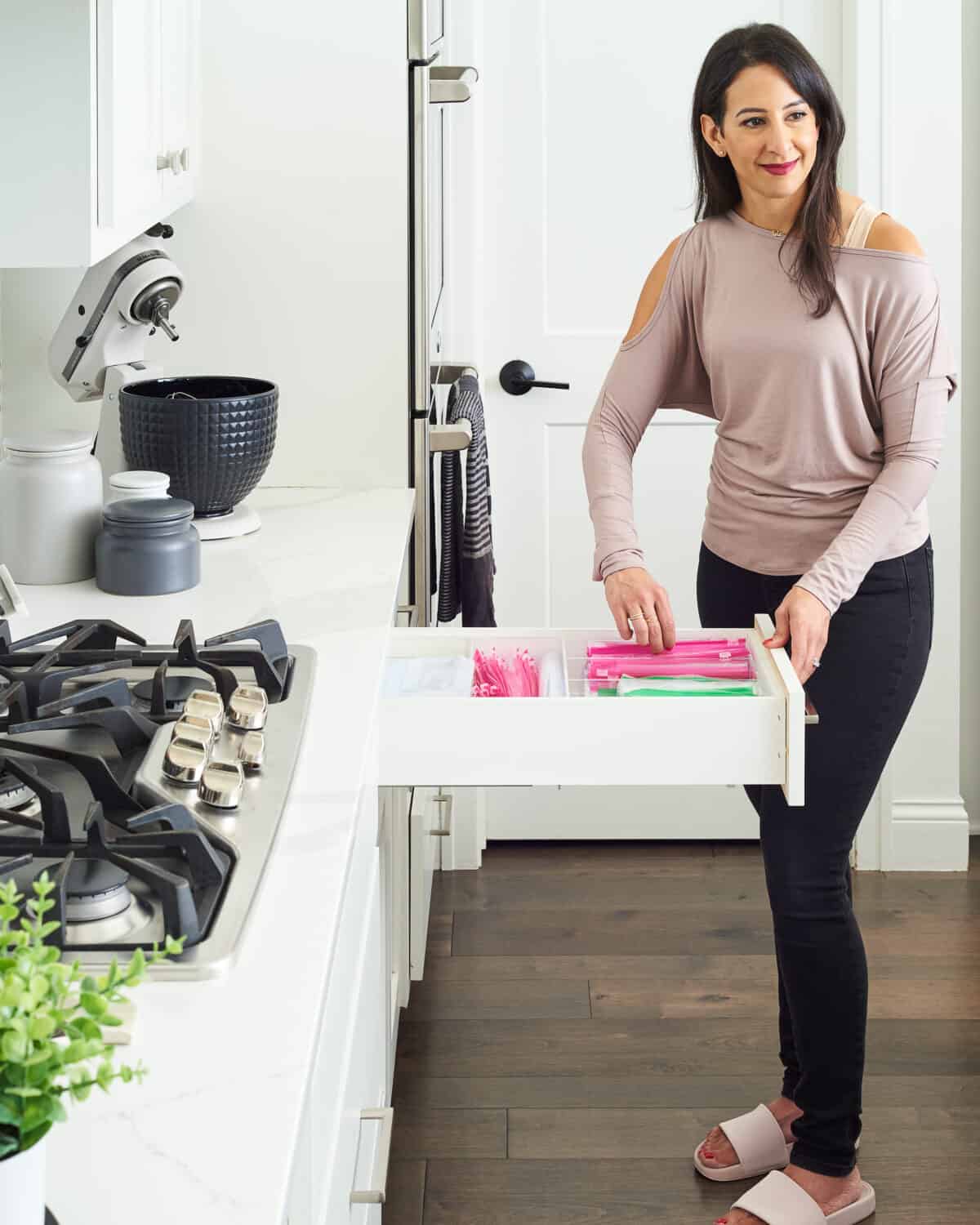 But don't fret! We're here to unravel the secrets of stylish kitchen storage for bags. We have plenty of tips and tricks for glamorous bag storage that are not just practical but also add a dash of flair to your kitchen.
We actually got our organizers from the absolutely amazing Salt by Sabrina (Use code fooddolls to save 10% off your order!), which we totally recommend. But we have lots of other tips, too.
Why Proper Kitchen Bag Storage Matters
Let's dish about why your kitchen bags deserve top-notch kitchen storage:
Efficiency with Flair: An organized kitchen not only makes cooking a breeze but also adds a touch of culinary charisma. No more rummaging through a tangled mess of bags when you're trying to transport your favorite dishes to work or a party.
Bag Longevity: Just as designer bags deserve high-quality storage, your kitchen bags deserve premium treatment, too. Proper storage ensures they remain in pristine condition for as long as possible, ready for any culinary challenge.
Aesthetic Appeal: A well-organized kitchen is not just about function; it's about style. It creates a welcoming atmosphere, enhancing the overall look and feel of your cooking haven.
Sustainability Bonus: By keeping your bags organized and accessible, you're less likely to forget about them, leading to reduced waste and a more sustainable kitchen.
Sassy Solutions For Storage
Let's dive into the world of stylish kitchen bag storage, with a sprinkle of sass, naturally:
Bag Dispensers: Bag dispensers are like the runway for your kitchen bags. They keep plastic and reusable bags neatly organized and easy to access. Customized dispensers like these are also perfect for parchment paper and aluminum foil (like in the pic above).
Drawer Dividers: These dividers are your secret weapon for keeping different types of kitchen bags – from Ziplocs to parchment paper – in order. They prevent them from getting tangled and messy.
Hanging Hooks: Hanging hooks are the kitchen's version of red carpet events for your bags. They keep your reusable totes and plastic bags ready to make an entrance while saving valuable kitchen space.
Tote Baskets: Tote baskets are like designer handbags for your kitchen bags. They add a touch of flair to your kitchen while keeping your bags sorted and accessible.
Labeled Bins: Labeled bins are the divas of kitchen organization. They not only keep your bags in order but also make it a breeze to find the one you need. Plus, they add a bit of spice to your kitchen decor.
Chic FAQs About Kitchen Bag Storage
How do I decide which bags to store in the kitchen and which to keep in other parts of the house?
Kitchen bags, like plastic bags and parchment paper, should be stored in the kitchen for easy access. Other bags can be stored elsewhere.
Any tips for maintaining the condition of kitchen bags in storage?
Regularly check your bags for wear and tear. Replace any that are damaged and clean reusable bags as needed to keep them fresh.
Can I find storage solutions that match my kitchen's unique decor?
Many storage solutions come in various finishes and styles, allowing you to find the perfect fit for your kitchen's aesthetic.
Are there ways to maximize space while accommodating a variety of kitchen bags?
Yes, drawer dividers and bins help maximize storage space while keeping your bags neatly organized.
How do I ensure my kitchen bag storage complements my culinary style?
Choose storage solutions that not only match your kitchen's decor but also reflect your culinary personality. For example, opt for a rustic look for a farmhouse kitchen or sleek, modern storage for a contemporary kitchen.
The Final Word On Bag Storage
In the end, kitchen bags deserve more than just a forgotten corner of your kitchen – they deserve stylish storage. So, whether you're a culinary aficionado or just someone who wants to keep their kitchen in order, embrace kitchen bag storage solutions to keep your culinary essentials accessible and stylish. With a touch of sass and savvy solutions, your kitchen bags will be just one of the stars of your culinary show.
Note: This post contains affiliate links. We only share items we love and appreciate you for helping support our blog and allowing us to share free content. If you're interested in upgrading your bag stroage game, shop Salt by Sabrina, and use code fooddolls for 10% off your order!