This Pumpkin Banana Bread recipe is the perfect breakfast, snack, or dessert for fall! A mashup of pumpkin loaf and banana bread, it's soft, fluffy, and full of warm spices and sweet flavor. Serve it on its own, or smeared with butter, nut butter, or your favorite spread!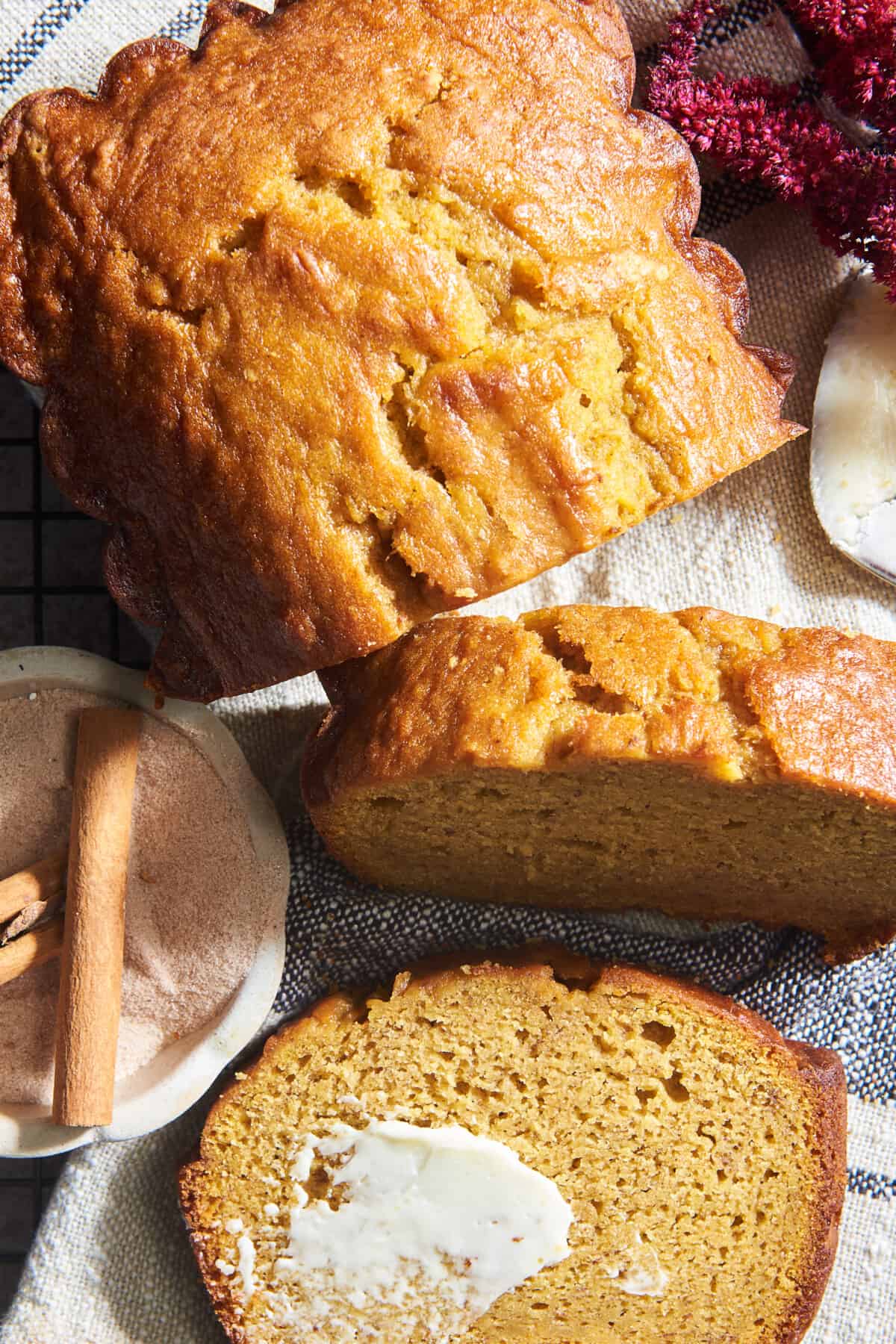 Pumpkin Banana Bread: The Best of Both Worlds!
If you love pumpkin bread and banana bread, you're going to be obsessed with this pumpkin banana bread recipe! The best of both worlds, it combines the sweet flavor of banana bread with the warm spices of pumpkin bread for a fall-inspired treat that's out-of-this-world.
Keep a loaf on hand for quick breakfasts, afternoon snacks, and post-dinner desserts! And don't forget to pair your slice with a warm cup of coffee, hot chocolate, or apple cider. It's the best way to celebrate the season!
What's In Banana Pumpkin Bread?
You'll find all your standard banana bread ingredients in the recipe, with a few additions to make it fall-inspired and fun!
Butter – Unsalted butter is best so you don't overpower the rest of the ingredients!
Flour – All-purpose flour forms the base of the batter, but a 1:1 gluten-free all-purpose flour can also be substituted.
Spices – Ground cinnamon, ginger, nutmeg, cloves, and salt create a warm, pumpkin pie-inspired flavor.
Baking Powder and Baking Soda – These act as leavening agents, helping the bread rise.
Bananas – Use very ripe, medium-sized bananas. If all you have are super green bananas, you can easily ripen the bananas yourself by placing them in a paper or plastic bag.
Large Eggs – These are crucial to provide structure to the loaf. We have not tested any vegan substitutes and can't guarantee your results if you do.
Pumpkin Purée – Use pure pumpkin purée, not pumpkin pie spice. The only ingredient should be pumpkin!
Sugar – A combination of granulated sugar and dark brown sugar sweetens the bread, keeping it super moist and adding a subtle caramel-like flavor.
Vanilla Extract – Use a high-quality pure vanilla extract, not imitation vanilla. You really can taste the difference!
Optional Mix-Ins – Technically optional, but highly recommended, we love to include chopped walnut or pecans and a smattering of chocolate chips for extra flavor and texture.
Whisk, Mash, Bake: How to Make the Best Pumpkin Banana Bread Recipe
One of our favorite quick bread recipes, this banana pumpkin bread comes together with minimal prep time and a cook time. It's faster than driving to your local bakery!
Whisk the dry ingredients. In a large bowl, whisk the flour, spices baking powder, baking soda, and salt.
Mash the bananas. Use a fork or potato masher to mash the bananas in a bowl until just a few small lumps remain.
Whisk the wet ingredients. Add the butter, eggs, pumpkin purée, granulated sugar, brown sugar, and vanilla extract to the bowl of bananas, and whisk until smooth.
Combine the wet and dry ingredients. Add the dry ingredients to the bowl of wet ingredients, and stir with a rubber spatula until just incorporated. Fold in any extra mix-ins, if desired.
Bake. Pour the batter into a greased loaf pan, spreading it out evenly. Bake until the pumpkin bread pulls away from the sides of the pan and the top is cracked. You should be able to insert a toothpick into the center and remove it dry or with just a few moist crumbs!
Cool. Allow the bread to cool for a few minutes in the pan. Then, invert the pan, and transfer the bread to a wire rack to cool completely.
We earn a commission if you make a purchase, at no additional cost to you.
Can I Make Muffins Instead of a Loaf?
Sure! Follow the instructions as usual. Then, instead of pouring the batter into a loaf pan, divide it among greased muffin tin cavities, filling each one ⅔ of the way full.
You'll also want to keep a close eye on your oven as muffins tend to bake more quickly! Typically, they're done around the 20-minute mark.
Troubleshooting
Although this recipe is super easy, there are a few common issues people may run into. So, to help ensure your baking process is flawless, we're addressing them all below!
Why Is My Bread So Tough?
If your bread turns out dense and tough, it's most likely because of overmixing the ingredients. Be sure to stir just until the ingredients are combined and no streaks remain.
Why Did My Loaf Split on Top?
It's supposed to! The split forms when the top crust forms before the center is done baking and expanding.
Why Is My Pumpkin Banana Bread So Soggy?
A common reason for soggy bread is that it was not baked long enough. Another reason is that too much banana or pumpkin purée was used. Be sure to keep an eye on your oven, and measure carefully!
How to Store and Freeze
Once baked and cooled, leftover pumpkin banana bread can be transferred to a sealable bag or airtight container and stored at room temperature for one to two days or in the refrigerator for four to five days.
Or, freeze your bread for up to three months! For the best results, wrap individual slices in foil or plastic wrap, and transfer them to a sealable bag.
Thaw your bread in the fridge overnight, or warm it directly from frozen in the microwave. It tastes great served both warm and cold!
Common Questions About This Homemade Pumpkin Banana Bread Recipe
Can you substitute pumpkin for banana in baking?
Typically, you can substitute pumpkin for bananas in baking. However, bananas are much sweeter than pumpkin purée, so the results often aren't quite as sweet. For this recipe, it's important to use both!
How do you know when a loaf of pumpkin banana bread is done?
You'll know your bread is done when the edges begin to pull away from the pan, the top is golden brown, and a toothpick can be inserted into the center and comes out clean or with just a few moist crumbs.
What size is a medium banana for banana bread?
A medium banana is typically about four ounces in weight and measures between seven and eight inches long.
Why does banana bread need overripe bananas?
Ripe bananas are soft, making them easy to mash and blend. In addition, the starch in the fruit turns to sugar, making the bananas sweeter and more flavorful.
What happens if you add an extra egg to banana bread?
This will most likely cause the bread to become too dense, spongey, and rubbery.
More Banana Bread Recipes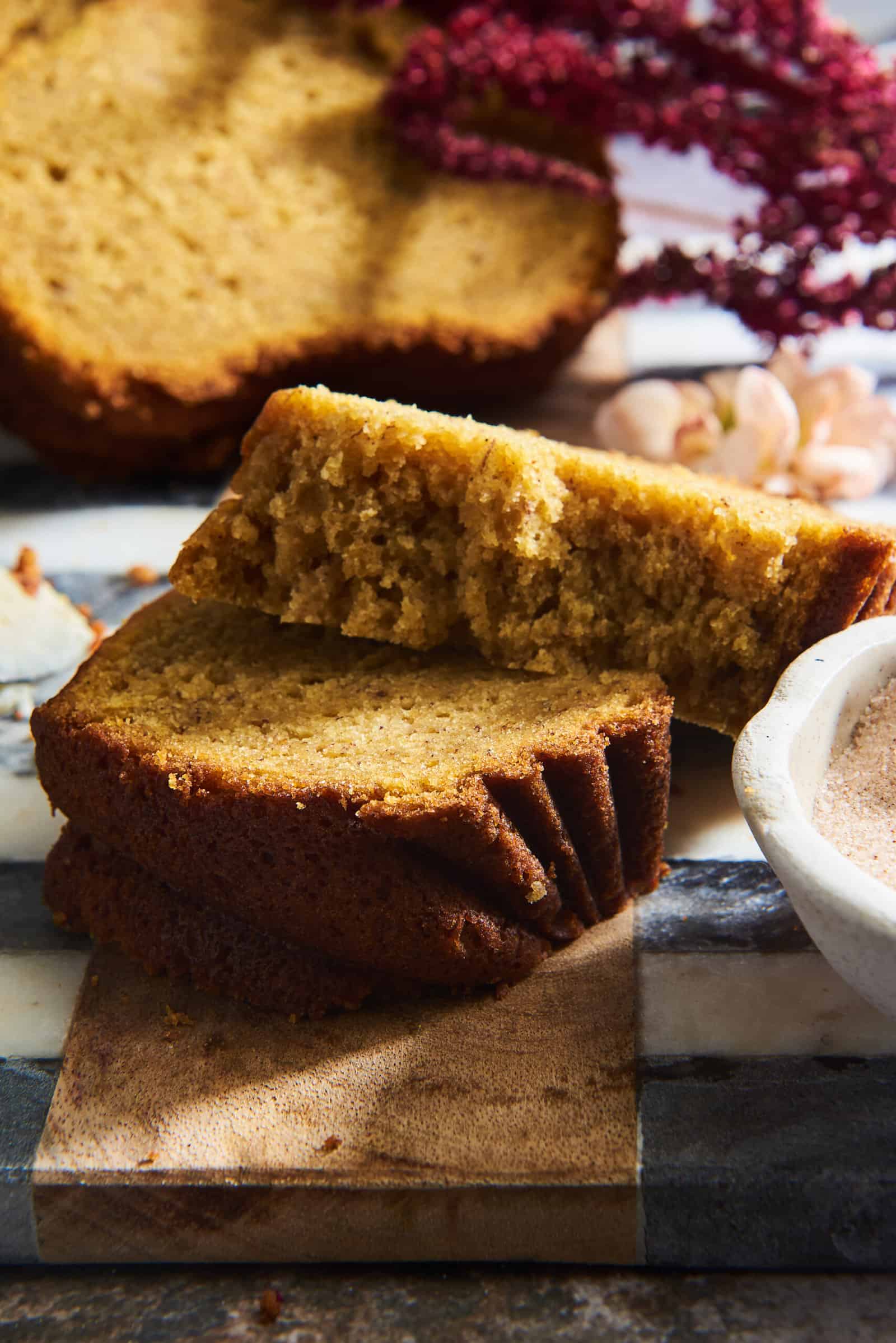 Make this easy pumpkin banana bread recipe with simple ingredients, and enjoy two of your favorite treats in one tasty recipe!
Ingredients
1 1/2

cups

all-purpose flour

1

teaspoon

baking powder

1/4

teaspoon

baking soda

1 1/4

teaspoon

cinnamon

1/4

teaspoon

nutmeg

1/4

teaspoon

ginger

1/8

teaspoon

cloves

1/2

teaspoon

sea salt

2

medium

3/4 cup mashed very ripe medium bananas

8

Tablespoons

1 stick unsalted butter, melted

2

large egg

3/4

cup

pumpkin purée

not pumpkin pie mix

3/4

cup

granulated sugar

1/3

cup

packed dark brown sugar

2

teaspoons

vanilla extract

Options: walnuts

or pecans, or chocolate chips
Instructions
Preheat the oven to 350 degrees Fahrenheit, and grease a loaf pan. Set aside.

Whisk the all-purpose flour, baking powder, baking soda cinnamon, nutmeg, ginger, cloves, and salt in a large bowl.

1 1/2 cups all-purpose flour,

1 teaspoon baking powder,

1/4 teaspoon baking soda,

1 1/4 teaspoon cinnamon,

1/4 teaspoon nutmeg,

1/4 teaspoon ginger,

1/8 teaspoon cloves,

1/2 teaspoon sea salt

Mash 2 medium bananas in a large bowl with a fork or potato masher until smooth with just a few small lumps (3/4 cup mashed). Add the melted butter, eggs, pumpkin purée, both sugars, and vanilla extract, and whisk until combined.

2 medium,

8 Tablespoons 1 stick unsalted butter, melted,

2 large egg,

3/4 cup pumpkin purée,

3/4 cup granulated sugar,

1/3 cup packed dark brown sugar,

2 teaspoons vanilla extract

Add dry ingredients to the pumpkin-banana mixture. Then, stir with a rubber spatula until just incorporated but no dry spots remain. If adding nuts, fold in now.

Pour the batter into the prepared pan, and spread into an even layer.

Bake until the bread pulls away from the sides of the pan, the top is cracked, and a toothpick inserted in the center comes out mostly clean with a few moist crumbs attached, 55 to 60 minutes. Let cool 10 minutes in the pan. Then, flip the bread out onto a wire rack, and let it cool completely before slicing.
Nutrition
Serving:
1
serving
|
Calories:
57
kcal
|
Carbohydrates:
12
g
|
Protein:
2
g
|
Fat:
0.2
g
|
Saturated Fat:
0.02
g
|
Polyunsaturated Fat:
0.1
g
|
Monounsaturated Fat:
0.01
g
|
Sodium:
0.3
mg
|
Potassium:
17
mg
|
Fiber:
0.4
g
|
Sugar:
0.04
g
|
Calcium:
2
mg
|
Iron:
1
mg
Nutrition information is automatically calculated, so should only be used as an approximation.
Like this recipe?
Please leave a comment!