One of our favorite foods, Koshari. This recipe for Koshari is an Egyptian national dish and popular street food!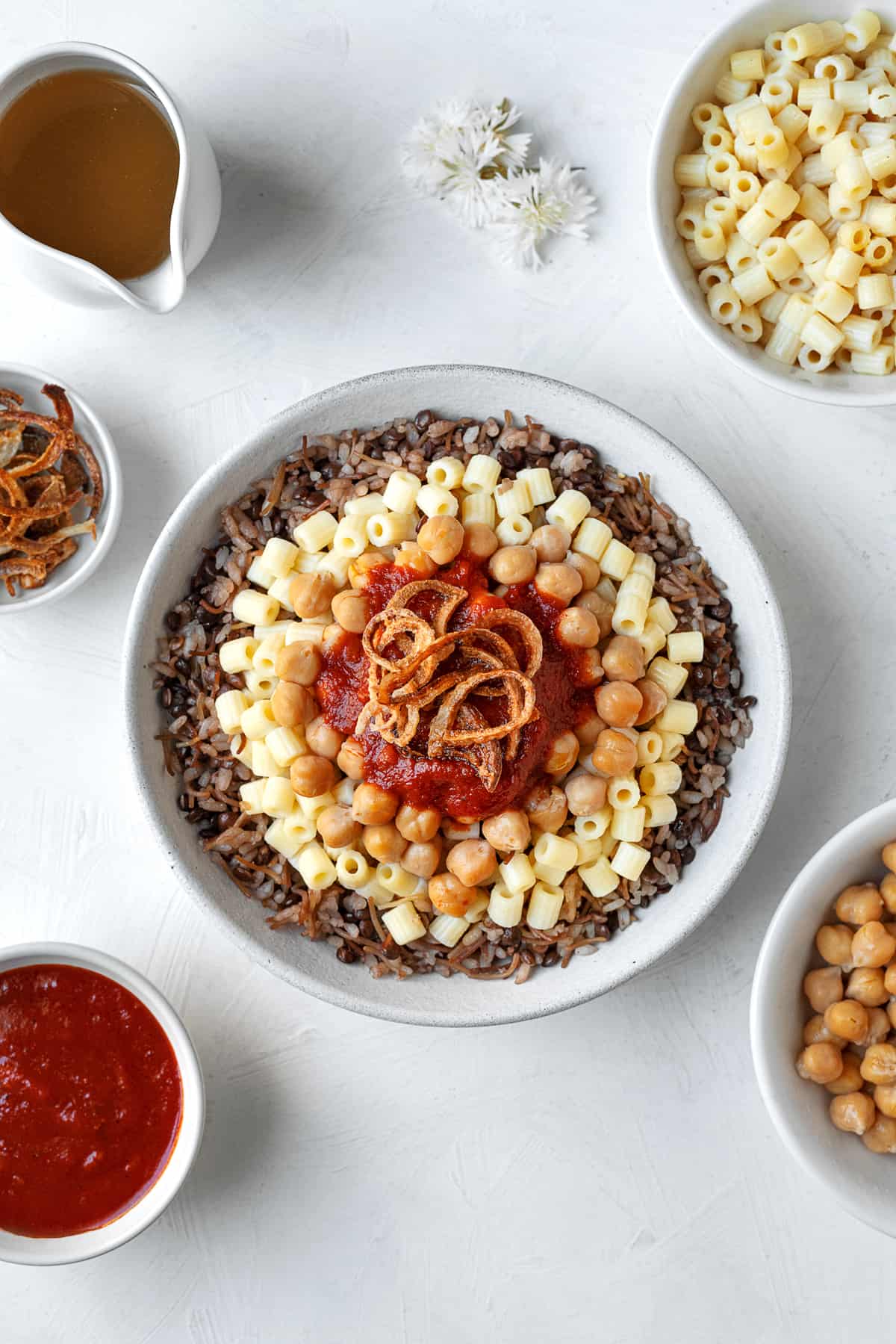 We grew up eating Koshari, mom would spend hours making this, and to be honest, we never actually made Koshari ourselves, partially, because we thought it was just too much work. You all started requesting a koshary, so we knew we were going to figure out how to make it AND try to simplify it! After weeks of recipe testing with mom, and lots of failed attempts (and eating A LOT of koshary), we finally got this recipe right!
A little more about the dish …
Brief History About Koshary & Some Common Questions
Koshari is an Egyptian dish that has been around for centuries. It's considered the national dish of Egypt (very big deal for a simple recipe!) and one of the most popular street foods in Cairo, Alexandria, and other major cities.
The history of the dish is a bit of a mystery and some people argue that it was brought to Egypt by the Ottomans during their rule in the late 1800s. While koshary is very popular with students, who can often be seen eating at street food carts on college campuses, it's a dish that can be enjoyed by people of all ages.
Is it expensive? The short answer is: no.
People are often curious how much it costs to buy koshari in Egypt but prices for this street food will vary depending on where you're eating, what ingredients are used, etc.
If you have never tried this dish before, it's best to keep an open mind when trying it, especially since there are so many different ways of having it. For example, if you were to eat it at a street cart, which sell some of the most traditional versions, there will be several layers of rice (usually three), topped with lentils, chickpeas, pasta noodles (macaroni), red sauce/red pepper flakes/paprika powder mix (shatta), and garbanzo beans.
Just in case you ever catch yourself near an Egyptian food vendor, just know that Koshary can be served wet or dry. When you go to a restaurant and order koshary, they will usually ask which version you would like: "shatta?" meaning with shatta (red sauce/pepper flakes) on top; "tammem" meaning without any red pepper in it.
If you're having some homemade koshary at a friend's house, they will serve it with the works, including the red sauce, cumin sauce, fried onions, and crushed red peppers. Everyone can customize a plate to their liking. Some like more of the rice with lentils, some like it with a little extra pasta, others like it really spicy!
What Does Koshary Taste Like?
To be honest, koshari tastes like heaven. It's a spicy, savory dish that combines lentils and rice with pasta (the best of both worlds).
It's traditionally served with fried onions, vinegar (cumin sauce), and a spicy tomato sauce. Some people add ketchup to it for an extra kick or garlic powder but that can be pretty controversial when it comes to this already delicious dish!
While many Egyptians have their own version of how they prepare koshary at home (and some will argue about which one is the best), you'll typically find most street food vendors serving koshary in Egypt using a variation of this recipe; so don't worry, this is authentic as it gets — minus the desert heat, however, we are in the Northern US, so maybe we can use some of the heat this winter.
How Long Does Koshary Last?
When refrigerated, koshary can last up to three days. However, if you're making this dish at home and plan on saving it for later, make sure to use a microwave or stovetop when reheating because using the oven will dry out your koshary – nobody likes dried pasta!
Is Koshary Healthy?
Yes, it can be! Koshary is high in carbohydrates and protein so this makes it an ideal meal for athletes. It also has lentils which are great for fiber intake while the tomato sauce provides a good amount of Vitamin C – making koshary perfect to eat when you're on the go or after doing some exercise.
Koshary is loaded with plant-based protein! It's high in fiber and protein from the lentils and chickpeas. Koshary is completely plant-based too!
What's more, there are many ways one could prepare this dish depending on their preferences. – if you want to make your koshary healthier then try preparing it without frying each component before serving!
Before I Cook It Am I Saying it Right? How Do You Pronounce Koshary?
Don't worry, we always like to make sure that we're saying things right, too. This dish is pronounced 'ko-sha-ree' and some people will also say it's called koshari. As with many dishes from different countries around the world, there can be multiple names for them depending on where they come from and how they're prepared – think spaghetti bolognese (UK) vs spaghetti meat sauce (US). Though there are different derivatives when it comes to its spelling Koshary/kushari/kishri all refer to it but each name has its own meaning:
Kushary – means mixed or blended in Egyptian Arabic.

Kishri – is the name for rice that's used for koshary and refers to a type of round-grained rice, similar to basmati.

Kosheri means 'to mix things together' in Greek so it makes sense why this dish would have multiple names depending on where you are!
Here are all the components of Koshary
Fried onions, an absolute must. It's the base of every step of this Koshary. Not only that, but the oil is used in every step as well. The reasoning is the oil has a deep onion flavor, which gives a nice flavor boost to the rice and lentils, and the tomato sauce.
Chickpeas, it's a great source of fiber and protein and gives the Koshary another texture element.
The rice and lentils, you can't have koshary without it. It IS what makes this koshary!
The tomato sauce, also known as "Dimaa," the main flavor component of this dish. It's tangy, salty, and delicious! We love to load on the tomato sauce! Tip* Take half the tomato sauce and add cayenne pepper. That way you can add some extra spice!
Lastly, the cumin sauce, also known as, the daqaa. It's garlicky, tangy, and a great flavor from the cumin!
Koshary is all about the layering! Add the rice with lentil mixture as the base, top with cooked pasta, chickpeas, and fried onions. Drizzle with tomato sauce and cumin sauce.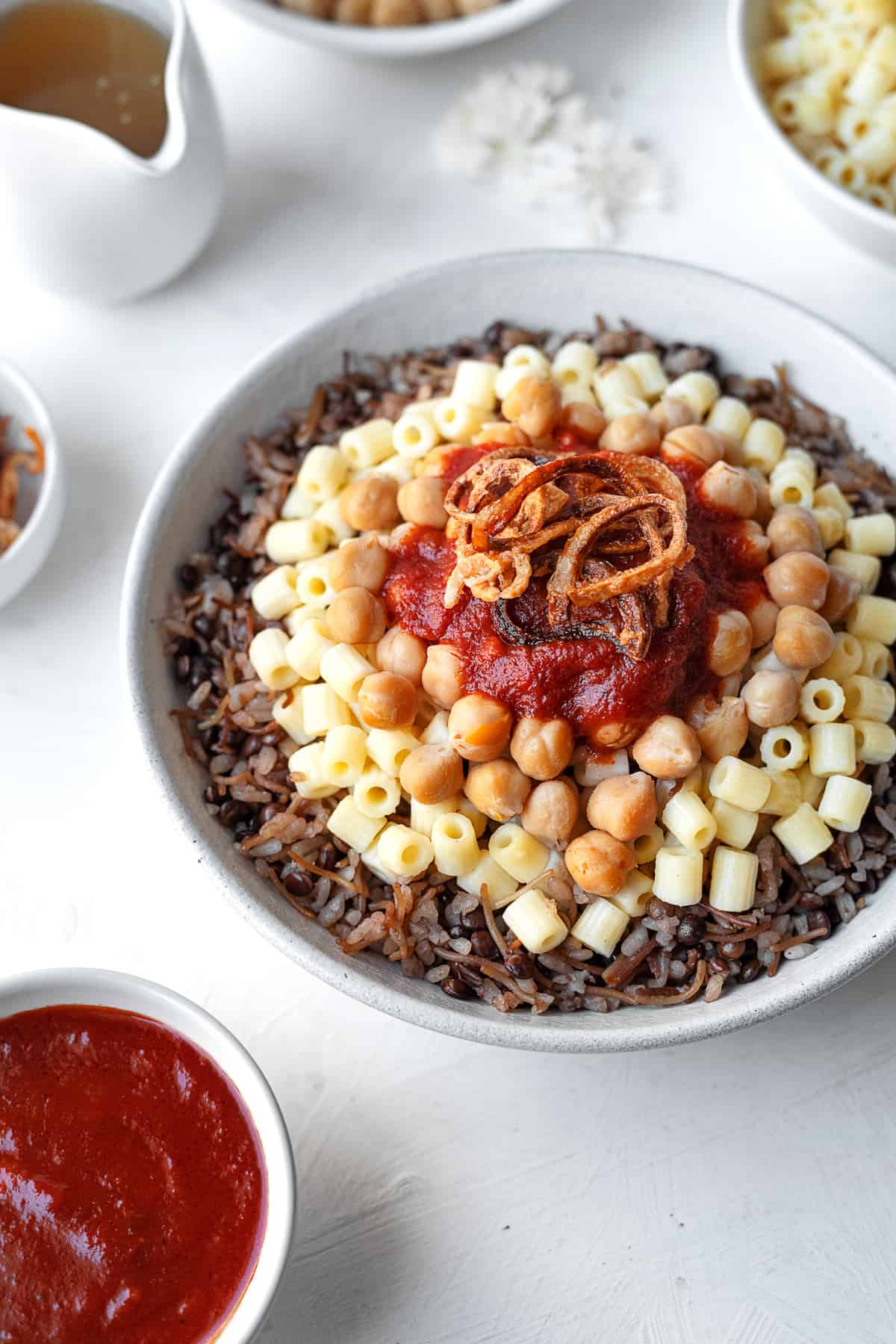 Time To Make Some Koshary! Let us know what you think about the dish
So now that we've covered everything from what exactly koshary is, how its pronounced (and spelled), along with some history behind it…hopefully by now your stomach will be rumbling because our mouths are watering just thinking about it. Let us know what you think in the comments below …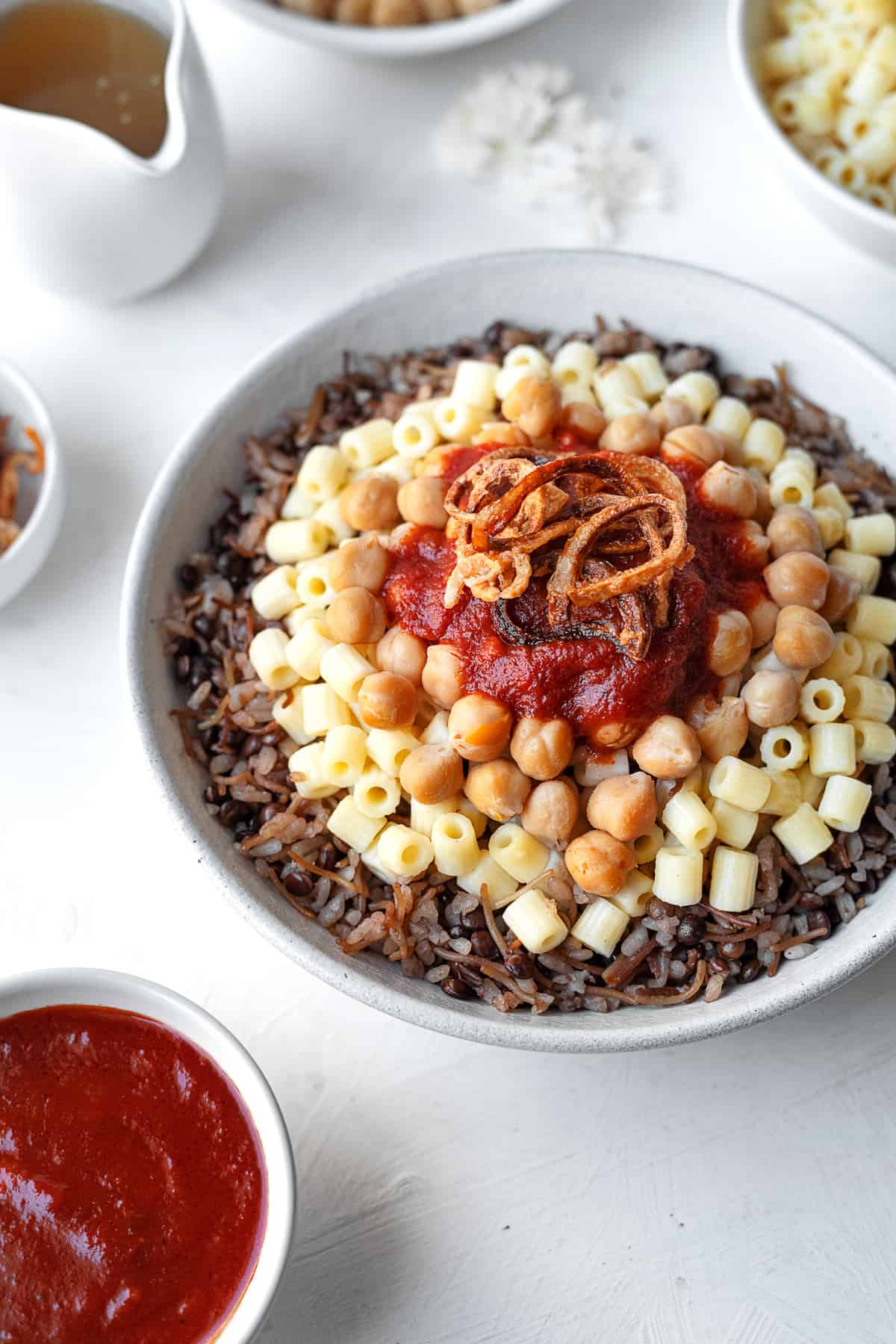 Recipe for Koshary: an Egyptian National Dish
One of the most popular street foods in Egypt, worth every step!
Ingredients
16

oz

canned chickpeas

rinsed and drained (or homemade)

12

oz

ditalini

cooked according to package instructions
Fried Onions
3

large onions

sliced thin into rings

3

tsp

kosher salt

1 1/2

tbsp

cornstarch

Vegetable oil for frying
Tomato Sauce
2

tbsp

fried onions

1

tbsp

reserved vegetable oil

6

cloves

crushed garlic

6

oz

tomato paste

15

oz

tomato sauce

3

cups

water

salt and pepper to taste

3

tbsp

white vinegar

cayenne pepper

optional
Rice and Lentils
2

tbsp

reserved oil

1/3

cup

fried onions

2

cups

brown lentils

rinsed and drained

2

cups

short grain rice

rinsed and drained

1

cup

toasted vermicelli

see notes

4

cups

water

2

cups

HOT water

ground cumin

optional
Cumin Sauce
3

tbsp

white vinegar

4

cloves

crushed garlic

1/2

cup

hot water

1

tsp

ground cumin

1/2

tsp

salt

more or less to taste

1/2

tsp

ground black pepper

1/4

tsp

cayenne pepper

optional
Instructions
Fried Onions
Slice onions thin. Sprinkle salt and cornstarch. Toss together.

Add vegetable oil to a large deep pan to cover the bottom by 1-inch. Fry at 350 degree F. stirring every now and then, onions should be nice and golden brown, Approximately 10-12 minutes. Reserve oil!

Line a plate with a paper towel. Add onions in a single layer and let drain on the paper towel. Set aside to harden.
Tomato Sauce
In a saucepan on medium heat add oil, and garlic. Sautè until fragrant. approximately 1-2 minutes. Be careful not to burn the garlic!

Add onions, tomato sauce, tomato paste, water, salt and pepper. Bring to a boil, reduce heat to medium-low and cover, let simmer for 15 minutes.
Rice and Lentils
In an enameled dutch oven or heavy pot on medium high heat, add oil with the fried onions, lentils, and 1 tbsp salt. Stir for 1-2 minutes. Add 4 cups water and bring to a boil. Keep heat on medium high, (it should be a gentle boil) for approximately 12-15 minutes or until the lentils are al-dente. *DO NOT DRAIN WATER.

Stir in rice, vermicelli, hot water, and additional tablespoon salt.(Option to add Cumin*) Bring to a boil, cover and reduce heat low for 12-15 minutes or until pasta is tender. Fluff with a fork.
Cumin Sauce
All the ingredients in a measuring cup. Whisk to combine.
Assembly
Koshary is all about the layering! Add the rice with lentil mixture as the base, top with cooked pasta, chickpeas, and fried onions. Drizzle with tomato sauce and cumin sauce.

A great option for serving: Arrange all the ingredients on the table and everyone can assemble with all there favorite toppings!
Notes
*How to toast vermicelli: In a medium non-stick pan, heat 1 tbsp olive oil or ghee on medium-high. Add the vermicelli and continuously stir to toast it evenly. It will turn a nice golden brown, but be careful as it can burn easily!
Nutrition information is automatically calculated, so should only be used as an approximation.
Like this recipe?
Please leave a comment!
If you want more Egyptian recipes, try our Egyptian Orzo Pasta .
Shopping:
If you're looking for the pretty bamboo wooden spoon, you can find it here.
The 4 qt. blue swirl enameled pot here.