This easy, 5-ingredient cherry crisp is so comforting. Since cherries are not always in season we use canned cherries in water, like this one here. Make sure not to get the 'pie filling' cherries since that has a lot of additives.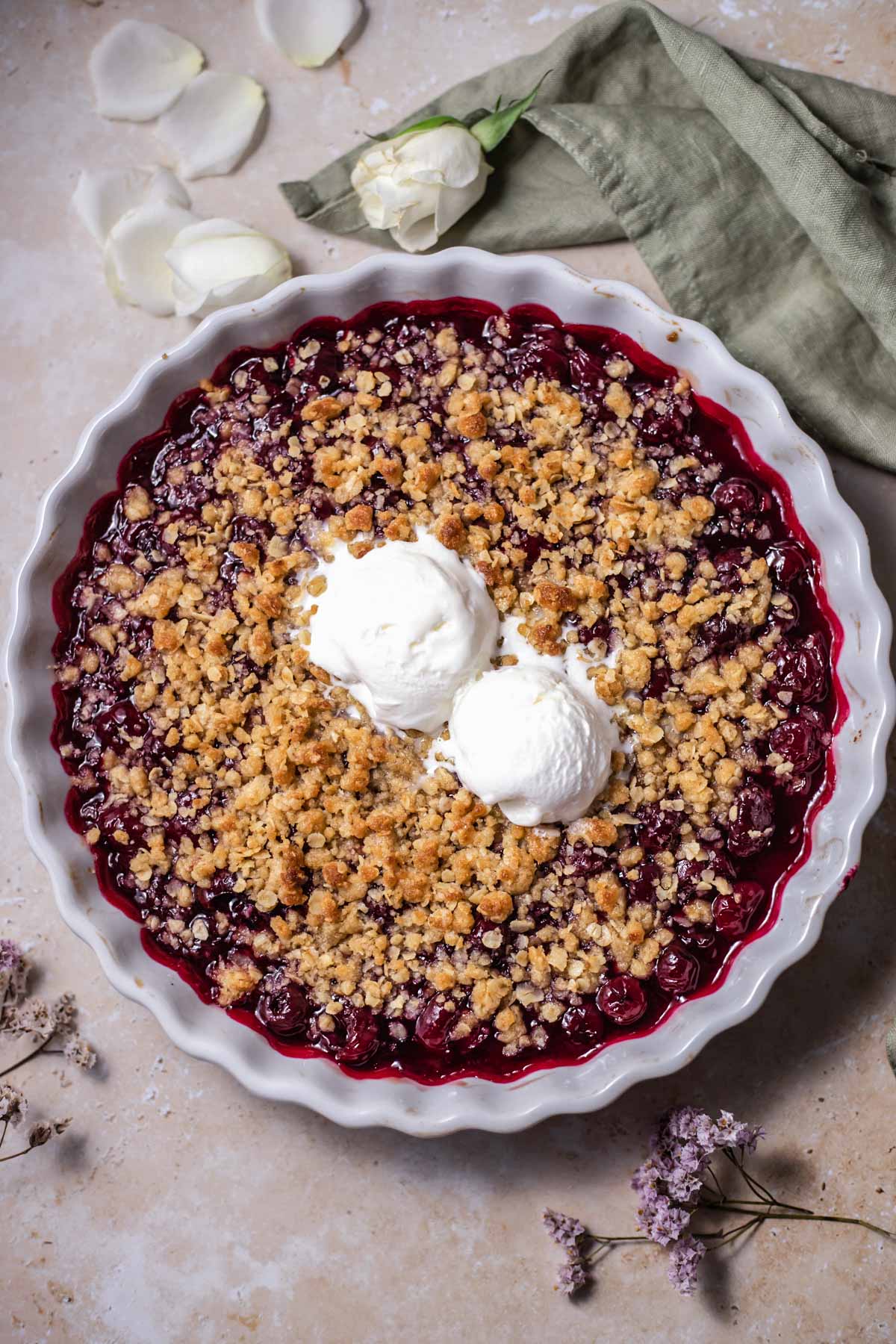 The cherry crisp is a classic American dessert that everyone should try at least once. It's very simple to make, and it tastes amazing when it comes out of the oven hot with vanilla ice cream on top! The cherry filling soaks into the crispy topping for an irresistibly sweet treat.
We're giving you a simple recipe that will allow you to make it without having to break the bank on finding ingredients. Oh, and make sure you try this cherry crisp recipe when cherries are at the peak of their season. (usually mid-May through July) or in most grocery stores year-round.
We know you're going to love this cherry crisp recipe and we promise that your friends and family will be asking for more!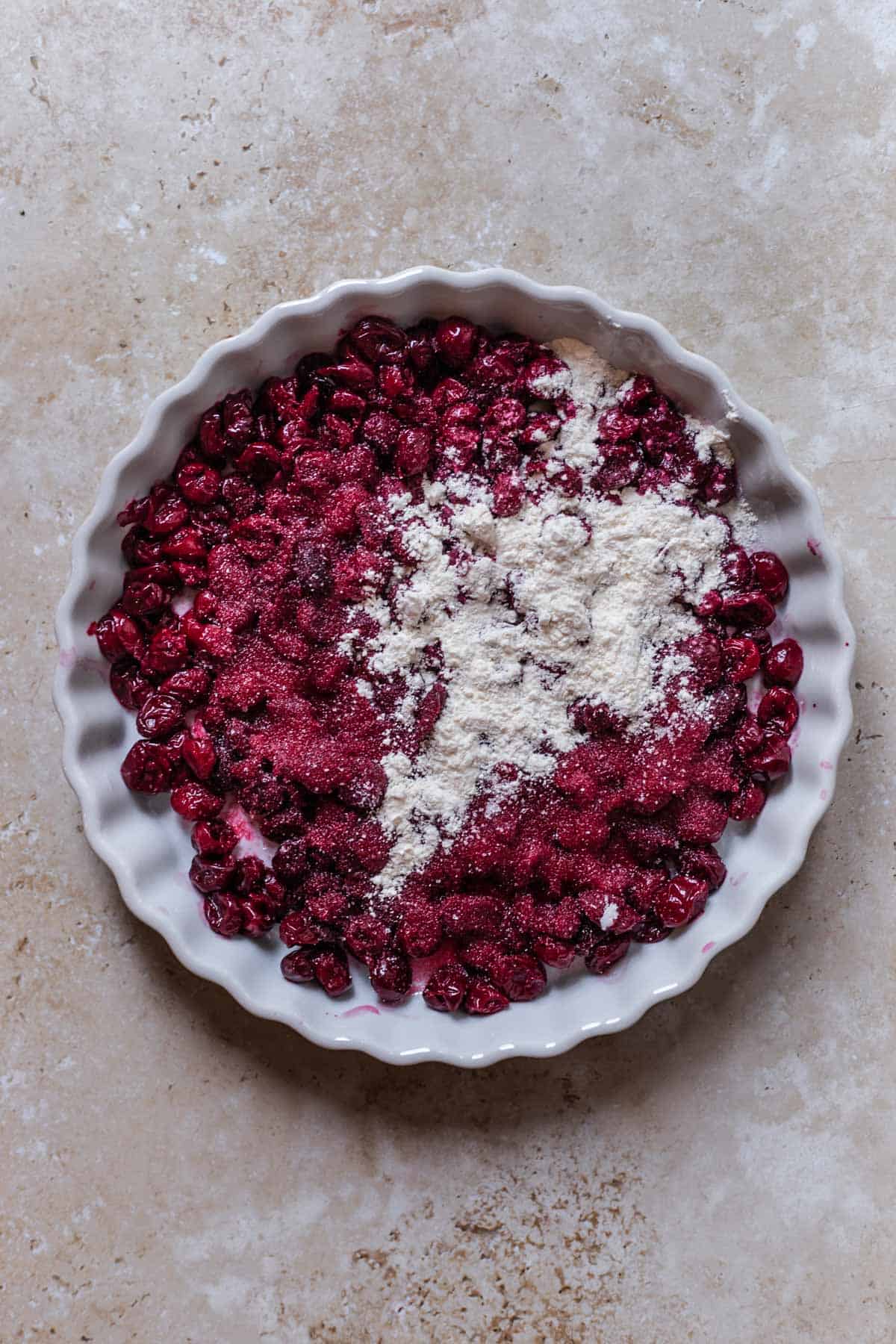 Brief History of the Cherry Crisp
There have been references to cherry crisps in cookbooks dating back to the early 1900s. Since then, hundreds of other recipes have been created and modified over time to create new versions of the classic dish.
The origin is still unknown. Some people think that it may have originated in Europe or America during times of famine when cooks were trying to make use out of every fruit. The original crisp recipes called for sweetened baked apples instead of cherries, and sometimes included almonds!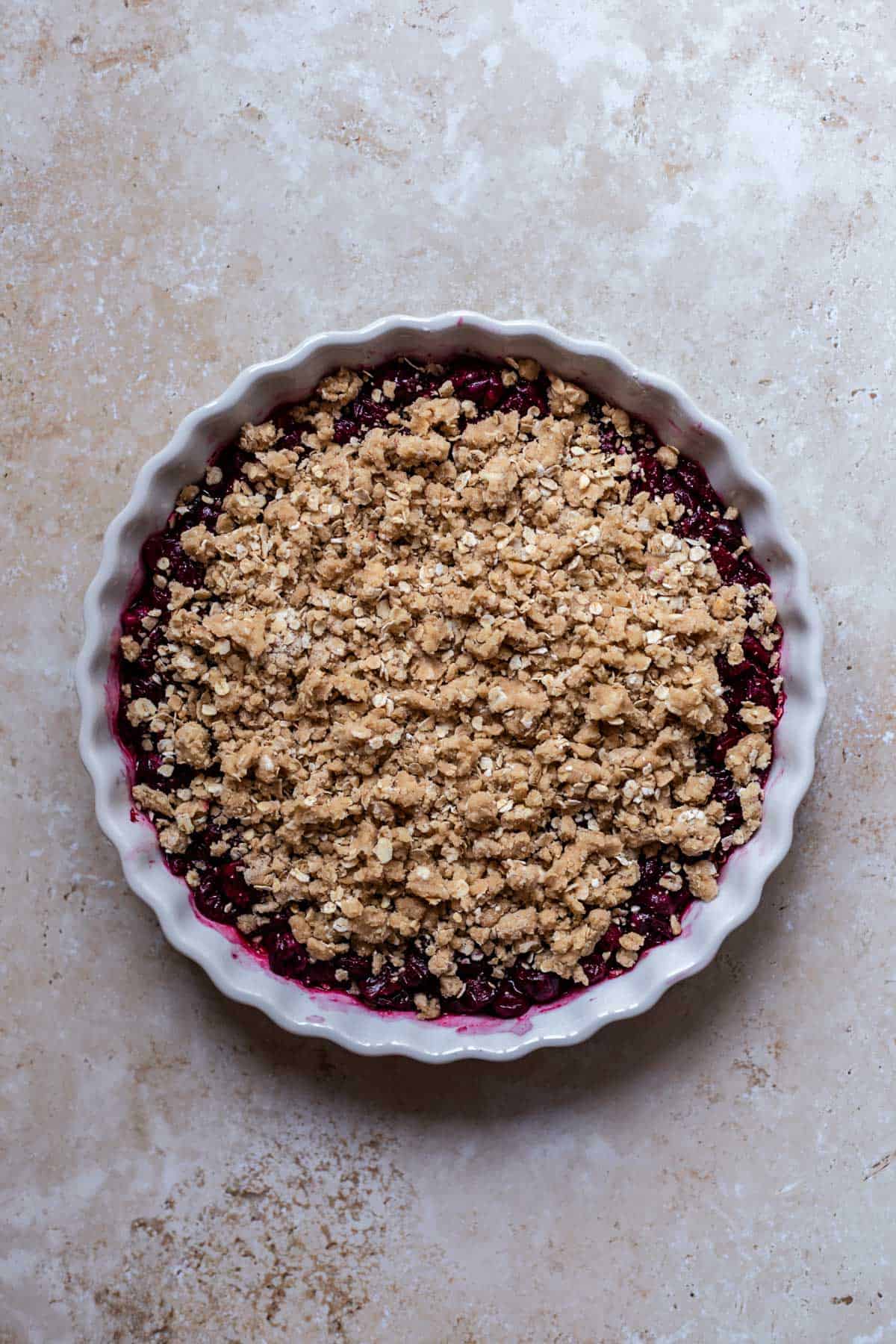 Important Question: What's The Difference Between Cherry Crisp and a Cobbler?
Cherry crisps are generally baked in individual ramekins or dishes, while cobblers can be made with either fruit on top of a biscuit crust (as an upside-down pie) or rolled into one large casserole.
The difference between the two is that cherry crisp recipes often call for adding some kind of streusel topping to it after baking, which gives it its crispy texture. A lot of people enjoy eating them warm out of the oven!
A cherry crisp will be crunchy and crispy because it has streusel toppings throughout it whereas cherry cobblers have an added dough component to them like biscuits or dumplings which make them soft when they come out warm from the oven!
If you want an cobbler recipe try our Strawberry Peach Cobbler.
What does cherry crisp taste like?
Cherry crisp tastes like a mix between cherry pie, apple crisp, and oatmeal cookies. It's often served warm so the cherry filling gets all nice and juicy, and it's crunchy because of all those streusel toppings. The crisp taste comes from a mixture of flour and sugar that goes on top before baking!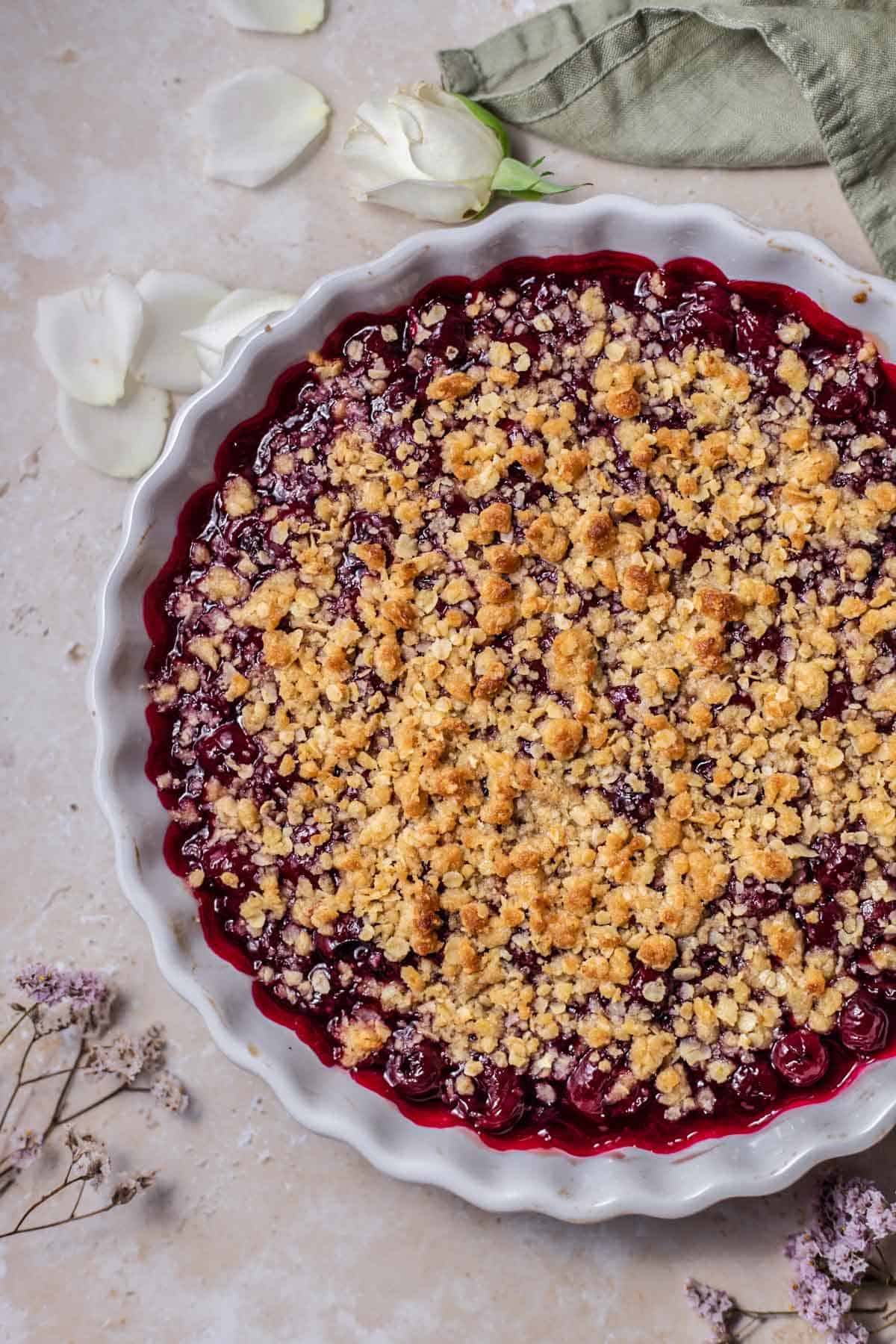 What Should I Have My Cherry Crisp With?
The cherry crisp tastes great on its own but if you really want to take it over the top I highly recommend serving with some vanilla ice cream (vanilla bean would be amazing too!) or whipped cream. You can also add in pecans as another layer underneath the crumble dough after baking; that's an American classic we couldn't resist including!
Some other tasty choices are caramel sauce, chocolate sauce, or even some vanilla yogurt. Cherry crisp is also delicious with a side of almond milk!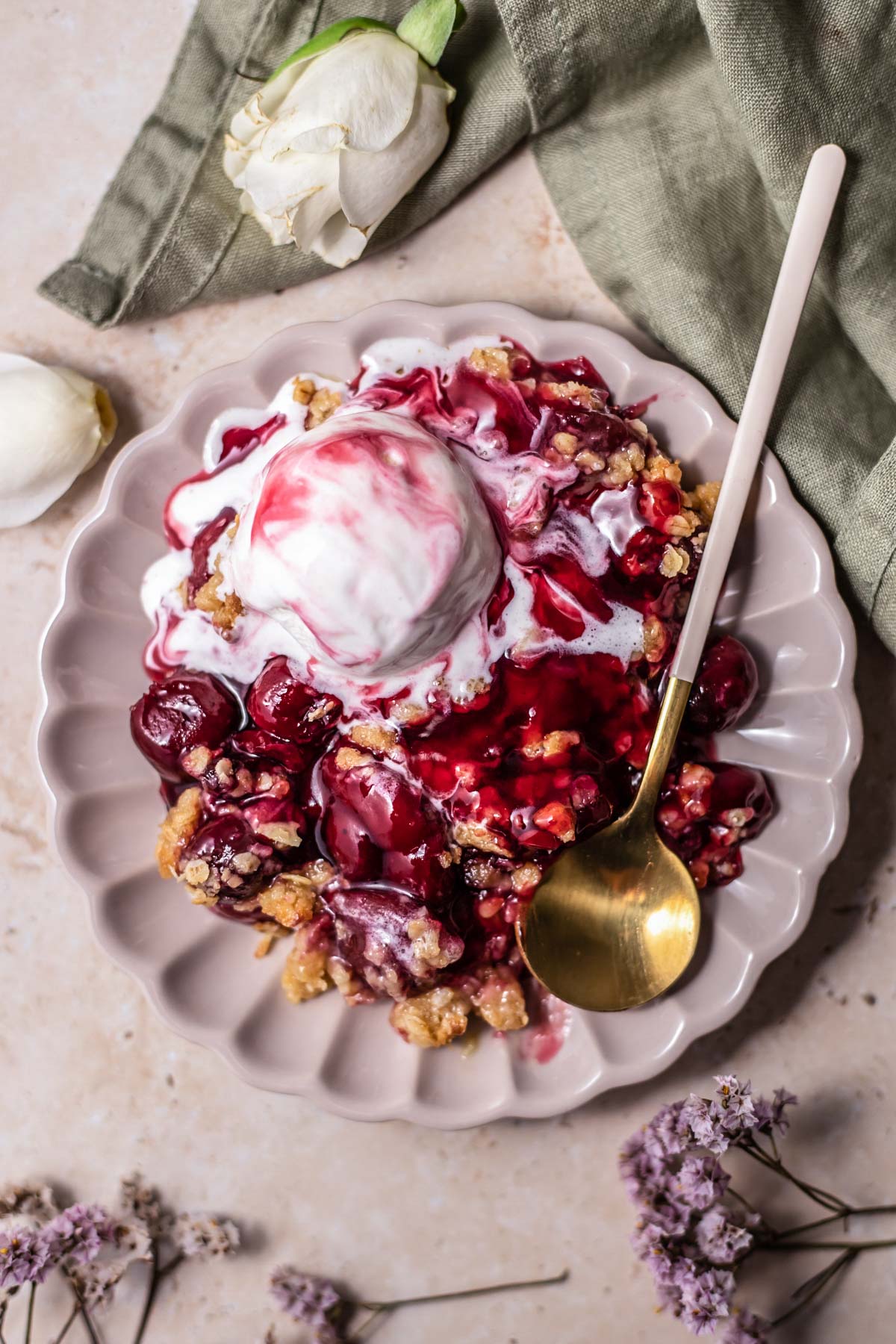 Good Luck Making This Delicious Cherry Crisp Recipe!
We hope that you'll give this cherry crisp recipe a try and let us know what you think. If it's your first time making cherry crisp we promise the directions are simple enough for anyone to follow so don't be afraid to get in there and bake!
Don't forget, if you have any questions or comments about cherry crisps or recipes just leave them down below because we love hearing from our readers! Thanks again and happy baking everyone 🙂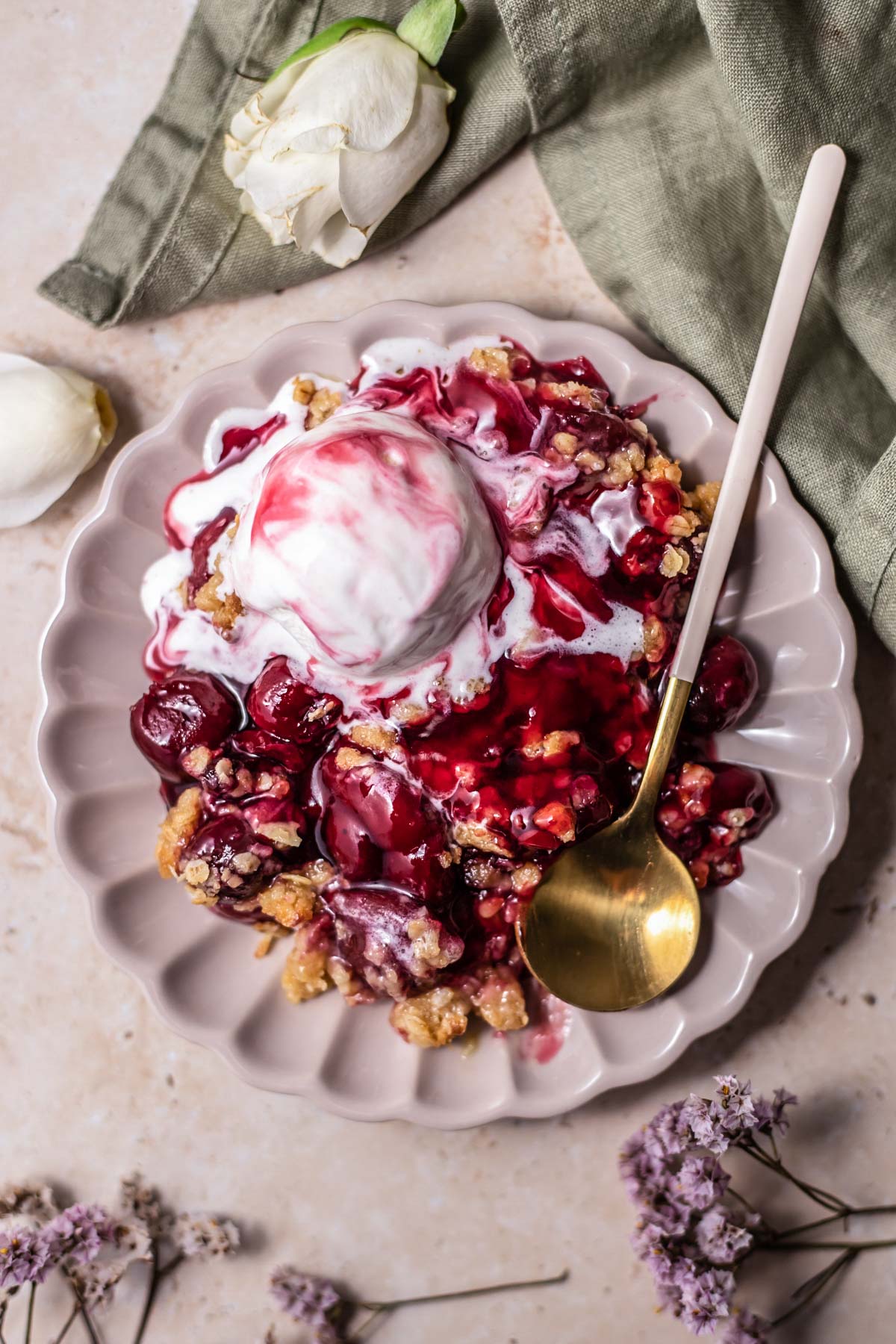 Easy 5-ingredient cherry crisp recipe with an crunchy oat topping!
Ingredients
2 15

oz

cans pitted cherries

drained (NOT pie filling!)

1/4

cup

granulated sugar

1

tbsp

all-purpose flour
Crisp Topping
1

cup

all-purpose flour

1

cup

rolled oats

10

tbsp

cold unsalted butter

1/2

cup

packed light brown sugar

1/2

tsp

kosher salt
Instructions
Preheat oven to 350 degrees F.

In an 11×7 baking dish add drained cherries, sugar, and flour. Toss together until combined.

Slice the butter into 1 tablespoon slices. In a bowl add flour, oats, brown sugar, salt, and butter. Cut the flour mixture with a pastry cutter or your hands. It will resemble coarse crumbs. You can also use a hand mixture to blend together.

Bake for 30-35 minutes or until the top is crisp and the cherries are bubbly.
Nutrition information is automatically calculated, so should only be used as an approximation.
Like this recipe?
Please leave a comment!
We love a good fruit crisp with an oat toping. Some recipes don't have the oats, we prefer them because it adds an extra crispy texture. Plus, oats are healthy, so why not!
It is not necessary to make this in an 11×7 oval baking dish. We liked a larger baking dish so that way it is a thinner layer of fruit with a thicker layer of topping.