Chrissy Teigen's One Pot Mac and Cheese
*This post may contain affiliate links, please see our privacy policy for details.*
Mac and Cheese lovers, are you listening? This ultra-creamy one pot wonder is here to stay! Chrissy Teigen came through with this easy one pot mac and cheese recipe! If you like our One Pot Mac and Cheese, then you will have to try Chrissy's and let us know what you think!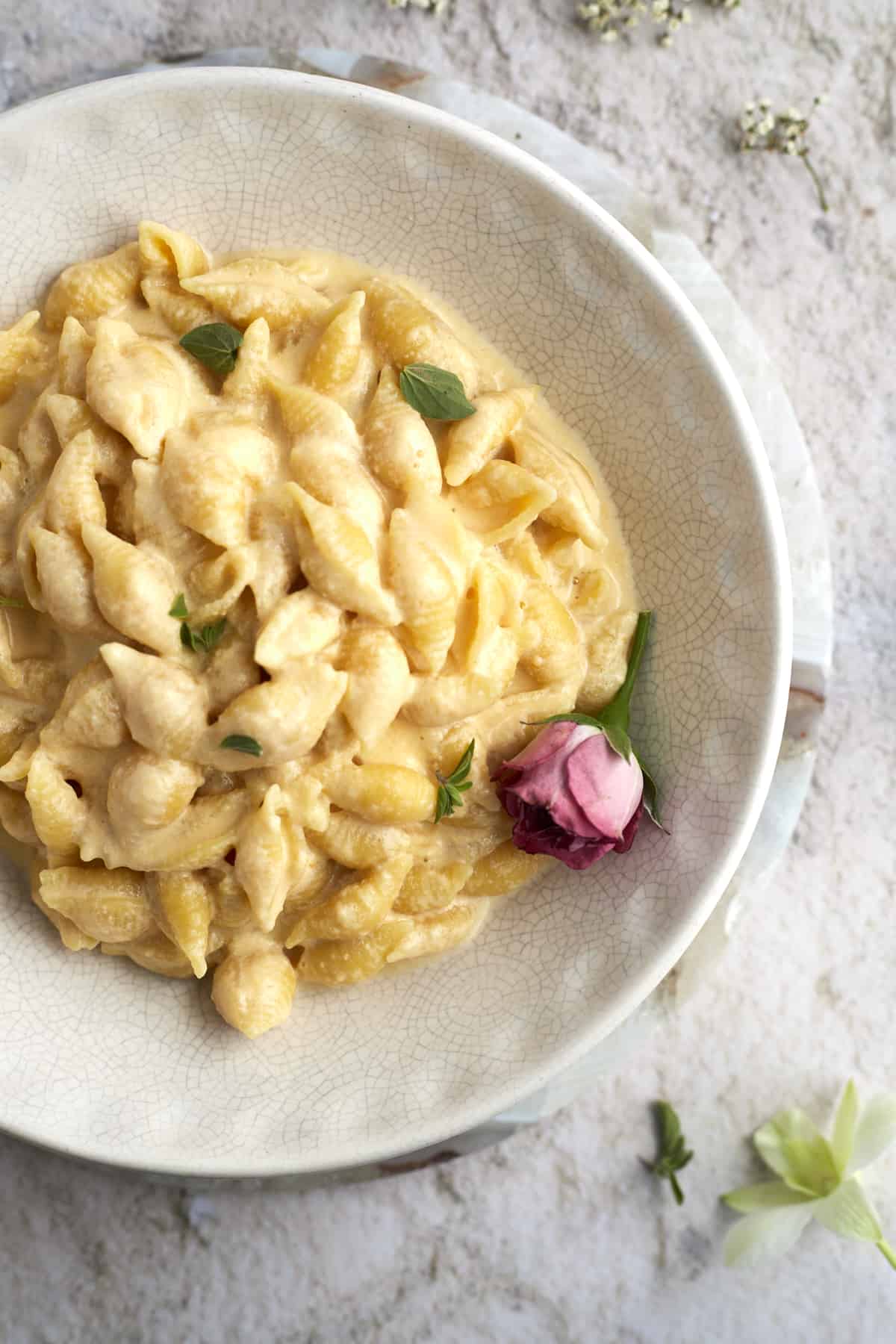 Why spend your time washing a bunch of different dishes when you can just use one pot, sounds amazing, doesn't it? Everyone knows we can't resist a good one pot pasta. That's why had to make Chrissy's One Pot Mac & Cheese recipe. If you love macaroni and cheese, we highly recommend that you give this one a try. It reminds us of a cafe style mac and cheese, kids will love this recipe too!
This recipe calls for freshly grated sharp cheddar cheese. It's important to shred your own cheese as it really helps the texture of the mac. Pre-shredded cheese has anti-caking agents which will results in a gummy texture – no one wants that!
American cheese, are you a fan? Well, it's what helps this sauce stabilize and so the sauce does not break. Yes, not everyone wants to use American cheese, so if you just can't bring yourself to do it, buy cheddar cheese. We won't judge either way, and they'll both work (yes, we've tried it both ways!)
Chrissy Teigen's One Pot Mac and Cheese
This easy one pot mac and cheese is ultra-creamy and ready in less than 15 minutes!
Ingredients
6 1/2

cups

whole milk

1

tbsp

kosher salt

1

lb

medium pasta shells

(uncooked)

2 1/2

cups

freshly grated sharp cheddar cheese

6

slices

American or cheddar cheese slices

3

tbsp

unsalted butter

1 1/2

tsp

dijon mustard

1/4

tsp

cayenne pepper

(more or less to taste)
Instructions
In a large pot on medium high heat, add 6 cups milk and 1 1/2 teaspoons salt. Add the uncooked pasta shells, return to a simmer, reduce the heat to medium-low and cook, stirring occasionally, until the pasta is al dente, about 9-10 minutes.

Reduce the heat to low and add cheeses, butter, mustard, cayenne, and remaining 1 1/2 teaspoons salt. Stir until the cheese is fully melted and really melts into the sauce, let stand for a few minutes to thicken. Add remaining 1/2 cup milk as needed.
Notes
Why Cook the Mac and Cheese in Milk
Cooking the pasta in milk gives this sauce an extra creamy and luscious texture. You can use water but it just wont be as rich and creamy.
Why does the Mac and Cheese Look Runny?
We get this question so often when people watch our videos. Guess what? We ALWAYS like our pasta to look a little runny, the reason being is that as the pasta sits, the starch will help the thicken the pasta. If the pasta is dry from the start, then you will end up having to put a lot of milk (or liquid) after it sits. Either way, we like to have extra liquid on hand, such as milk, broth, or water to give it a little extra love, if it needs it.
How To Store/Reheat a One Pot Pasta?
Once the pasta has cooled to room temperature, store in an air-tight container and refrigerate.
How to reheat in the microwave – Our favorite trick is to pop it in the microwave for about 30 seconds, just enough for the pasta to slightly loosen up. Add a couple splashes of milk, or broth or water, and stir. Microwave until it is fully heated through. You may need to add another splash or two of milk until it reaches your desired consistency.
How to reheat on the stovetop – In a pot on medium heat and pasta and a couple splashes of milk or broth or water. Give it a stir, add more liquid if it needs it.
The goal when reheating the pasta is to bring it back to life. We ALWAYS have leftovers because meal-prepping is an awesome thing. You will discover that leftovers don't have to go to waste if you reheat properly!
Recipe Courtesy of Chrissy Teigen.
If you love the wooden bowl we use to serve the pasta, you can find it here.