Double-Decker Mexican Pizza Recipe
*This post may contain affiliate links, please see our privacy policy for details.*
Skip the fast food line, and make this Double Decker Mexican Pizza Recipe at home instead! Featuring all the same flavors and toppings you love, it's made with fluffy pizza dough for a double-decker Mexican pizza that's even better than Taco Bell's!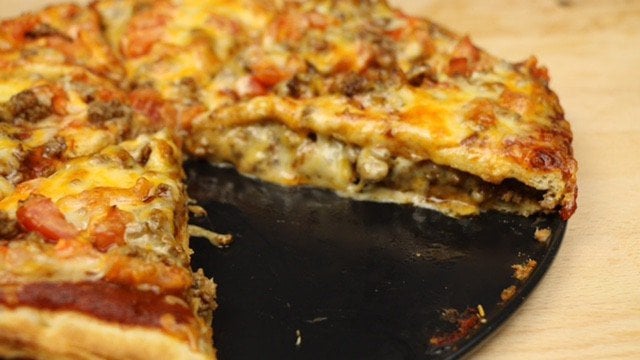 Mexican Pizza
As you know, we cook all day at home and love making nutritious recipes. However, we have to admit that Taco Bell is our favorite guilty pleasure. Honestly, who can resist the occasional Crunch Wrap Supreme or Cinnamon Twists? However, our favorite thing to order is their Mexican Pizza!
Unfortunately, it's not always on the menu, and we try our best to consume whole foods. So, we decided to make our own, healthier Mexican Pizza recipe at home! It has all the classic toppings you look for but is made with two layers of fluffy pizza crust. One bite and you'll never go back to the restaurant version again!
Is Mexican Pizza Actually Mexican?
Not at all! Mexican pizza is purely American like most of Taco Bell's creations, but that doesn't make it any less delicious!
What Is Mexican Pizza Made Of?
Our Mexican Pizza recipe has the same toppings you would find on Taco Bell's version. However, we switched up the crust for a little more pizza-like texture. Here's what you need:
Pizza Crust – Two pre-made, unbaked pizza crusts form the structure of the pizza. We love the Molinaro's brand, but any 10" crusts you like best will work.
Refried Beans – These form the first layer of toppings, adding plant-based protein and fiber while helping the toppings stick
Ground Beef – We suggest using fairly lean beef to avoid overpowering the rest of the ingredients.
Tomatoes – Chopped up, they add nutrients and fiber along with a pop of color.
Cheese – A combination of Mozzarella, Monterey Jack, and Cheddar forms a homemade Mexican blend just like you'll find on Taco Bell's Mexican pizza.
Enchilada Sauce – We usually just grab one from the store, but you can make your own enchilada sauce if you prefer.
How to Make a Mexican Pizza
Learning how to make Mexican Pizza is super easy. It's just a matter of layering your ingredients properly. Plus, it's super fun to do!
Cook the Beef. Heat a large skillet over medium-high heat, and cook the beef with a packet of taco seasoning or homemade taco seasoning and water. Simmer to thicken. Then, drain the beef of excess grease, and set it aside.
Prepare the First Layer. Place the pizza crust on a round pizza pan. Spread the refried beans evenly on top. Then, sprinkle part of the beef over the beans.
Add the Second Crust. Place the second layer of crust on top of the first, sandwiching the toppings. Spread the enchilada sauce on top. Sprinkle the remaining ingredients evenly.
Bake. Place the pizza in the oven until the crust is puffy and the cheese is melted and bubbly. Remove it from the oven, set it aside to cool, slice, and serve!
Flavor Variations
We like to approach our Mexican pizza recipe kind of like a burrito, loading it up with all our favorite toppings. Typically, we keep it fairly basic. However, some scrumptious variations include:
Swapping the Tomatoes for Pico De Gallo
Adding Sour Cream
Including Sliced Olives
Using Shredded Chicken
Can I Use Tortillas Instead of Pizza Crust?
Yes! If you want to make your Mexican Pizza recipe more of an exact Taco Bell copycat, feel free to replace the pizza dough with flour tortillas. To do so, fry both sides of each tortilla in oil in a skillet until they're golden and crisp.
Then, layer the ingredients as normal, and pop your pizza in the oven. Just be sure to keep a close eye on it so it doesn't burn!
Can I Make This Recipe Ahead of Time?
You bet! Once baked and fully cooled, leftovers can be wrapped with plastic wrap or transferred to an airtight container and stored in the fridge for up to 2-3 days.
Or, if you want to prepare way in advance, freeze your Mexican Pizza instead! Wrap each piece tightly in plastic wrap followed by aluminum foil. They will stay frozen for up to 2 months.
To eat, let your pizza thaw in the fridge overnight. Then, warm it up in the oven or microwave the next day.
We earn a commission if you make a purchase, at no additional cost to you.
More Tex-Mex Recipes
Looking for more easy meals with Mexican-inspired flavors? Don't miss out on more of our favorites below!
Double Decker Mexican Pizza
Skip the fast food line, and make this Double Decker Mexican Pizza Recipe at home instead!
Ingredients
2

premade pizza crusts

(such as Molinaros, approximately 10" round)

1/2

cup

refried beans

(more or less to taste)

1

pound

ground beef

(cooked)

1

packet taco seasoning

⅔

cup

water

1/2

cup

tomatoes

(chopped)

1

cup

Mozzarella cheese

(divided)

1

cup

Monterey Jack cheese

(divided)

1

cup

Cheddar cheese

(divided)

1/2

cup

enchilada sauce
Instructions
Preheat the oven to 400° F.

In a skillet, cook the beef with the taco seasoning and water according to the package instructions. Drain the excess grease, and set aside.

Place 1 pizza crust on a round pizza pan.

Spread the refried beans in an even layer on top followed by ½ the ground beef and ½ of each cheese.

Layer the second crust on top of the ingredients.

Spread the enchilada sauce over the crust, and add the remaining ingredients.

Bake 10-12 minutes or until the crust if puffy and light golden brown and the cheese is bubbly.

Slice, and serve while warm.

Store in an airtight container in the fridge for up to 2-3 days.
Nutrition
Serving:
1
serving
|
Calories:
327
kcal
|
Carbohydrates:
5
g
|
Protein:
21
g
|
Fat:
25
g
|
Saturated Fat:
12
g
|
Polyunsaturated Fat:
1
g
|
Monounsaturated Fat:
8
g
|
Trans Fat:
1
g
|
Cholesterol:
81
mg
|
Sodium:
547
mg
|
Potassium:
218
mg
|
Fiber:
1
g
|
Sugar:
2
g
|
Vitamin A:
602
IU
|
Vitamin C:
2
mg
|
Calcium:
300
mg
|
Iron:
2
mg