5-ingredient chocolate mousse is the perfect sweet treat for chocolate lovers! It's egg-free and so rich and creamy!
No one can resist a good chocolate mousse recipe, this one is beyond easy to make. No double boiler required, no tempering the chocolate in the microwave. How amazing is that? If that doesn't convince you then we don't know what will!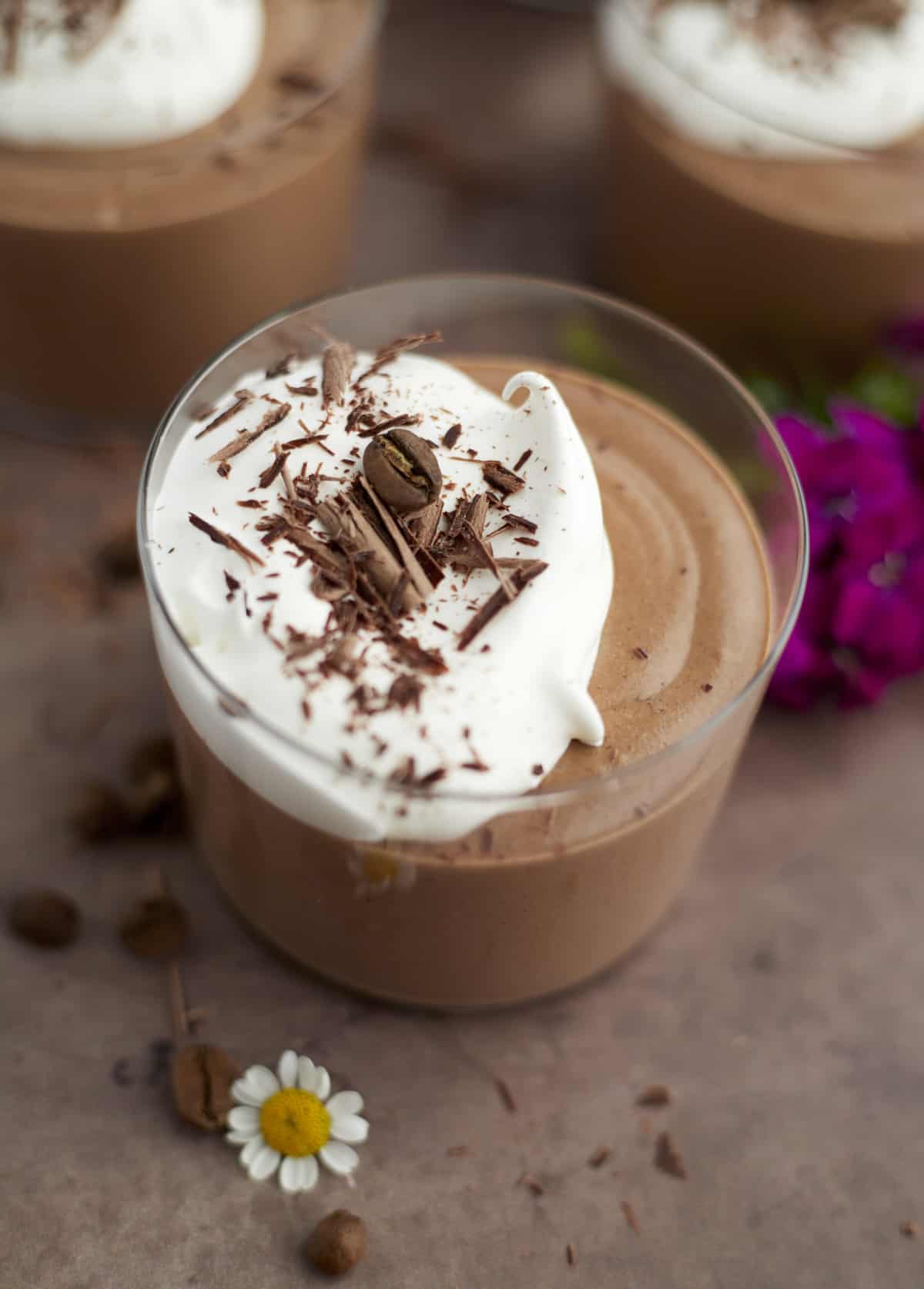 For this recipe, all you need is good quality semi-sweet chocolate, heavy cream (see below for a dairy-free option), powdered sugar, instant espresso, vanilla extract and a pinch of salt. Technically this chocolate mousse can be made with only three ingredients. The addition of instant espresso gives this an amazing depth of flavor and really brings out the chocolate. If you do not have any instant espresso powder, instant coffee granules works as well.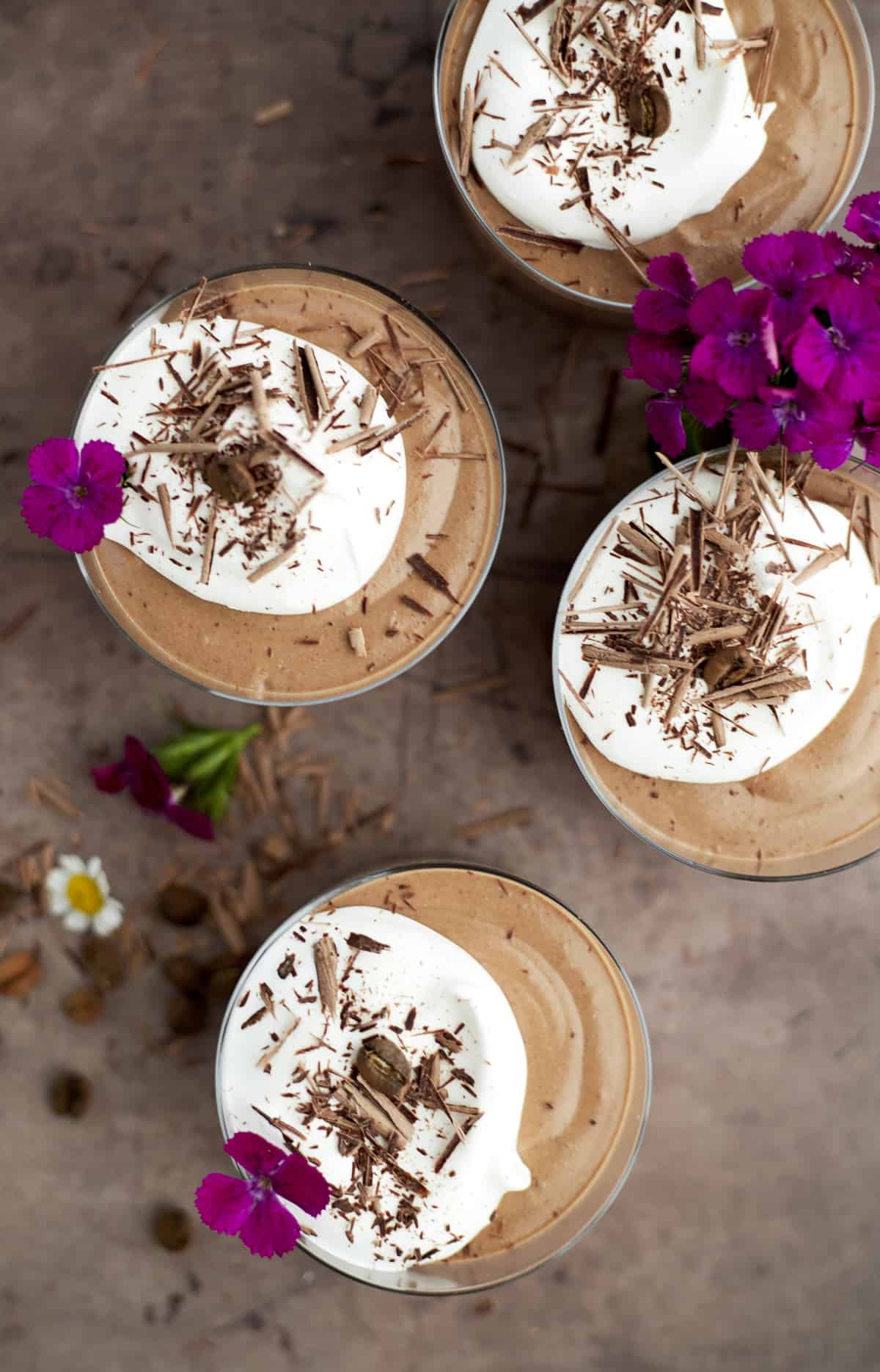 Divide the mousse into small ramekins. These are amazing in little mini shooters for a cocktail party too! You can garnish with large chocolate curls or shavings or even top it with fresh raspberries.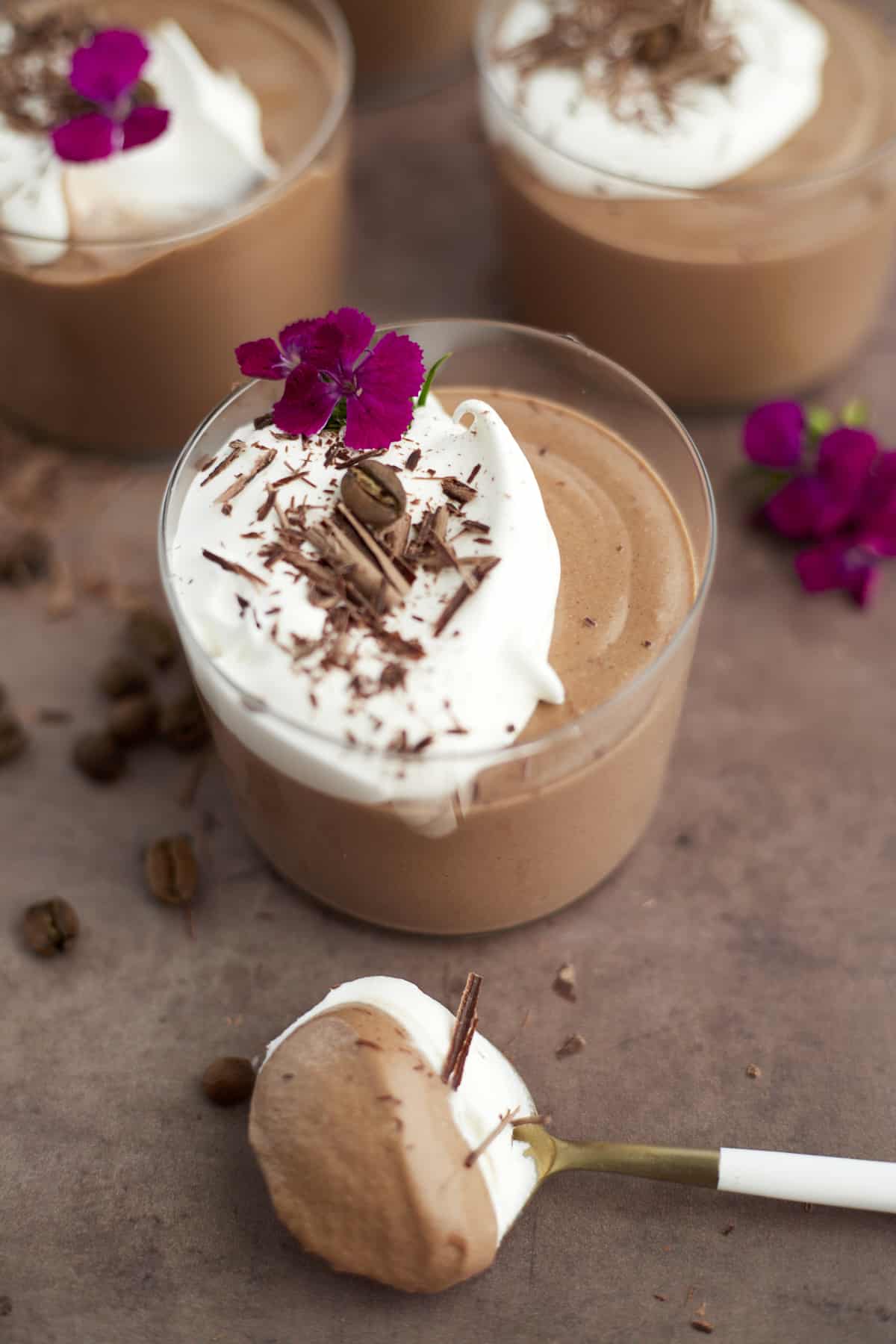 How to make dairy-free Chocolate Mousse.
A good dairy-free, and vegan substitute for this chocolate mousse is full-fat coconut milk and coconut cream.
How to make coconut whipped cream
Start by chilling can overnight (do not freeze). Scoop out the harden coconut cream into a mixing bowl, try to leave as much of the clear liquid behind. That clear liquid works wonders in smoothies, and stir-fry so do not toss.
Using a hand mixer, whip until medium peaks form. In this step you will want to add the powdered sugar.
Here are some of our favorite options for coconut cream.
Natures Charm Coco Whipping Cream
You can really use any can full-fat coconut milk. The coconut cream is the thick white cream that settles on the top. We found that not all coconut milk cans whip the same. Some have more of a gritty texture or get oily.
Great Ways to Enjoy Coconut Whipped Cream
It's amazing topped on Chocolate Soufflé . or even on Cherry Crisp.
If you love coconuts you will go crazy over this whipped cream, furthermore, don't have to be dairy-free to enjoy a good coco whip!
Good Quality Chocolate
Scharffen Berger Chocolate is the star ingredient in this recipe. Semi-sweet works well, however, you can use dark chocolate for a bolder flavor.
Chocolate chunks is not necessary, moreover, if you have a chocolate bar, feel free to chop it in smaller pieces.
Notes
How to fold whipping cream
Folding is a simple technic that helps the batter from deflating, which will keep it airy and fluffy. Use a large rubber or silicone spatula. Start from the center of the bowl, bring some batter from the bottom and gently bring it to the top. Keep repeating while scraping down the sides.
What is the difference between heavy cream and heavy whipping cream
Heavy cream and heavy whipping cream are essentially the same thing. If you read the nutrition label you will notice that there is no difference, they both have a fat content of 36%. If you come across "Whipping Cream," without the heavy in front of it, it will be a lighter version, which is still a fat content of 30-35%.
Both heavy cream and whipping cream are delicious in pastas, sauces, and desserts etc. If you want to make a whipped cream topping, make sure to look for heavy cream or heavy whipping cream. Since they are a higher fat content, plus it will whip up better.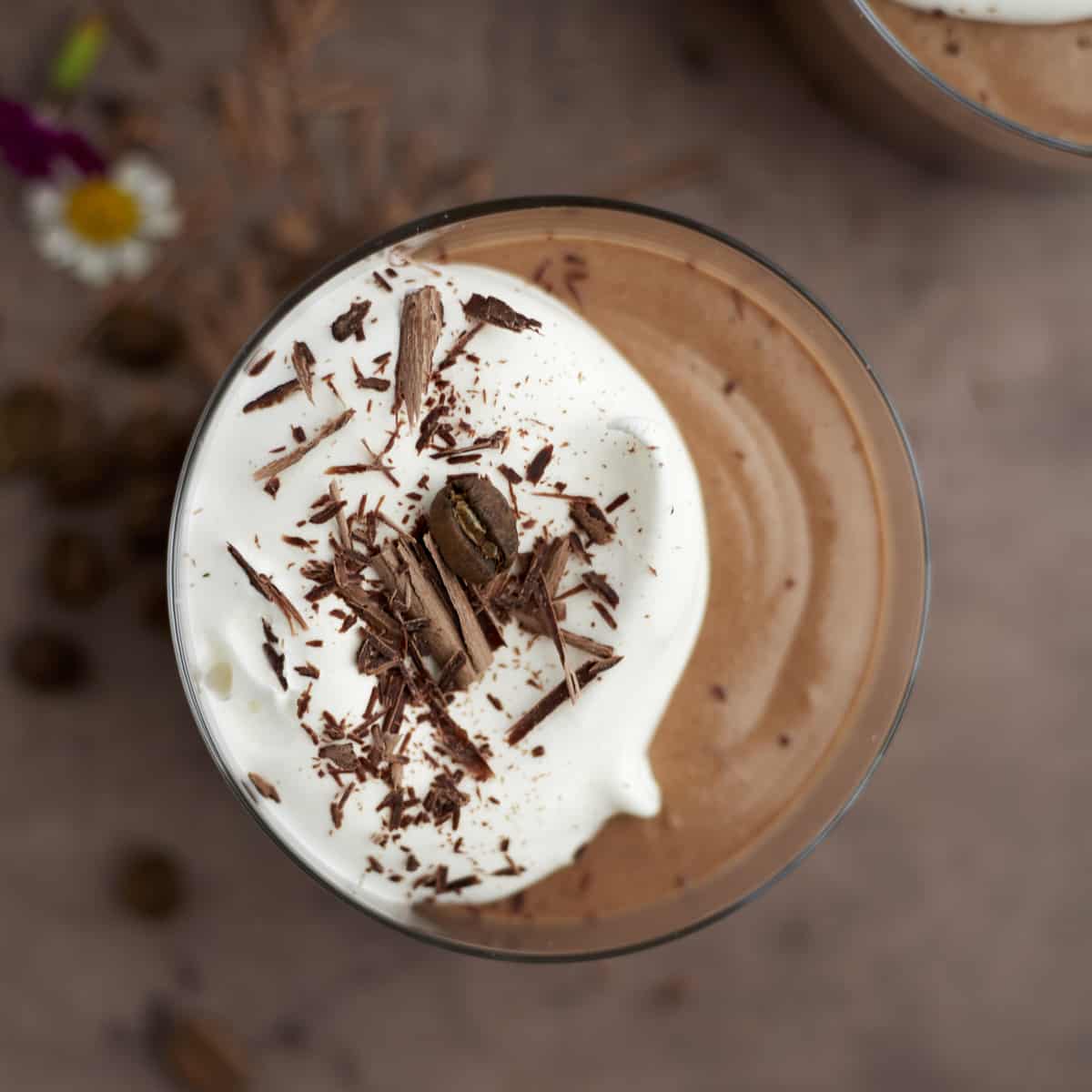 This Chocolate Mousse is rich and creamy and made with only 5-ingredients! Option to make it dairy-free and vegan friendly.
Ingredients
6

oz

good quality semi-sweet chocolate chips

3

cups

cold heavy cream

divided

1/4

cup

powdered sugar

1/2

tsp

instant espresso powder

1

tsp

vanilla extract

pinch

of salt
Instructions
In a microwave safe bowl add chocolate chunks.

Heat 3/4 cup heavy cream in the microwave for 1 minute or until hot. Pour over the chocolate. Set aside for 5 minutes.

Whisk the chocolate and heavy cream until smooth and creamy. *This may take a minute or 2 of whisking until it comes together into a nice thick chocolate. If the chocolate is still not completely melted, place in the microwave for 30 seconds. Give it another good stir until it is melted. Stir in espresso powder, vanilla extract, and pinch of salt. Set aside to cool. This will take approximately 30 minutes.

In the bowl of a hand mixer or stand mixer fitted with the whisk attachment, add remaining heavy cream and powdered sugar, beat until stiff peaks form.

Once the chocolate has cooled to room temperature, fold in the sweetened whipped cream. Gently fold in until it is combined and you don't see any more whipped cream streaks.

Transfer the mousse into small ramekins. Yields approximately five, 4 oz ramekins. Refrigerate for 2-3 hours or until firm.

Garnish with extra whipped cream and chocolate shavings.

Serve immediately or let siit for 15 minutes at room temperature for a softer chocolate mousse texture.
Nutrition
Nutrition information is automatically calculated, so should only be used as an approximation.
Like this recipe?
Please leave a comment!